History of Hawkspur Green
Location
Census
Pant Valley
Hill Hall Estate
Salmons Farm
Slades Farm
Small Farm
Gambers Hall
Rosedale & Damions
Windmill
The "Q" Camp
Pumping Station
Borehole
Solar Farm
Hawkspur Green Lane
Location
OS Map 195.   Grid Ref: TL 6564 3239          Lat/Long:  51.9654,  0.40966158            Height: 84.8m.
Hawkspur Green lies 1 mile/1.5kms to the north of Little Bardfield village. It is an "area of special landscape value".
There are wide views of surrounding farmland and, to the east, the River Pant valley.  Its' southern boundary commences at Cook's Lane just south of Brook House and finishes in the north at Gamber's Hall at the Parish Boundary with Little Sampford Parish where the Post Code changes from Braintree CM7 to Cambridge CB10.   East - west is less clearly defined.  It approximates from the River Pant in the east at the Parish boundary with Great Bardfield and in the west towards The Hydes and the direction of the Thaxted Parish boundary.
A single-track unsigned lane runs from Little Bardfield through Hawkspur Green to Little Sampford. It had protected verges although, unfortunately, these are now largely ignored.  There are no passing places for vehicles and with a deep ditch along part of the road motorists use residents' drives or go onto the verges to allow any oncoming vehicles to pass.
The buildings are dispersed on either side of the lane.  Most residences are of a different design and, whilst it has no Listed buildings, at least four are of historical interest.  Although there is no mains drainage, streetlights, pavements, gas supply, shops, pubs or public transport, most residents do not see this as a disadvantage of living in Hawkspur Green.  Whilst no speed limit is in place, as it is a single-track lane 30mph is generally too fast and dangerous on the many blind bends.  
Frequently seen wildlife includes a wide variety of song birds, pigeons, pheasants, partridges, egrets, sparrow hawks, buzzards, red kites, Muntjac deer, fallow deer and hares.  In season, two pheasant shoots operate, one on either side of the lane.
Census
As the Census of 2011 only covers the Parish as a whole, a separate headcount for Hawkspur Green is not available.
However, the number of persons qualified to vote in the last election was 43 residents of 18 houses.
Pant Valley
The earliest buildings in Hawkspur Green date from the 1500's such as Hill Hall, Rosedale/Damions and Gamber's Hall.  Salmons Farm is probably from the 1700's, Georgian period.
There are two conflicting history records:
1500: "One acre lying in Little Bardfield on the left of the road leading to Little Sampford at Hawkspur Green was called Dedelond and by 1671 became know as Dedland".  Elsewhere Little Sampford is recorded as New Sampford and it is uncertain if Hawkspur Green was called that at that date.
1627:  It is recorded that John Hawkisby lived here and called the settlement Hawkspur Green.
Apart from one cluster, the properties are well spaced along the east and west sides of the road.  Many of the properties have been changed in appearance over the years especially some which were originally farm workers cottages.  Consequently, there is little commonality of architectural style.
The Hawkspur Green buildings were by-passed when other structures in the Parish were Listed in 1985 but at least four should have been Listed Grade 2.
Small Farm was established in the early 1900's, mainly for livestock.  A new private residence was built there in 2018 with most of the land being returned to arable farming.
Hill Hall Estate
Prior to 1900, The Manor of Little Bardfield Hall owned the Hill Hall Estate which effectively was Hawkspur Green.  Confusingly, it is also recorded that at the turn of the 20th century Hill Hall belonged to the estate of Little Sampford Grange, who also owned Salmons and Rosedale.
The Estate stretched from Brook House in the south to past Gambers Hall in the north and from the River Pant in the east to The Hydes in the west. Politically, various parts of the estate came within the Parishes of Great Bardfield, Little Bardfield, Little Sampford and Thaxted.  District Boundaries included Braintree and Dunmow.
There was one cottage, perhaps two, on the south side of Hill Hall and west of the Sampford Road on the footpath to the Hydes called Potters Hedge.  This was possibly where John Hogg lived, and it may later have become Pattersons.   Nothing now remains of any cottages.
77 notices of sale and conveyancing records have been analysed to give the summary below which shows the reduction of the original estate from some 500 acres down to 10 acres by the beginning of the 2000's.
1551-1661

Part of the land came within the boundaries of Great Bardfield.  The copyhold land was owned by John Hogg, William Benlow and John Amery. 

1627

John Hawkisby lived here

1860 

John Cutts of Little Bardfield Hall, sold the Hill Hall Estate to Robert Franklin for £5000.  Robert Franklin died in 1869.

1884

£4500 to the executors of Robert Franklin, formerly copyhold of the Manor of Little Bardfield Hall. Various small parcels of land owned by others including the Trustees.  Rev. R H White owned land towards the top of the bridleway to the south west of Hill Hall's back garden field. (Possibly became the site of the windmill.)

1900

Notice 1:  Sale by Auction.  Gambers Hall, Hill Hall & Salmons Farm.  3 good residences with gardens and ample farm buildings.  458 acres 3 roods 23 perches.  A wheelwrights, 2 blacksmiths shops, 13 tenements with gardens.  Situated by the roadside leading from Great Bardfield to New Sampford.

Lot 1 Gambers west including Slades Farm, crosses borders of Little Bardfield, Great Bardfield and Little Sampford Parishes.  

Lot 2 Hill Hall and Salmons Farm.

Lot 3 Cottages (now Hillcrest)

Lot 4 three cottages and gardens (now Down Sillion)

Lot 5 smithy and wheelwrights (now a wooded area downhill from Down Sillion)

Lot 6 (east side of lane) from what is now Hillside, Hillside Cottage, open plot, Rosedale Cottages and end of field with well (possibly now the site of the borehole).

1900

Notice 2:  Sale by Auction.

Lot 1 Gambers Hall Farm, 2 homesteads, 34 numbered and named fields, 219 acres 0 roods and 4 perches.

Lot 2 Hill Hall & Salmons Farms. 26 numbered and named fields, 239 acres 3 roods and 19 perches.

Lot 3 Little Bardfield Parish. Block of five cottages occupied as 3 (now Hillcrest).  Occupied by Walter Mizen £4 p.a. rent, Frederic Coote and Charles Ridgewood at £3.10s.0d. p.a. payable at Michaelmas.

Lot 4 Little Bardfield Parish.  Range of tenements and gardens (now Down Sillion)  One tenement occupied by John Cook yearly Michaelmas tenant £3.10s.od. p.a. and old cottage and piece of garden let to Walter Mizen 24s. p.a.

Lot 5 Great Bardfield Parish. Timber and tiled blacksmiths shop.  Garden let to William Ridgewell for £1 p.a.

Lot 6 Great Bardfield Parish. Timber built and tiled cottage in 3 tenements, gardens well of water and pump.  Wheelwrights and blacksmiths shop and a piece of garden. (Rosedale).

At that time land to the east of the lane was mainly in Great Bardfield Parish and land to the west was mainly in Little Bardfield Parish.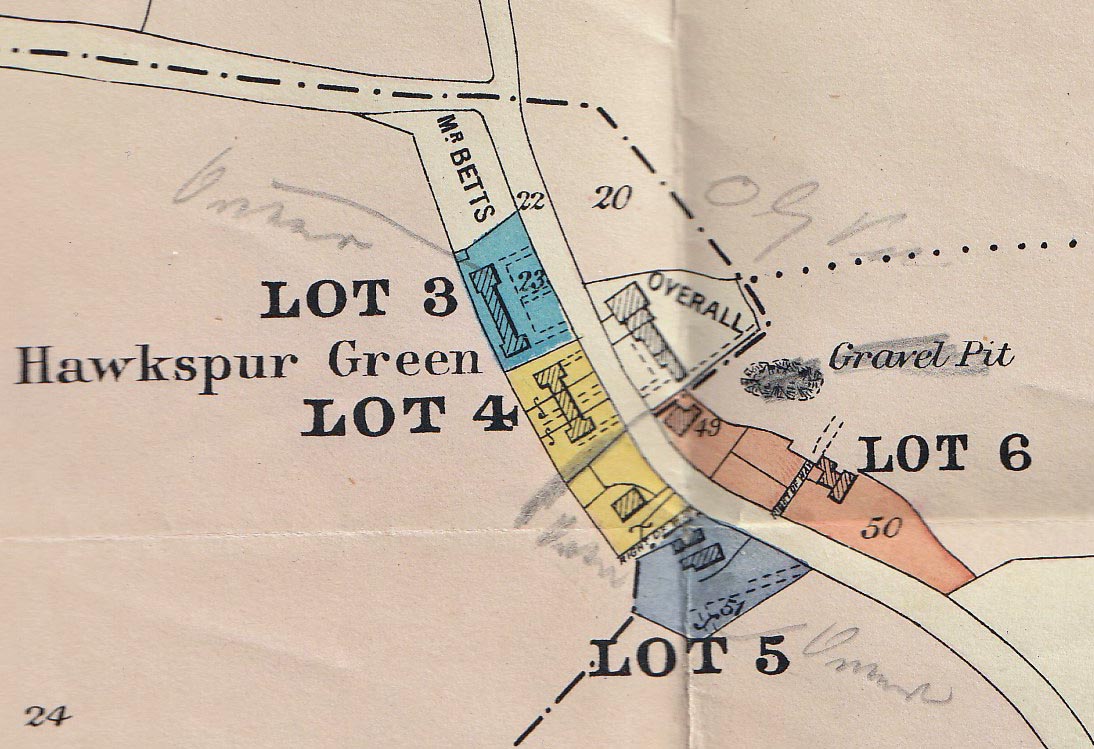 This map explains the dip in the field behind Hillside and Hillside Cottage - it was formerly a gravel pit!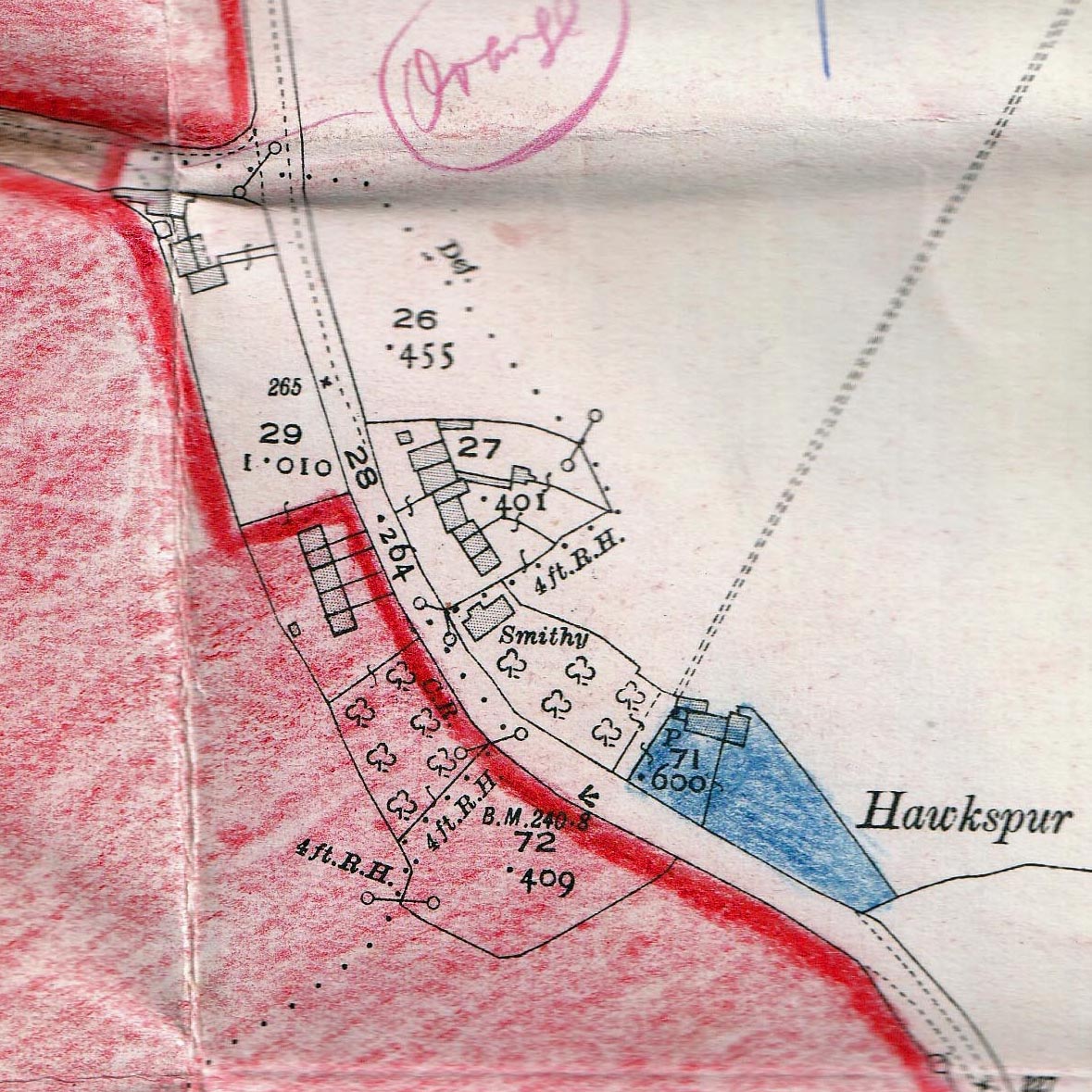 On this map the area coloured blue is where the Lot 6 well and pump were and is now the site of the borehole.
Path across the fields can be seen where horses were brought from Pitley Farm to the blacksmiths to be shod.
1912

Hill Hall Farm.  William Worsley Rashleigh, George Burvill Rashleigh & Sir Colman Battie Walpole Rashleigh sold to Murgatroyd Northrop Rhodes and Lewis Collings for £8,250.  Land and all properties west of the lane from Brook House to Gambers Cottages, including Hill Hall, Salmons & Slades Farm, 460.476 acres.  Excluded the windmill and Mill House.  The black & white photos came from this era.  Mr Rhodes died in 1924.

1913

Hill Hall copy mortgage.  L H Collings and Mrs A B Elliott

 

The conveyancing records of 1920 are numerous and, in places, confusing but all of the following entries are from the legal documents.  

1920 

Sale by Auction. Hill Hall, Salmons, wheelwrights and 2 blacksmiths shops, 11 cottages and 390 acres.

Lot 1 Hill Hall and fields (excluded the bridleway)

Lot 2 Salmons Farm and fields

Lot 3 Gambers Cottages

Lot 4 Cottage on field (current open area between Hillside Cottage and Rosedale Cottages

1920

Sale by Auction from L H Collings to E Eustace.  Hill Hall in the Parishes of Great and Little Bardfield.  257 acres.  Hall with acetylene gas fittings throughout.  Salmons Farm, Great Bardfield Parish, 131 acres.  Annual claim by the Rector for a Tithe of £69.11s.10d.

1920 

Hill Hall, sold 87 acres at £25 per acre.

1920 

September.  Hill Hall, residence, buildings, 5 cottages and 92.5 acres sold for £3000

1920

Louis C M Eustace sold property and land to William Taylor for £5,500.

1920

Hill Hall Farm, Salmons Farm, Slades Farm and 390 acres sold for £7500.  Annual rent £6 p.a. payable to the Poor of the Parish of Islington, 2s. 10d. to Little Bardfield Hall, 5s. 6d and a halfpenny to Sampford Hall.

1920

Letter from L H Collings Ltd, Farmers, Seed Growers, Hay and Straw Balers to Mr J Hall, dated 25 Sep 1920 "I hereby give you notice to quit the part of the field called Campions on Hill Hall Farm in the Parish of Great Bardfield on 29th September 1921"

1920

Hillside and Hillside Cottage owned by Miss Gibbs.  (Field 26 now occupied by Westerlys and April Cottage).  A footpath used to go directly from Rosedale north east across the field to a bridge over the River Pant for horses from Pitley Farm to reach the blacksmiths at Rosedale.  Mr I Betts lived in Mill House and owned the land where the windmill stood.

1921

Letter to Mr Eustace.  Contract to purchase Hill Hall Farm and Salmons Farm from Mr L H Collings whose company are in liquidation.

1922

William Taylor sold to Egbert Lewin Ellison, potato salesman of Forest Gate and others, 92 acres of land for £4,000

1926

Hill Hall, five cottages and 111 acres, 1 rood and 24 perches.  11 fields and a wood from the Hall down to Brook House.

1933

Hill Hall, buildings and 111.413 acres sold by E L Ellison to C Rayner for £2,000

1934

Caleb Rayner sold Hill Hall, Salmons Farm, Slades Farm and 22 fields of 242 acres on west side of lane from Brook House to Gambers Hall. Cottages at Gambers. Smithy on deeds of Rosedale. Excluded the windmill and Mill House. Listed as Parishes of Great Bardfield and Little Bardfield. £3,800

1935

Conveyance of Hill Hall, Great Bardfield.  C Rayner to Mrs Matilda Hopper, widow of Arthur Hugh Hopper, to Agricultural Mortgage Corporation and Warner Barr.  Hill Hall and fields 42,42a,66,67,68,72,73 in Great Bardfield and fields 18,19,20,22,24 in Little Bardfield. For £2,600

1936

Hill Hall, Great Bardfield, 111.399 acres. Warner Barr to Kathleen Lee £2,850.

1936

Warner Barr sold to Alan Copley Clark.  Mortgage of £1,700.  Repayment £150 p.a. plus £5 interest.

1936

Hill Hall in the Parish of Great Bardfield and the Rural District of Braintree. Five cottages owned by Mr W Barr in Little Bardfield Parish and Dunmow Rural District.  Salmons Farm and the whole of the land that is in the Parish of Great Bardfield.

1937

Hill Hall Farm. Matilda Hopper sold to Joan Kathleen Lee, £2000

1938

Five cottages in Hawkspur Green declared by the Medical Officer for Health as being unfit for human habitation. (A map of that time indicates a location where Hillcrest now stands.)

1947

Hill Hall Farm.  Joan Kathleen Lee sold to Henry Julian Lee for £3,500

1949

Conveyance H J Lee to Salmons Nurseries Ltd

1952

Henry Julian Lee sold Hill Hall and Salmons Farm in Great Barfield to H R H Prince Chula Chakrabongse of Siam (Thailand) for £16,000, farm land of 111.58 acres, dwelling house, cottages and farm buidings

1952

OS map area 69 marked in brown as a public right of way = bridleway.  Not owned by Hill Hall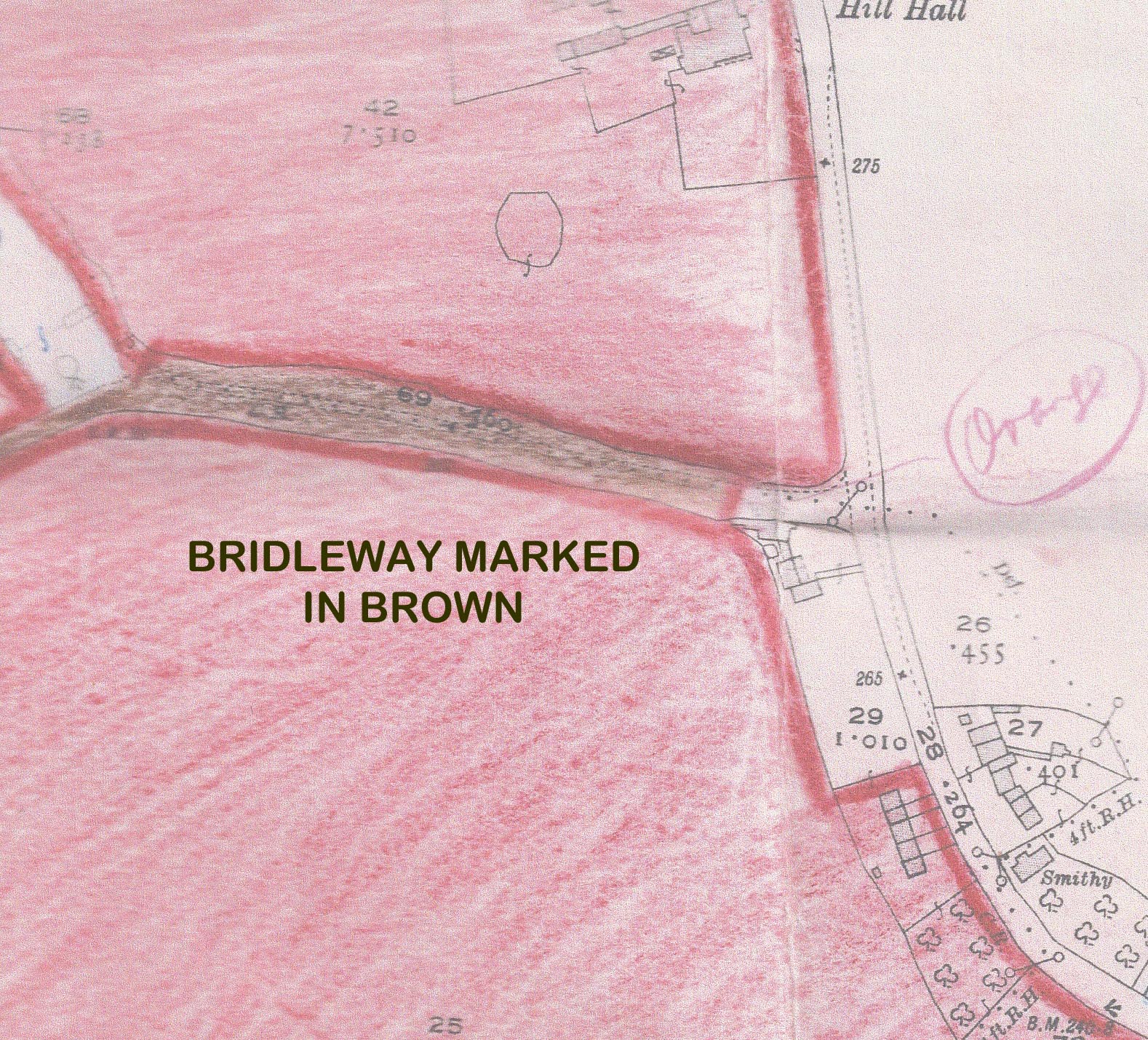 1952    Pieces of land coloured blue on a map gives free access to the well to take and carry water. (now the borehole)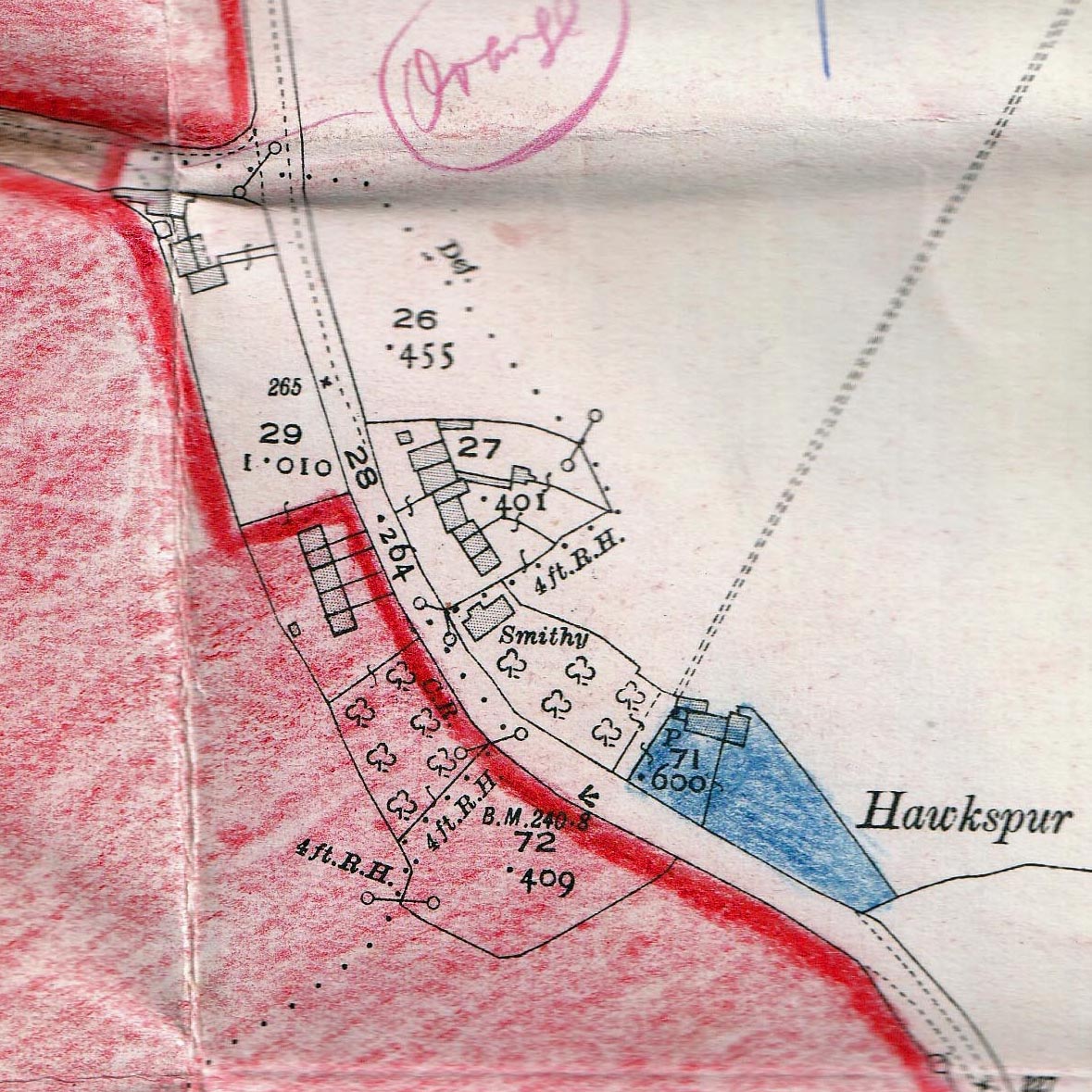 1952    Track beside Old Barn marked in brown as common right of way for passage of horses, cattle and animal carts.  Not owned by Salmons or the field owners.  Now leads to the Solar Farm field.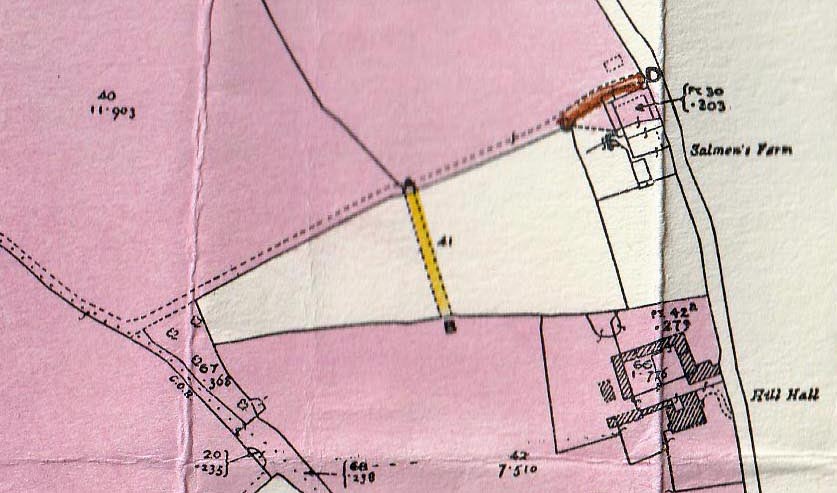 | | |
| --- | --- |
| 1961 | H R H Prince Chula Chakrabongse of Siam (Thailand) owns fields west of the lane 18,22,24,25,30,42,73 (18 is now the solar farm) and fields to the north 13,31,33,34,35,36,37,38,39,40 up to Gambers. |
| 1961 | Hill Hall owned by Egbert Lewin Ellison, potato salesman of Forest Gate, East London |
| 1961  | HRH Prince sold Hill Hall and land to Hugh Craig for £26,000 |
| 1961  | Lane marked green on a map (not available).  Pathway north west beside Ruckhams field 18 (now solar farm) and field 19 wood.  Major (Rtd.) Aubrey Esson-Scott, Farm Manager of Hill Hall and Salmons Farm, confirmed that the lane was not included in the 1952 conveyance from Henry Julian Lee to HRH Prince.  The lane is marked OS land area number 30.  HRH Prince received rents for the surrounding land area.  (This lane probably linked the previous Slades Farm to the windmill and the bridleway back to the lane) |
| 1961 | Hugh Craig sold to Mrs S Hodge |
| 1964 | John Alfred Wilson sold to N Sharp £15,000 |
| 1964 | Sale of fields to various buyers including Hugh Craig of Hall Farms, Little Bardfield |
| 1969 | Hugh Craig sold parcels of Hill Hall land in Great Bardfield Parish, totalling 175 acres to the Gardiner family of Moor Hall Farms.  Includes shooting rights. £42,000.  Excludes the immediate area of Salmons Farm |
| 1987 | Timothy and Olive Martin owned Hill Hall |
| 1993 | Hill Hall - Planning Application for change of outbuilding use. Dairy to coffee roasting. Barn to coffee and confectionary storage.  (date might have been 1986) |
| 1993  | Hill Hall - Andrew Glasgow, Mortgage £270,000 |
| 1993 | Trustees & Patrick Gardiner agreed property and fields conveyed to William Gardiner |
| 1997 | Land Registry states the Bridleway is a publicly maintainable highway |
| 1997 | Bought from the Glasgows by David & Anthea McMyn |
| 2002  | Hill Hall Farm, Great Bardfield, 100.2 acres farm land sold by Austin William Vincent Gardiner to Michael Andrew Gemmill and Pamela Margaret Gemmill. |
| 2018 | Bought from the McMyns by James & Elizabeth Moody |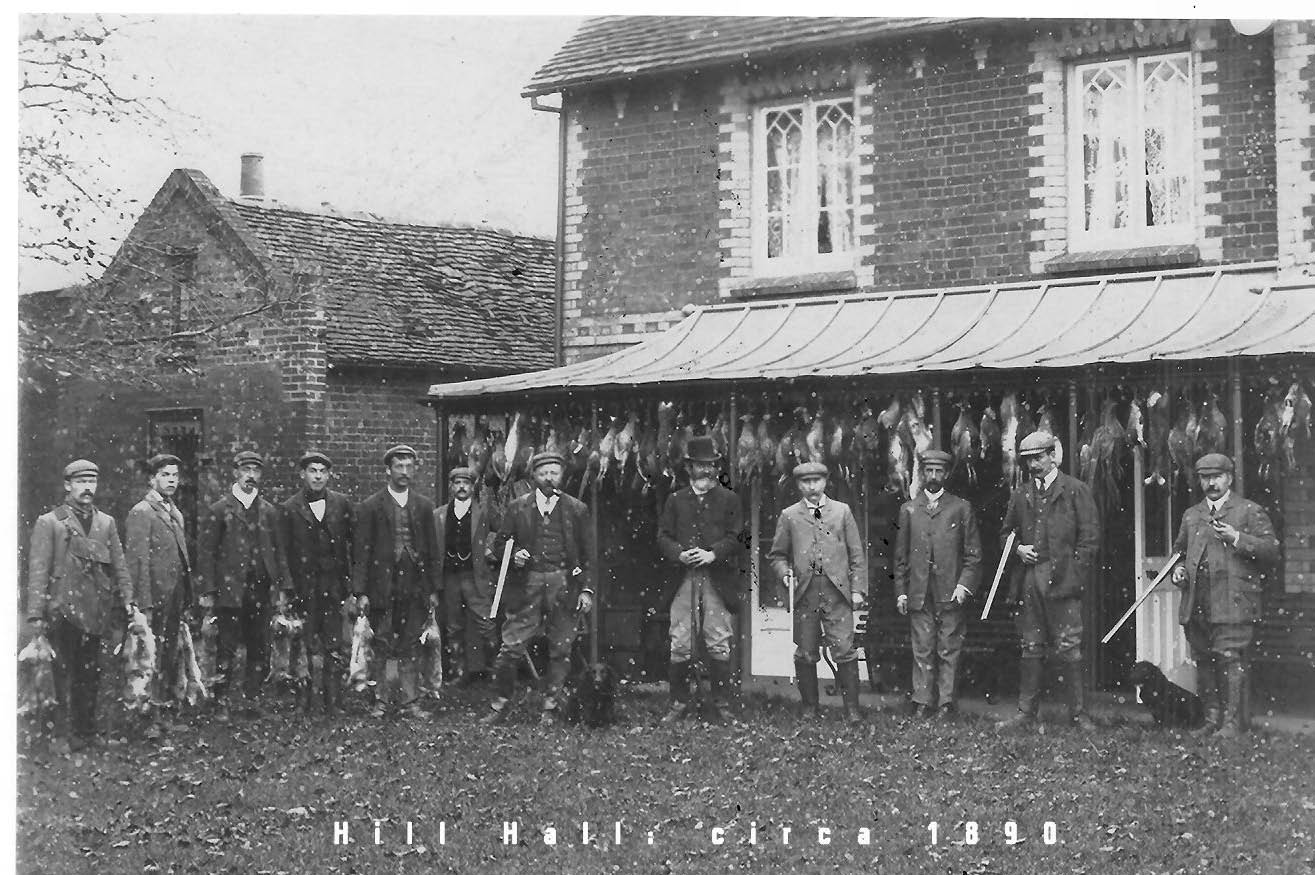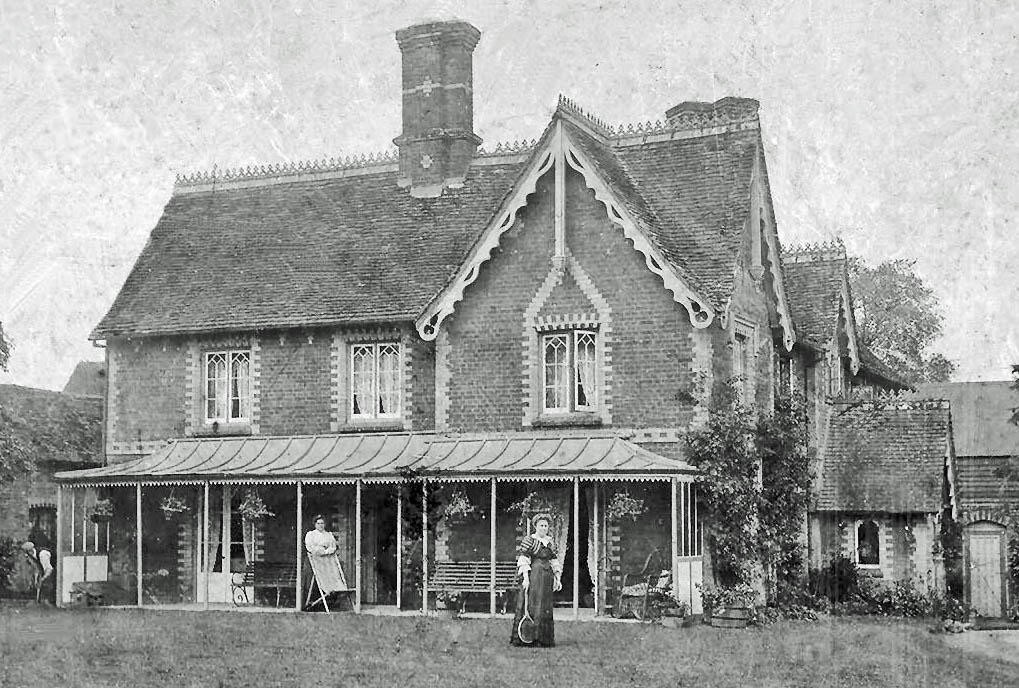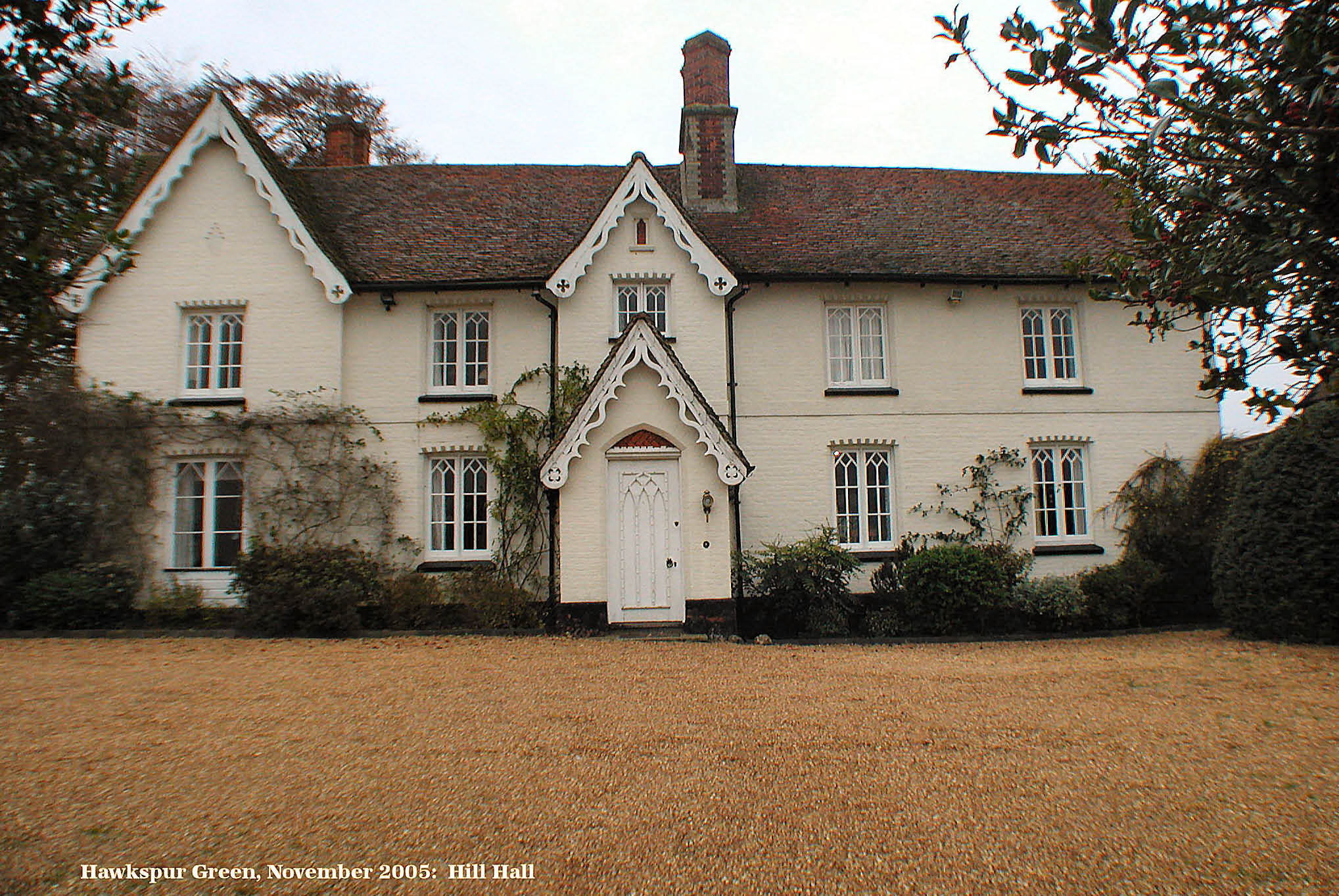 Salmons Farm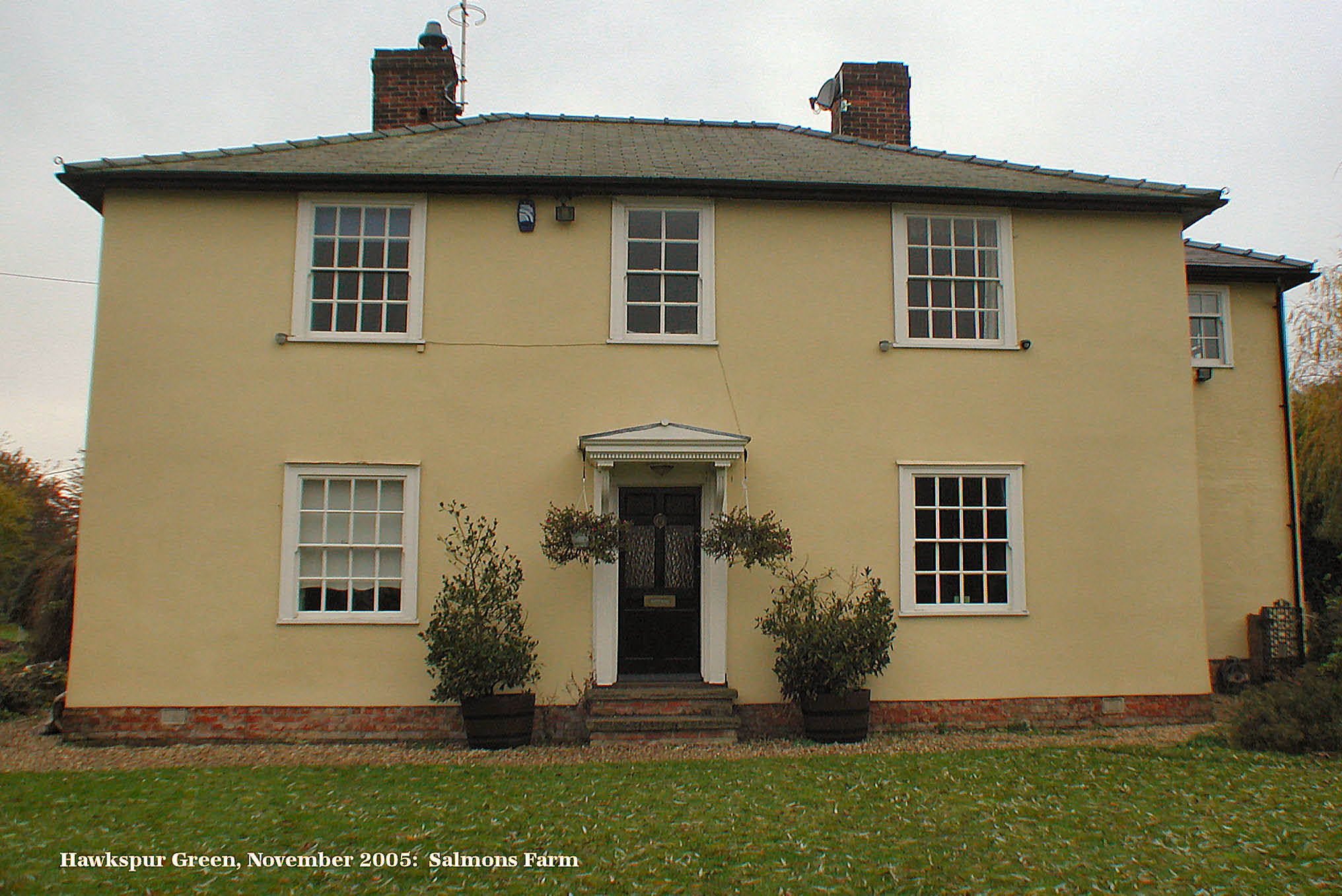 | | |
| --- | --- |
|   | The ownership of Salmons for many years was included in Hill Hall Estate transactions. |
| 1765-1782  | The house belonged to Hill Hall and a John Salmon lived there. |
| 1817 | Stones were bought from Salmons to mend the roads of the parish. |
| 1838 | Owned by the executors of a John Smith and it was tenanted by Charles Choate. |
| 1838 | Potters Hedge belonged to Salmons. |
| 1849 | Thomas Letch farmed the land and his farm was situated mid-way between Moor Hall and Cook's Lane on the east (river) side of the lane |
| 1920 | Louis Charles Eustace sold Salmons Farm sold to Arthur Thomas Goodchild for £2,300 |
| 1921 | Letter to Mr Eustace.  Contract to purchase Hill Hall Farm and Salmons Farm from Mr L H Collings whose company are in liquidation. |
| 1949 | Conveyance H J Lee to Salmons Nurseries Ltd. |
| 1952 | Henry Julian Lee sold Hill Hall and Salmons Farm in Great Bardfield to H R H Prince Chula Chakrabongse of Siam (Thailand) for £16,000, farm land of 111.58 acres, dwellings house, cottages and farm building |
| 1960 | Salmons Farm owned by Arthur Thomas Goodchild |
Slades Farm.
This farm was part of the Hill Hall Estate in the late 1800's towards the west but has since disappeared.
It's original location can be seen on the map below.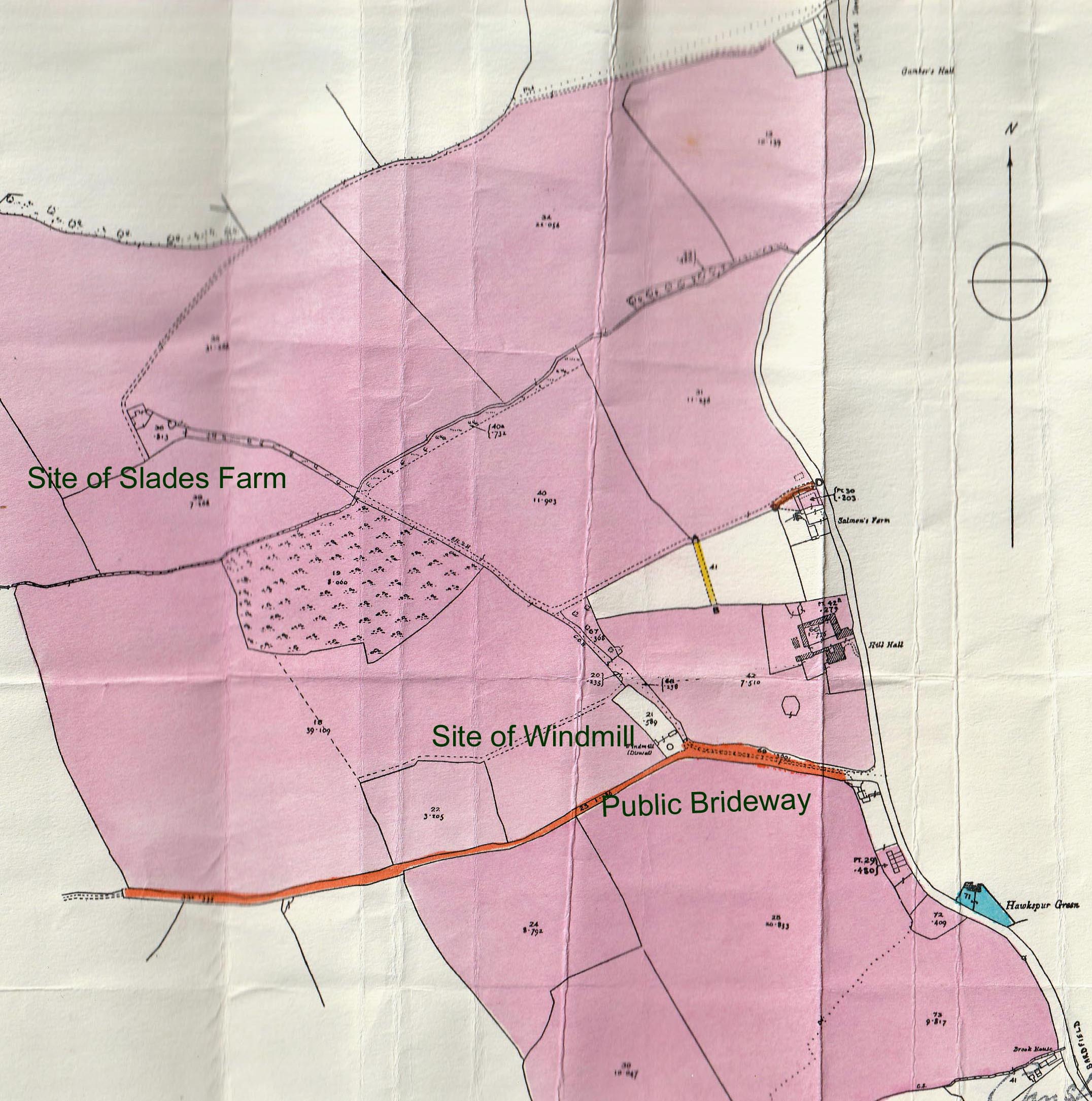 Small Farm
At one time this was part of the Hill Hall Estate but, to date, no record has been found when it was sold off.  From the history of the "Q Camp" at that location it was obviously independent or leased in the early 1930's.  It was an arable farm and kept a variety of livestock.  Please see the later section on the Q camp. 
In the early 1940's, after the Q Camp had been closed, a small group of pacifist Oxford and Cambridge undergraduates formed a Universities Ambulance Unit and used the Camp for their training.  Other Government activities are thought to have taken place, possibly with the RAF briefly using the Camp as a training site.  It was opened again in 1944 for young boys and came under the control of the Home Office - not that the authorities appeared to know that much about what was going on!
For a few years a trust fund was set up by a Mr & Mrs Goodson to provide country holidays for poor London children.  It is rumoured locally that the Camp was briefly used by Naturists - officially or otherwise!
Later, a Captain Smith kept cows on the site and had the bungalow built alongside the original HQ chalet.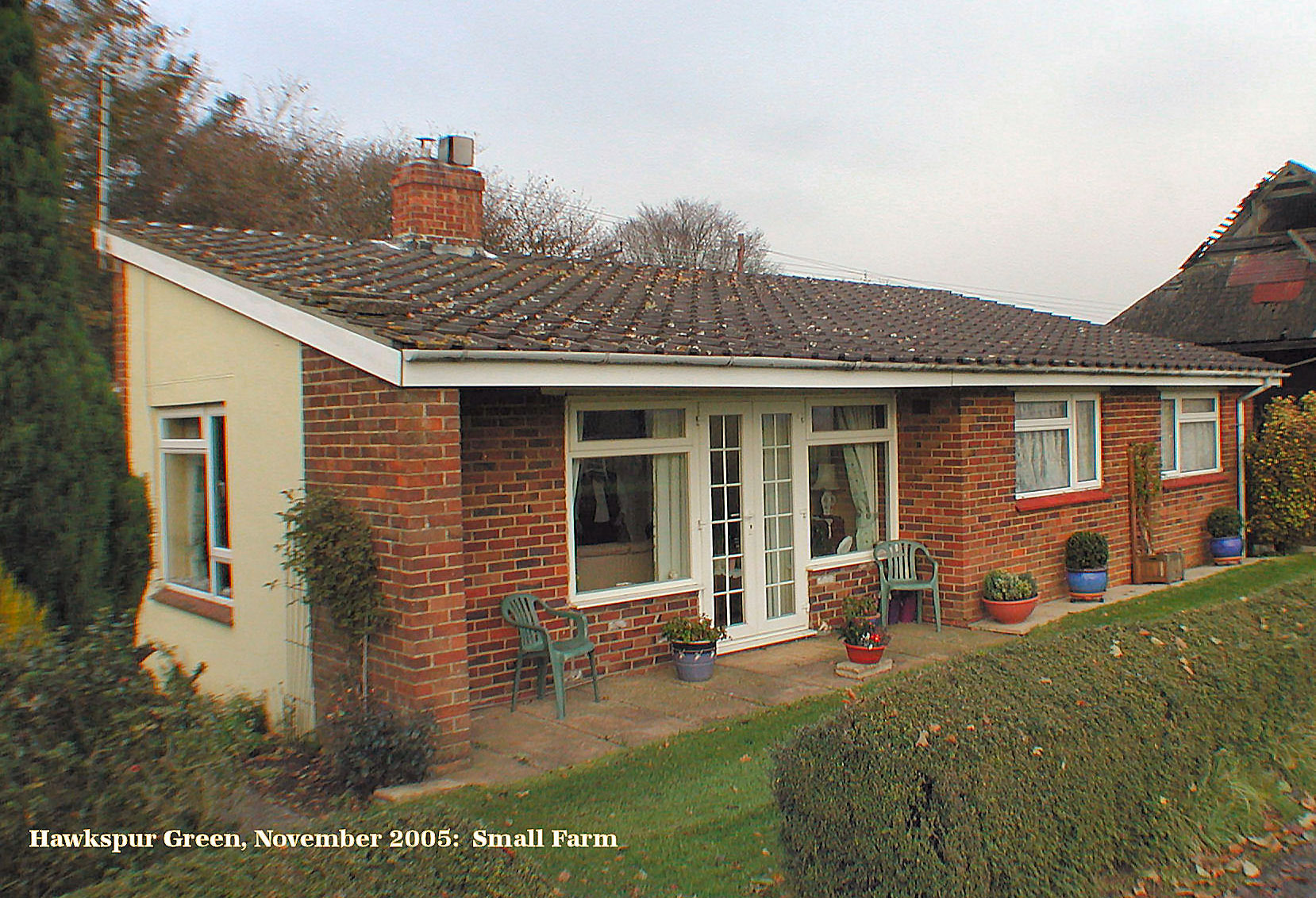 Small Farm Bungalow 2005.

  Note old Camp Headquarters to the right.

In the mid 1950's, Mr & Mrs Crowe acquired the bungalow and site for farming and livestock.  They converted some of the Camp buildings for farm use particularly the main dormitory which was used as pig sties.  In their later years they ceased keeping animals and the large field was left fallow.

A geological peculiarity occurs in the middle of the field to the south of the buildings where a natural spring emerges from the ground at elevation 70m whilst the river is lower at 63m.  In the early history the water was piped downhill to supply livestock, particularly the pigs.  It is now piped as a top up to a new ornamental lake.

Most of the Q Camp buildings remained on the site in a derelict state from 1946 until 2016/17 when they were all demolished. 

A new house was built on the site in 2017/18 and the bulk of the land returned to arable farming again.

2019 Mr & Mrs Keith Coburn live here.
Gambers Hall
It's origin dates from at least the 1500's.  It was previously known as Gambols or Gamlyns.  The house lies at the north end of Little Bardfield Parish and at one time was previously in the Parish of Great Bardfield.  The boundary between Little Sampford Parish and Little Bardfield Parish runs through the barns adjoining the house.  John Winterflood of Wynterflode who died in 1551 lived at Gamlyns.
It is uncertain that the present day Gambers Hall is structurally the same house, but it is probably on the same site.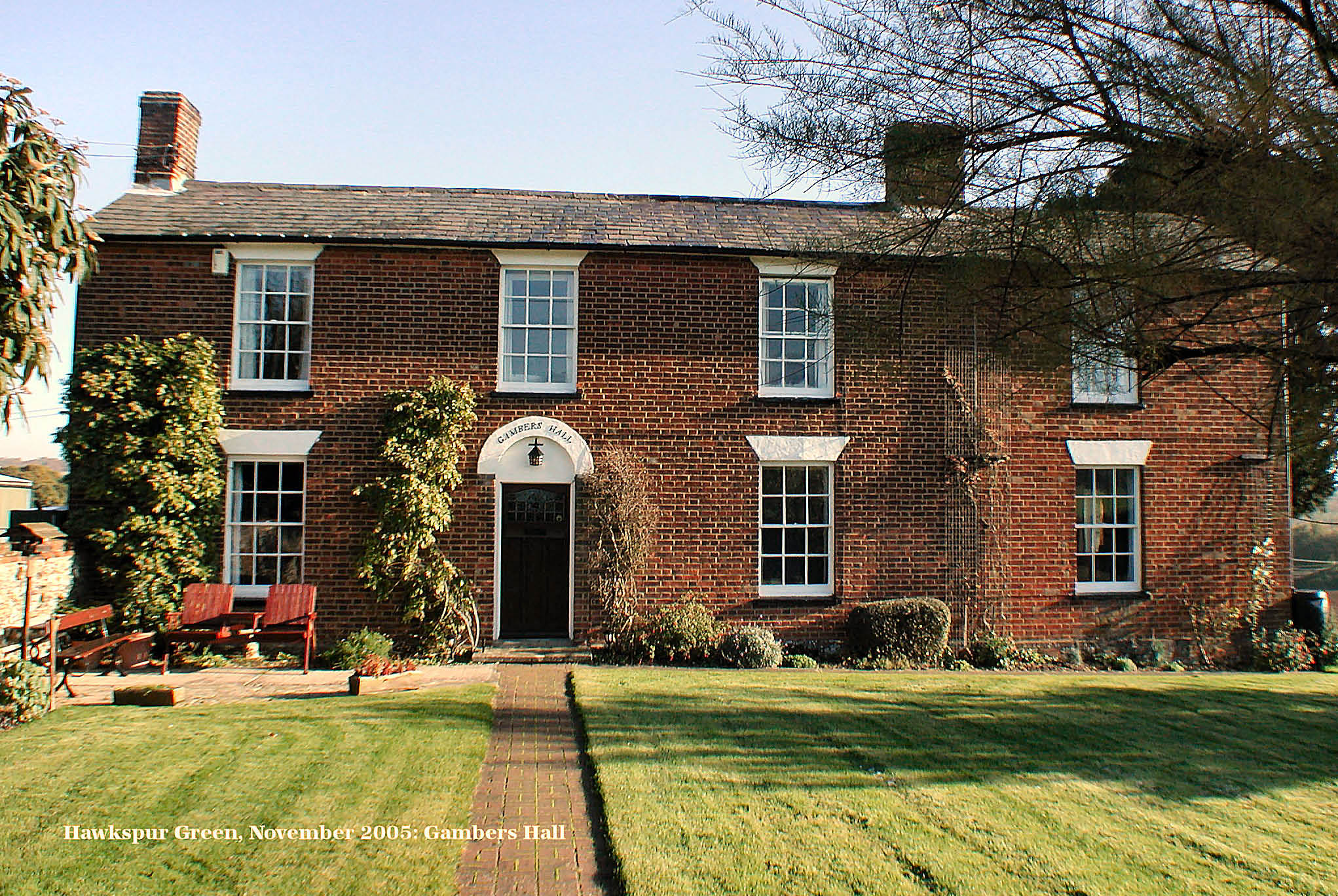 1546

The original house, Gamlyns, is built from north to south and the frontage was replaced after a fire.  The position of the right chimney stack in the picture indicates an extension has been added to its right/east.  It is timbered inside, but the timbers are not exposed, only the dairy at the back has timbers showing.  Gamlyns was in the hands of the Winterflood family for 200 years.  The first John Winterflood paid homage to the Court of the Manor of Pitley "in mercy 3d" and every year until 1546 when he died intestate and then his son and heir paid "relief for the socage".  Samuel Winterflood was baptised in 1564, William in 1568, Jeptha, bastard child of John's sister Agnes, 1591 and Augustine in 1594.

1558

John Winterflood "owes suit of court and accounts for it".  He claims "two parcels of land" called Pynkwells which lies next to Gambols.

1589

John Winterflood encroached with a ditch upon demesne lands for a distance of 30 perches and he was ordered to fill it in by Easter "on pain of a 2d fine".  John Winterflood must have had a lot of trouble sorting out his father's estate, John Senior dying intestate, because his own will, which was proved in 1605 was very detailed and covered every eventuality.  Here are a few interesting extracts:

To Alice his wife "an annuity of £3.6s.8d to issue out of the same property for 80 years". The executors to see to "the felling and selling of wood in springs and More Garden, Hedglye and all of Potters Hedge."  This was land around what is now Salmons and Hill Hall.

To his son, William "a messuage which I late purchased of John Babcock, Senior and John Babcock, Junior lands and tenements called. Bantes and Jacks late purchased of Rook Green".  Rook Green was in Sampford.  Jacks was a piece of land on the borders of Little Sampford and Little Bardfield.  The hill near Gambers is to this day called Jacks Hill.  "Table frame, wainscote and glass in the hall where I dwell shall remain in the house".

To Samuel Wynterflode he left "the table in my bedchamber".

To William Winterflode "one bedstead with feather bed in the testator's bedchamber next to the street with two of the worste chests in the same bedchamber".

To his grandson, John, "the bedstead and feather bed in my bedchamber with the cupboard and best chest to be delivered to him at the age of 21".

To William Wynterflode he left £10 out of the above land towards the maintenance of his sister Agnes' bastard child until the child reaches 21 years.  This will was proved on the 28th May 1605.  The last Winterflood called Thomas died in 1795.

1838

Joseph Giblin lived at Gambols and farmed the land which at that time amounted to 65 acres.  The property remained in the Giblin family until 1910.  One of the Giblins was among the first farmers in the area to use a steam traction engine.

1910

W.H. Easy owned Gambols and in 1920 Charles Gilbey owned the house and land which was tenanted out.

1963

Mr John Low lived at Gambers.

2019

Mr & Mrs David Low live here
Rosedale & Damions
Rosedale Cottages had a blacksmith's forge on its property.  It is marked on 1876 and 1926 maps.  There was a right of way across the fields to Pitley Farm so that the horses could be brought to be shod.  The first named Blacksmith was Edward Young in 1808.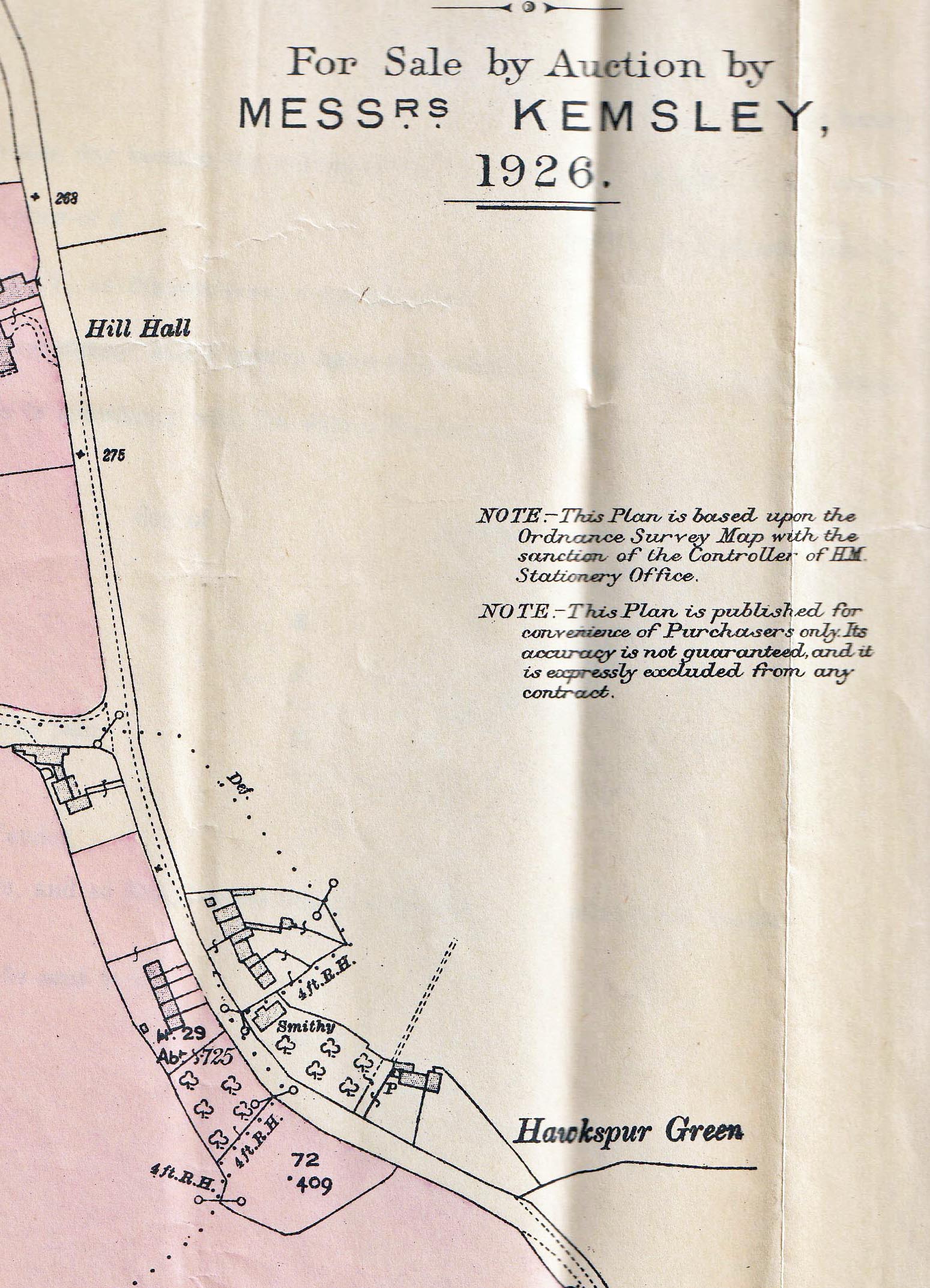 A house called Damions, which belonged to the Wale family and the Chishulls, dated from before 1551.  It then had 6 acres of land and lay at the upper end of Moneyfield Common (large field opposite Salmons down to the river) which at that time was Common land and butted onto the Sampford Road.  Damions, attached to Rosedale is not believed to be the location of the original house of that name.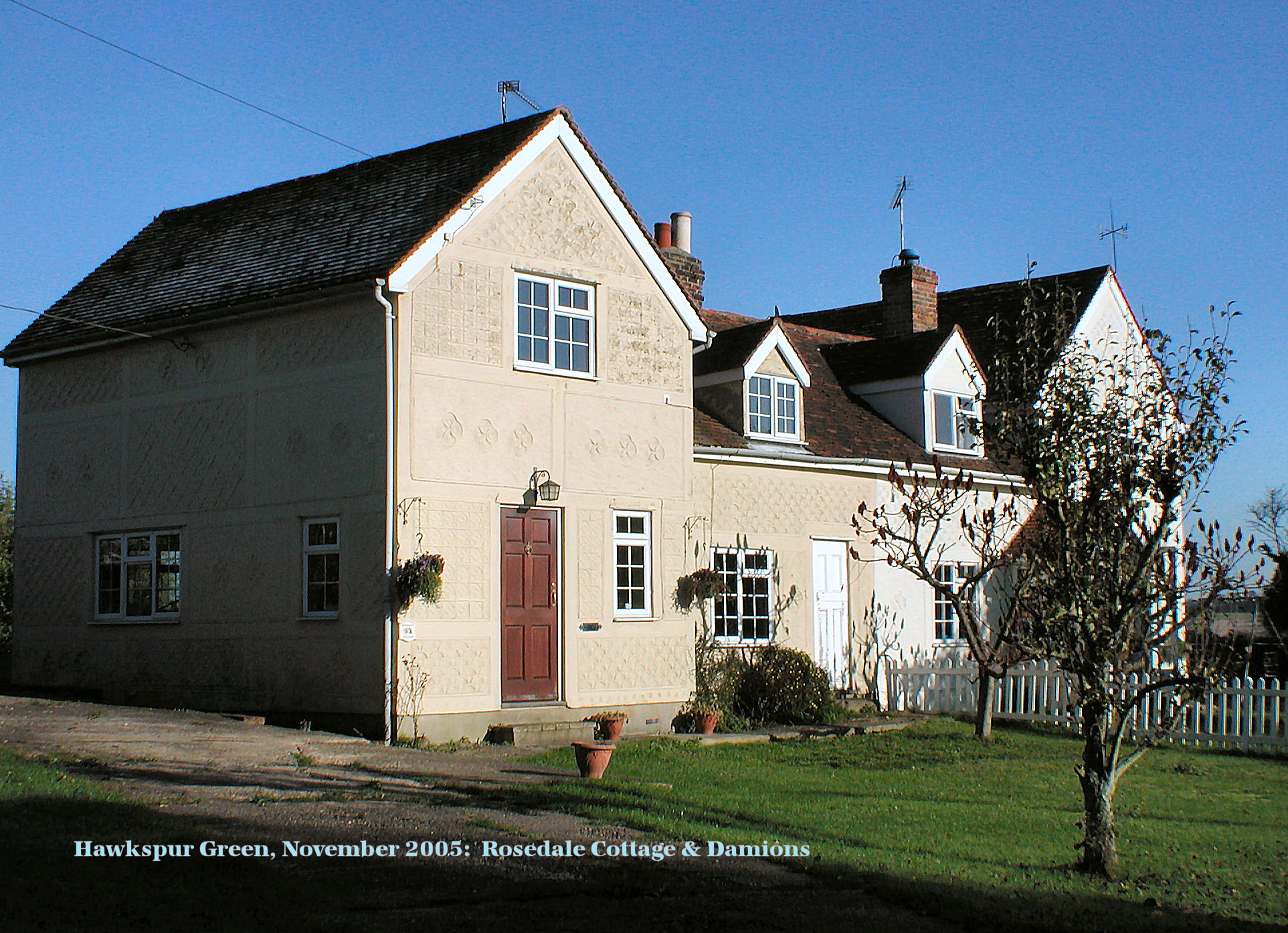 The well-known retired character actor Frank Mills lived in Hawkspur Green in Damions for many years until his sad passing after a short illness in February 2021 just short of his 94th birthday.
The family held a superb gathering at The Notleys Golf Cub on Sunday October 10 including his great grandchildren, his neighbours, and his many friends to celebrate his very colourful and interesting life.
Frank was a wonderful guy to chat to and would always bring a smile to your face, often revealing some amusing stories from his acting memories.
In over 50 years of stage and screen performances, he starred in at least 151 films and countless television episodes such as:
Dixon of Dock Green 1964-1972,  Z Cars 1970-1977,  The Sweeny 1976,
Flambards 1979,  Rumpole of the Bailey,  1983-1991 Big Deal,  1984-86 The Bill,
1988-1996 Casualty,  1987-1999 Coronation Street,  1995-1997, Heartbeat
1997-2009 The Brief,  1996-2006 Midsomer Murders,  1996-2006 Lovejoy,
1998 Hetty Wainthrop Investigates,  2003-2005 Holby City,  2004 New Tricks,
2005 Oliver Twist,  2004 The Royal 2004,  2008 Foyle's War & The Palace,
2008 The Adventures of Sherlock Holmes & Miss Marple, and 2009 Minder.
In some village dramas, he was often the local sitting at the bar who would only divulge information if his pint was re-filled!
There were many theatre drama productions and pantomimes in which he particularly excelled as the "Dame"!
He was a keen golfer and quietly very proud to have scored a "Hole in One" at the Elsenham Golf Course.
A great character who is sadly missed from the Hawkspur Green community.
Windmill
| | |
| --- | --- |
| 1805 | Built as a Post Mill but it collapsed in 1871. |
| 1830 | Charles Choate owned the land |
| 1838 | Henry Cornell was the miller |
| 1848 | Daniel English |
| 1838 | A widow Choate lived at Mill House and after that Daniel English and Joseph Betts. |
| 1860 | Joseph Betts was a baker as well as a miller |
| 1871 | Post Mill collapsed |
| 1876 | It was rebuilt as a Smock Mill, |
| 1876 | A map dated 1876, marks the Mill at the end of the bridleway where it meets a field and the paths divide left towards The Hydes and Thaxted and right towards where used to be Slades Farm.  The Miller's house, "Mill House" is shown where the bridleway meets the lane.  The bridleway starting in Hawkspur Green next to Mill House was the route up to the mill from the east.  The way from the west came from The Hydes.  This through route was possibly used as a way to Thaxted when the previous Bardfield Road became impassable boggy land through Marks Wood.  Available conveyancing records do not show the Mill or Mill House as being part of the Hill Hall Estate when that was being sold off. |
| 1922 | Photograph taken |
| 1928 | It was blown down |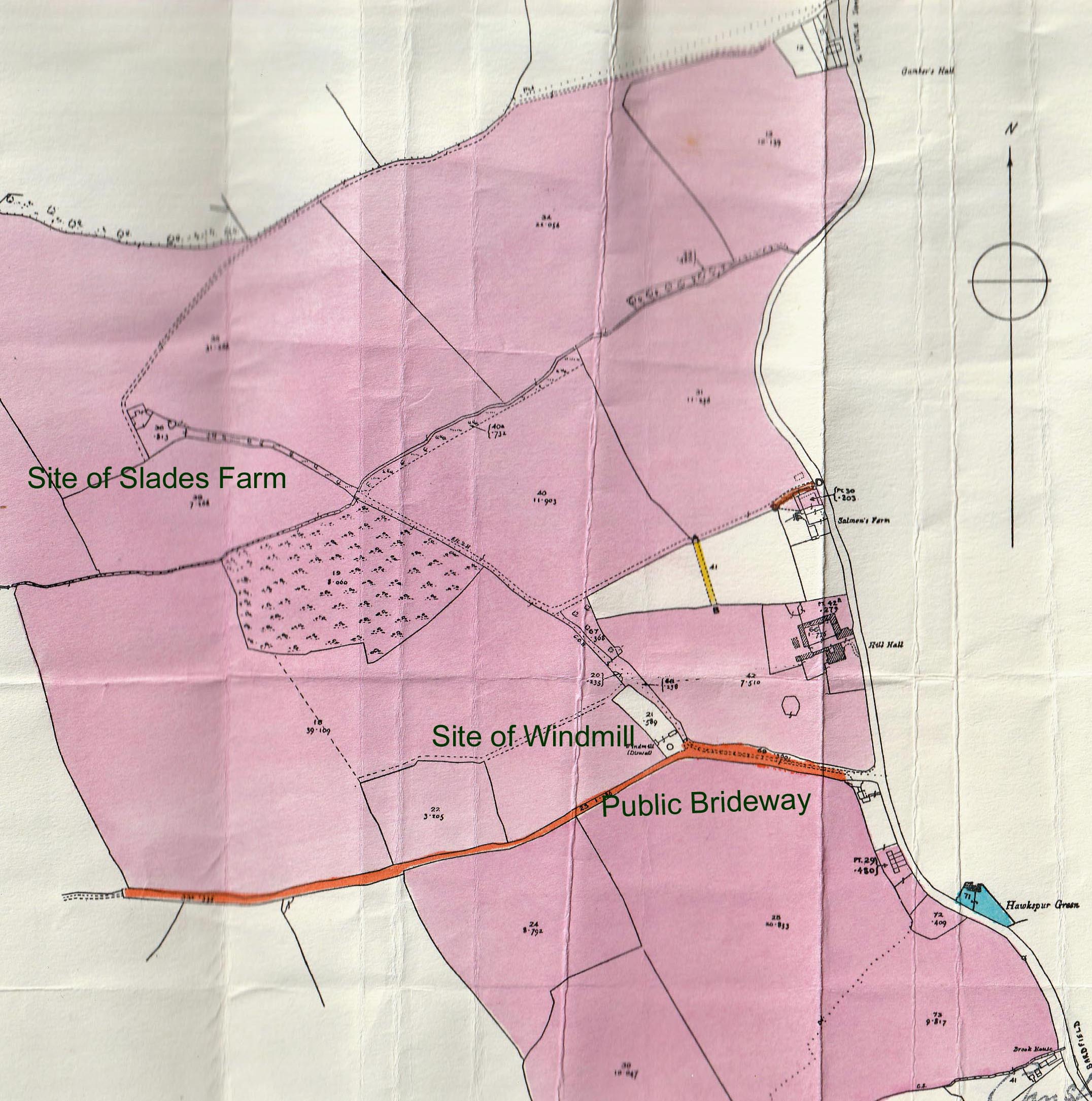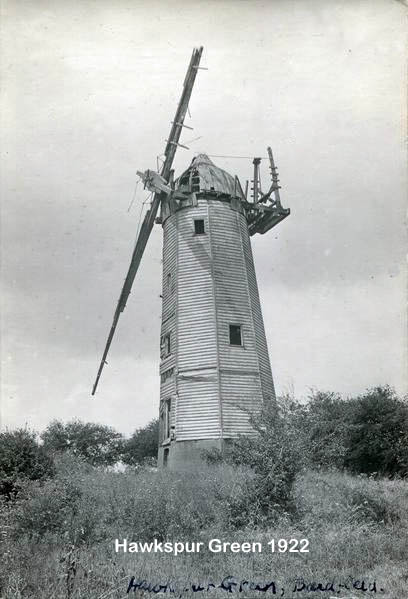 The mill was still standing in 1924 although in a dilapidated state.  In 1979 the site of the old mill was part of Moor Hall land.
A current map location is TL 654322, coordinates 51.963675; 0.406045 on the south east corner of what is now a solar farm field.
The Hawkspur Green "Q" Camp
The camp was set up in 1936 on land known as Small Farm.  It was a behavioural science experiment to give training in life skills to socially "excluded" (delinquent) young men aged between 17 and 25 to encourage them to regain their self-respect.  The residents built the Camp themselves from scratch having to first live in tents until their buildings were habitable.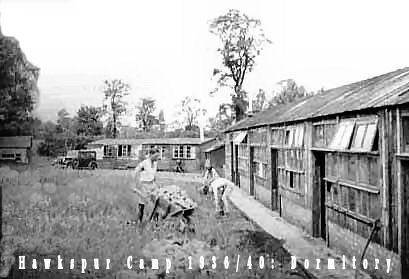 Dormitory front 1936/40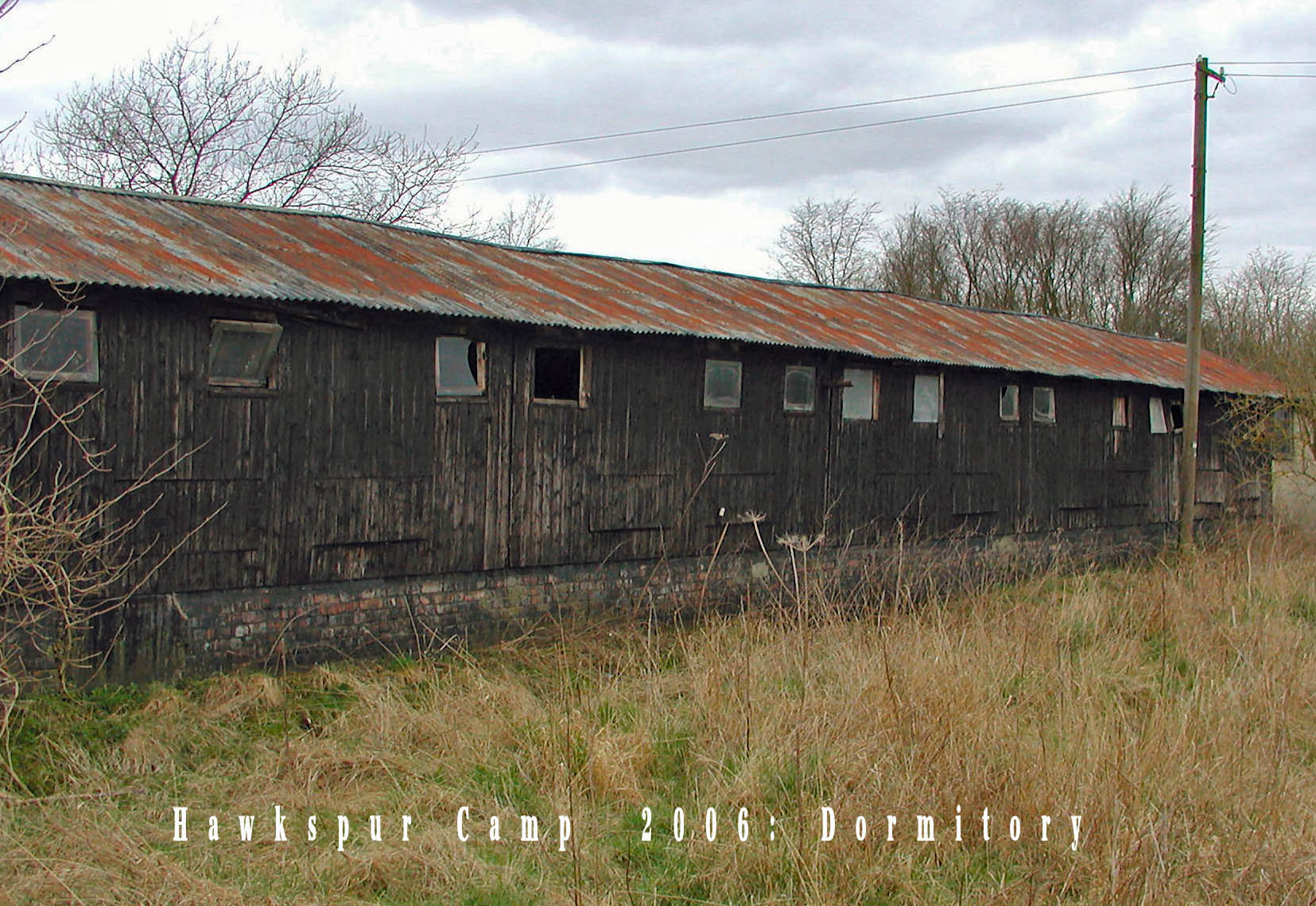 Dormitory rear 1936/40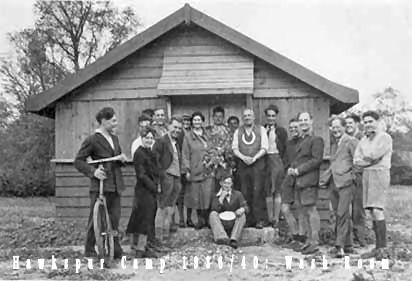 Wash Room 1936/40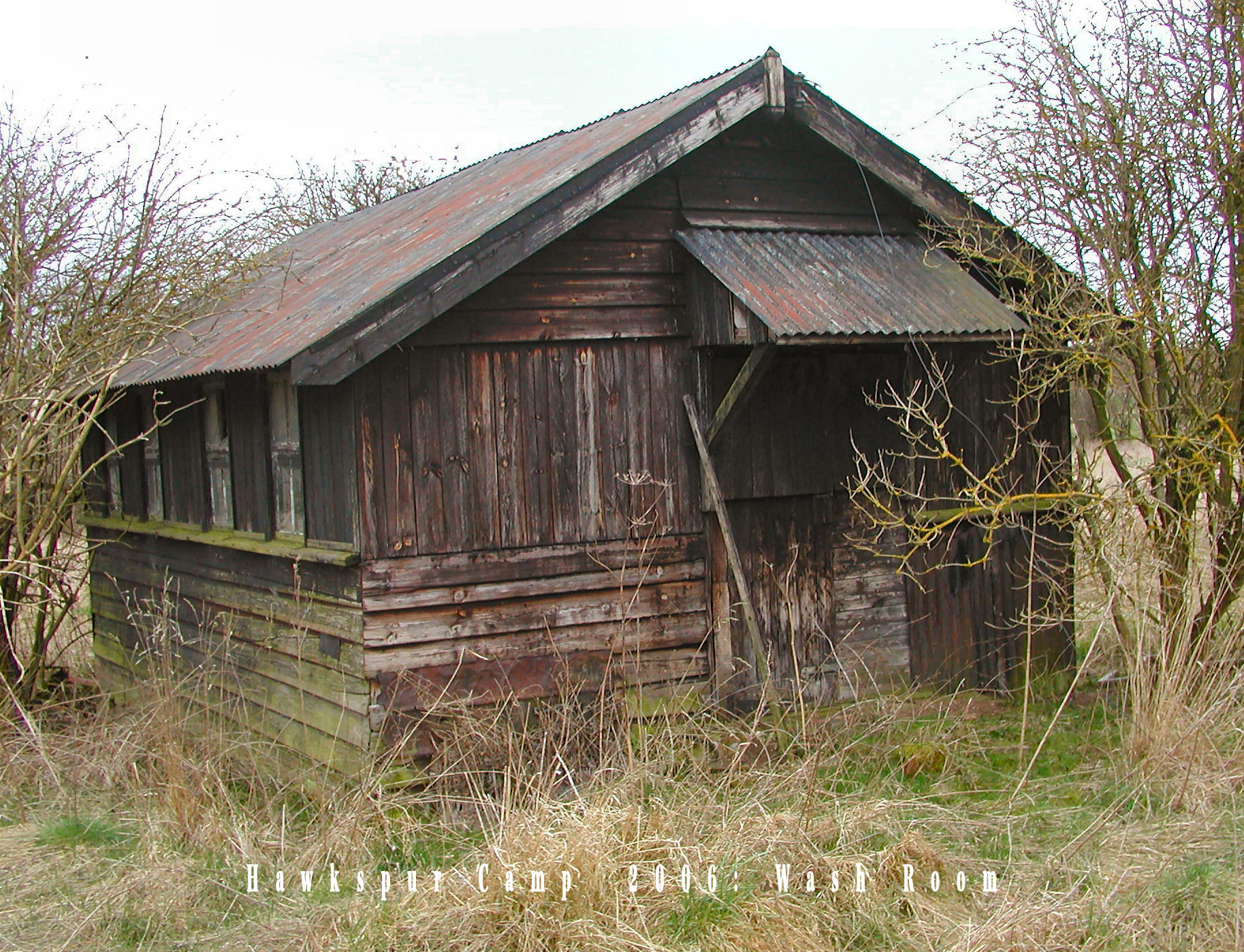 Wash Room 2006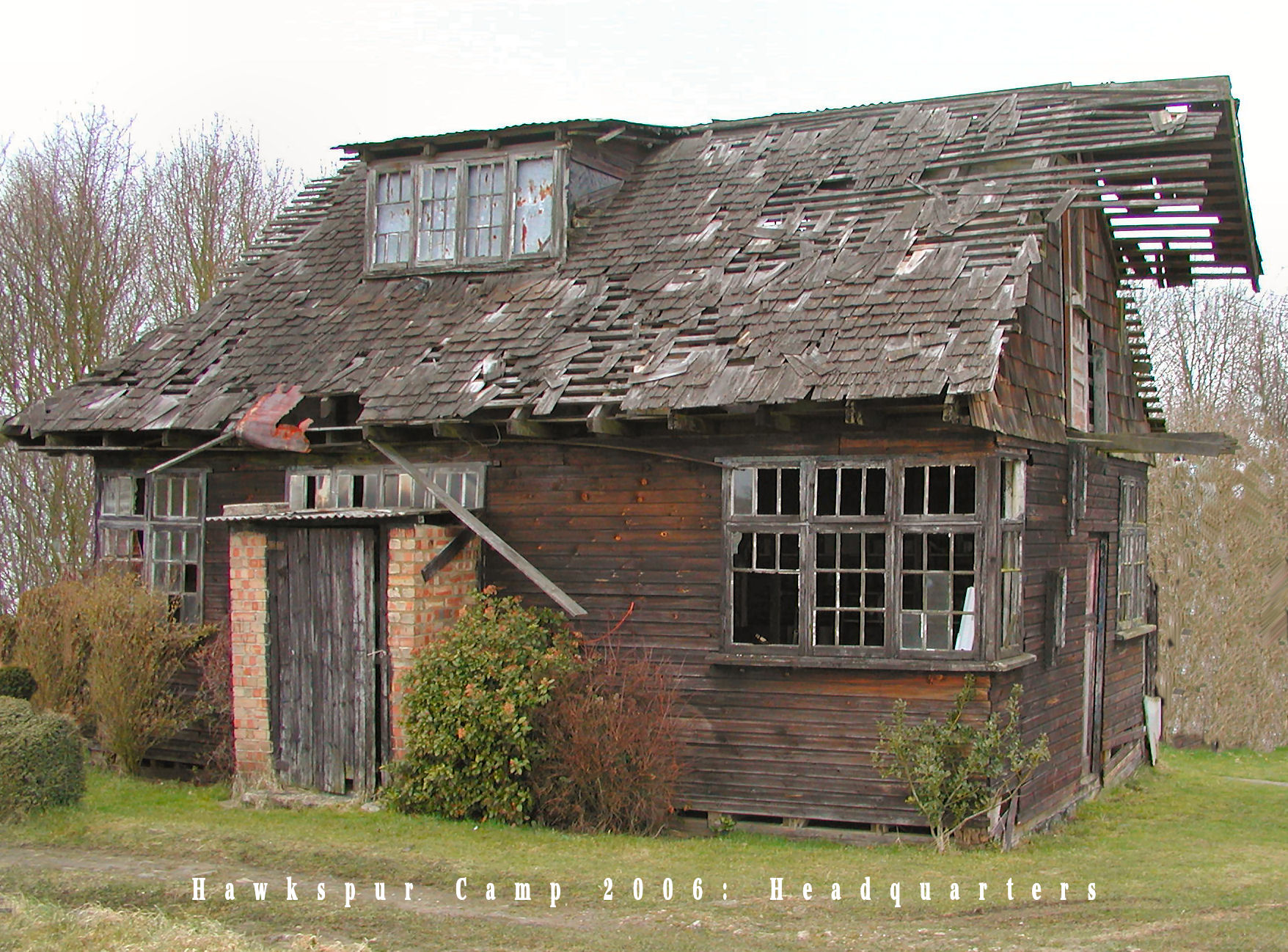 Camp Headquarters 2006
They were taught farming and care of livestock in place of traditional discipline regimes.  The nearby Fighting Cocks pub was a popular recreational venue.  The Camp was shut when the war started in 1940 and most of the inmates were conscripted into the Army.  
The following text was broadcast on Wednesday, 22 November 2006 at 1100 GMT on BBC Radio 4 about the Hawkspur Q Camp.
The government has unveiled its latest idea to tackle anti-social youths, but it is still a far cry from a utopian WWII experiment which placed them in their own self-governing community in Essex.  In the middle of WWII the authorities had a problem - what to do with those children who had been evacuated but who were too disturbed or delinquent for the average family to handle.  So when a group of earnest young conscientious objectors offered to take them off to rural Essex and "cure" their antisocial tendencies with a mixture of fresh air, unconditional love and radical democracy, nobody asked too many questions.  Q Camp was a utopian experiment which tried to get troubled boys to operate a self-governing community in the middle of the countryside.   Not much was known about it until I uncovered newly released files at  the Public Record.  Office Staff included university students.  Its approach was radical and a far cry from the strict authority imposed at the reform schools and borstals where the boys would otherwise have gone.  But while it was an extreme experiment, Q Camp anticipated many of today's ideas about treating children with behavioural problems. 
According to the newly-discovered records, the Ministry of Health complained that the first it had heard of the camp was when it received a letter from a local fuel overseer saying he was astonished children were permitted to live in such conditions.  The Q stood for query or quest and the camp chief was a young man named Arthur Barron, known to everyone as Bunny.  Said to be full of "ideas and ideals", his philosophy was that children could learn self-discipline through shared responsibility."  The whole philosophy was that these kids were unlicked, unloved, unwanted at home," says Edward Thomas, a pacifist conscientious objector who worked at the camp."  The theory was that if you could form a relationship with them and show that you still cared for them, that they would become civilised youngsters."  The idea that the community was non-hierarchical and self-governing completely baffled the authorities.  Staff and boys lived in the most primitive conditions, in ramshackle wooden huts without windows or sanitation.  A Probation Service inspector described the camp as "dirty and dismal" in one report.  She said the sleeping huts filled her with "horror" and the beds "looked grimy".  Work was shared, but the youngsters weren't compelled to lift a finger.  A camp council of staff and boys imposed what little discipline there was.  There was also a school, but attendance was voluntary, and the school hut was set on fire on several occasions.  It was Mr Barron's belief that the young boys should not be told what to do. Smashed windows remained unfixed and obscenities were left daubed on walls because he believed it was better to leave the jobs until the boys responsible agreed to do them.  They rarely did.  Daniel O'Keefe was 12 when he was sent to Q Camp after getting into trouble. After a series of court appointments, he was seen by a psychiatrist who thought he could benefit from the exciting new "therapeutic community".  "We was allowed to do virtually what we liked," he says. "We didn't have to bother with school or nothing
The other principle the camp ran on was that, regardless of their behaviour, the children should be given unconditional love.  The staff did their utmost to accommodate them.  One youngster who liked horses and made a speciality of stealing them was bought one in the end.  Records show the staff themselves were considered by the authorities to be just as troubled as the youngsters they were trying to help.  "They are not conventional people and one gained the impression that they themselves are maladjusted," wrote one visitor.  Concerns were raised by some of the families of the boys.  Mr O'Keefe's father complained to the Home Office after one visit.  He had tried to take his son out for a meal and was shocked that no decent trousers could be found for him to wear.  In the end it was health and safety concerns - and one too many fires - that caused the government to put an end to the experiment.  The boys were removed, and the camp deemed unfit for human habitation.  So was it a failure?  The Q Camp probably only got away with it for so long because in the middle of a war, and a manpower shortage, the authorities were glad to find anyone prepared to take on difficult children.  The troubles were blamed on fathers away at war.  But in its determination to move away from the authoritarian model of the approved schools, it anticipated many of the ideas on residential childcare that became common in later decades.
Many of those involved went on to become senior and influential in their field.  Mr Barron trained as a psychoanalyst with Anna Freud and became an eminent child psychotherapist.  Mr Thomas became a director of social work in Scotland.  He counts the Q camp a success.
Another member of staff, Chris Beedell, became an academic and a guru in the world of children's social work.  But others say Q Camp failed because the children themselves didn't want to share the responsibility but wanted to feel the adults were in charge.  So much so that they organised themselves into two groups, masters and slaves - the ones who wanted to control and the ones who wanted to be controlled.  "This was the exact antithesis of what the theorists wanted to achieve," says author Maurice Bridgeland, who knew Mr Barron.  "It was the opposite of all their principles,".
The community was shut down for health and safety reasons after some suppliers and parents raised concerns about the welfare of the children, who had continued in their anti-social behaviour, setting fires and destroying property, whilst continuing to reject any of the responsibilities required for the running and maintenance of the camp.  The "Q" Camp concept was tried in a couple of other places but there were various concerns raised about the welfare of its inhabitants and the experiment was closed in 1940.
However, some behavioural scientists consider the ideas and concepts tried in those days were valid as the same problems and treatments still exist with some adolescents today.
Pumping Station
This is virtually unknown as it is buried in the woods!  Anglia Water have operated pumping equipment to augment the flow of the River Pant in Hawkspur Green for many years.  The original pumping station is right on the river bank whilst a newer installation is sited further away on higher ground to avoid the risk of flooding.

Borehole
It is located in the corner of the field just south of "Damions".  Why here near the top of a hill when its elevation is 70m and the River is much lower at 62m?  The answer is probably because of a geological peculiarity at that location.  This view is supported by the fact that it is close to the site of an ancient well.  A similar feature occurs in the form of a spring at the same elevation in a field on Small Farm.
The borehole was created by Anglian Water between 2008 and 2010.  Extracted water is pumped via underground pipe into the River Pant just north of Langford Bridge on Cook's Lane - known locally as "The Splash".  The system is only operated when water flow in the river falls below required volumes.  Water is extracted further downstream at Petches Bridge, near Waltham's Cross, to enter the domestic water supply system.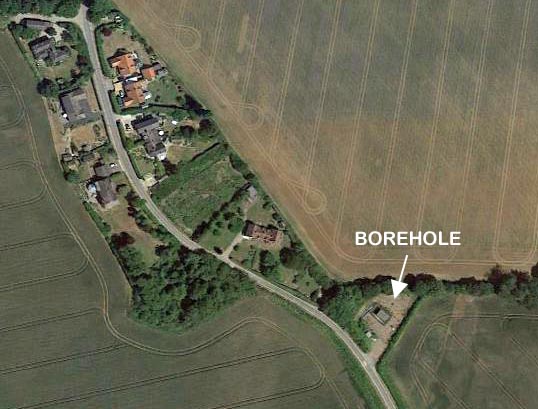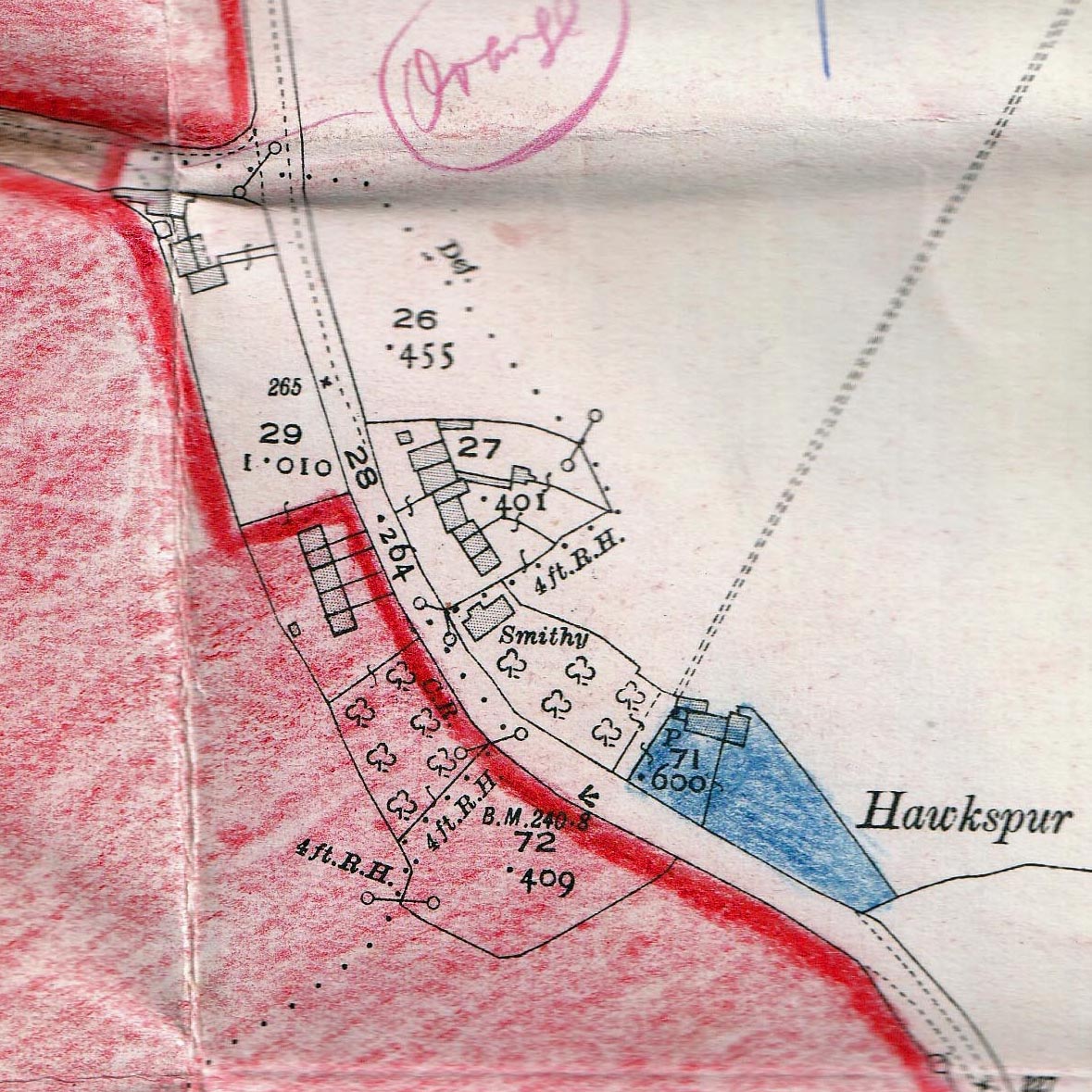 The blue marked area is the approximate location of the old well where ancient deeds permitted the local residents to "take and carry water across the land".
Solar Farm
This was built on "Ruckhams Field" in 2016 by Lightsource Energy.  The centre is 500 metres west of the lane, north of the bridleway.  During the Planning Application process the Parish Council achieved a Community Benefit contract with Lightsource Energy for an annual payment for 20 years which is linked to the amount of electricity produced.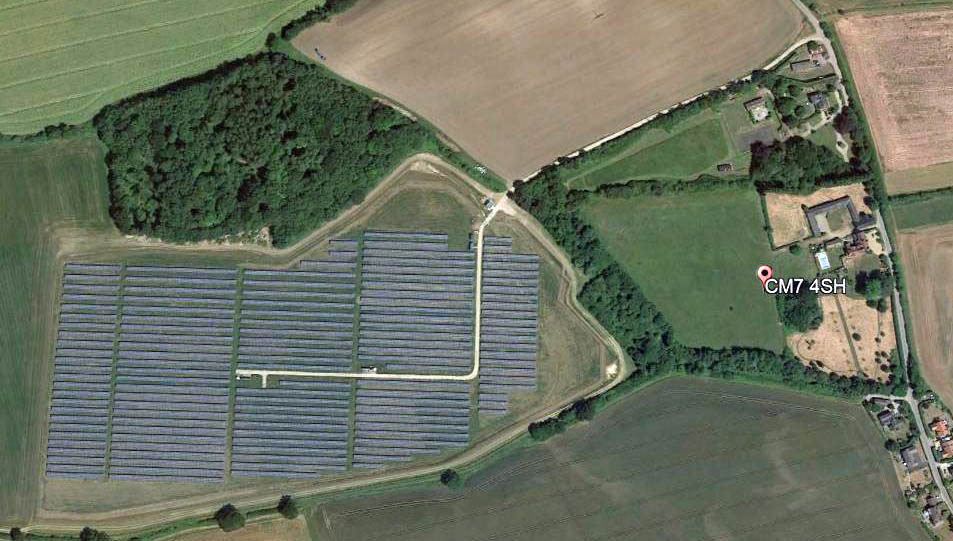 Hawkspur Green Lane - Little Sampford Road
Uttlesford District Council Planning Department consider this lane, which is only 2.6 metres wide in places, to be classified as a road suitable for two-way and diversionary main road traffic.  What is your opinion of their judgement?  Click here to see the full story.