History of Oxen End
Location
OS Map 195.   Grid Ref: TL 6626 2908          Lat/Long:  51.9354,  0.41716286            Height: 98.3m.
This is a dispersed settlement.  Some houses are situated along the Dunmow Road, B1057, whilst the remainder are alongside an unnamed single-track lane which forms an arc off the Dunmow Road.  There are nine Grade 2 listed buildings or structures in Oxen End.

Census
As the Census of 2011 only covers the Parish as a whole, a separate headcount for Oxen End is not available.
However, the number of persons qualified to vote in the last election was 38 residents in 17 houses.
History details of Oxen End are sparse.  Some Conveyancing documents have been researched to find items of interest.  Property ownership is complicated as although Oxen End is in Little Bardfield Parish, parts of the land areas come within Great Bardfield Parish.  In places, the same political border divides between Uttlesford and Braintree Districts.
Grade 2 Listed Buildings - July 1985
Ambrose Cottage
Coft Hall
Frenches Farmhouse
Grove Barn
Grove Farmhouse
Old Cottage
The Cottage
Pump in front garden of Coft Hall
Pump opposite and 30 metres west of the Old Cottage.
Ambrose Cottage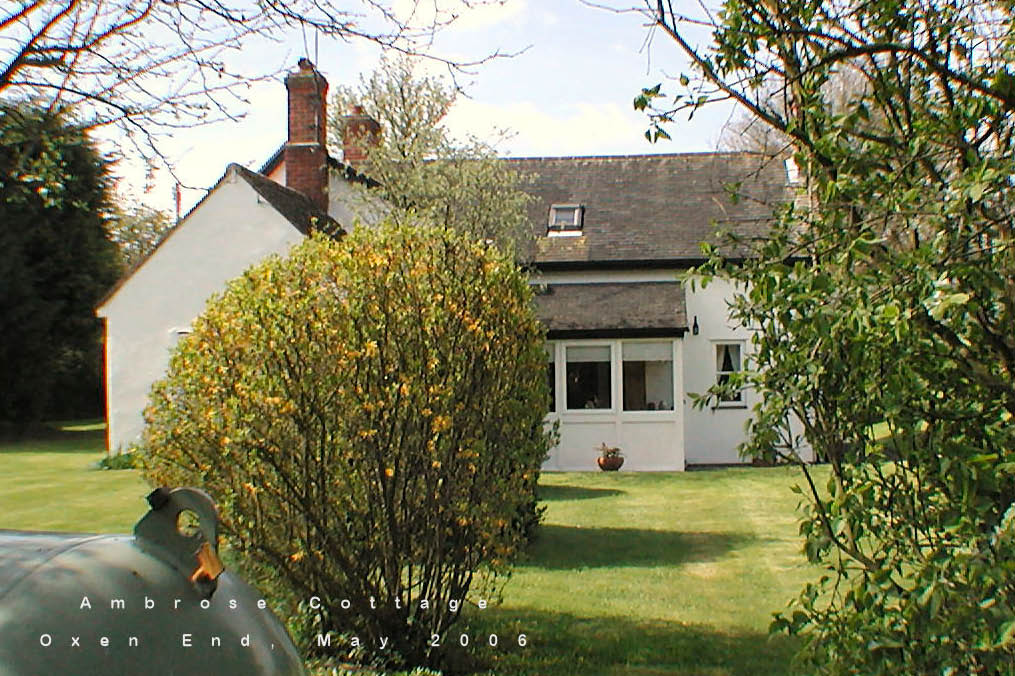 Coft Hall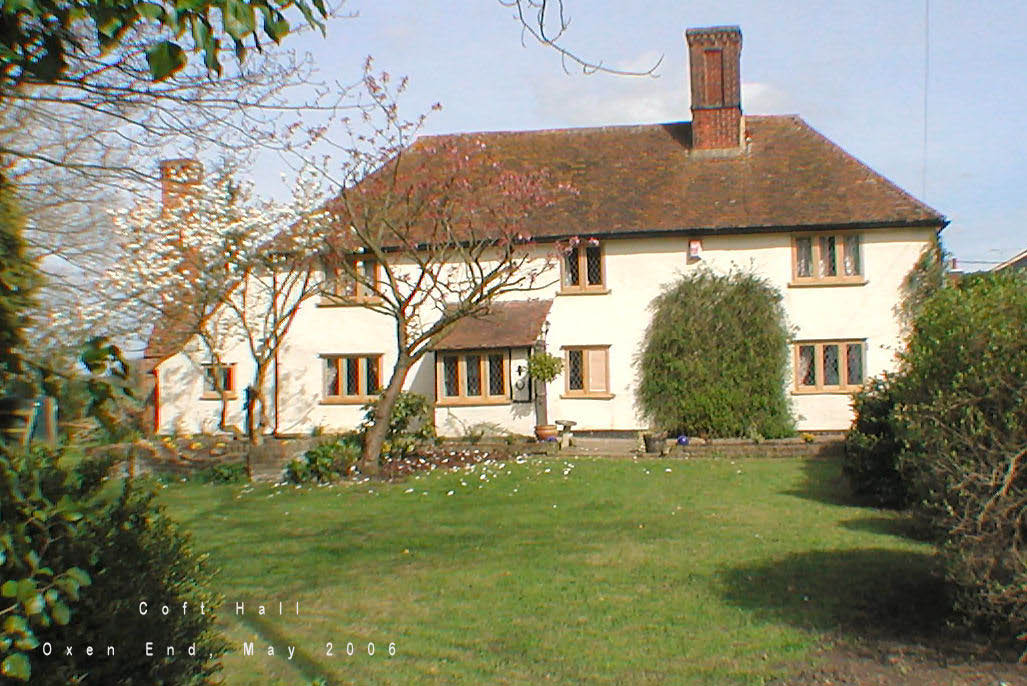 | | |
| --- | --- |
|   | Coft Hall was originally a farm.  The following details were obtained from conveyancing documents. |
| 1924 | Elizabeth Adams of Fanns Farm, owned Coft Hall Farm.  She had a tenancy agreement with Fredrick Augustus Adams for 55 acres 1 rood, 32 perches at £60 payable half yearly. |
| 1951 | Owned by E H Fox, married woman of Wells Tye Farm, Barnston.  Sold to John Macworth Wood and Douglas Payne Wood of Hartford End, fields 197,198,202,203, 207.  55.799 acres. £5,700 |
| 1974 | Half share interest of Coft Hall farm in the Parishes of Great and Little Bardfield.  John Macworth Wood of Hartford End and Douglas Payne Wood of Great Bardfield Hall, 55.12 acres for £16,500. Old edition OS map, fields 198,197,203,217.  New edition OS Map fields 4769, 3172, 2847, 0608,0689,9685,9803. |
|   | Mr Platt, tenant of Frenches, tried to buy Coft Hall land independently but ECC bought it and added it to their holding of Frenches land. |
| 1978 | Belle Winifred Elliott Wood and Mark William Wood of Great Bardfield Hall and Richard Ronald Long of Halstead sold to Essex County Council Coft Hall Farm for £79,000.  55 acres in Little Bardfield, OS parcel numbers 4769,3172,2847,06508,0689,9685,9803. |
Coft Hall Barn
Was at one time a bonded warehouse under the ground nut scheme.  Ration books were issued to farmers depending upon the number of animals that they had.  It is now a house.
Frenches Farmhouse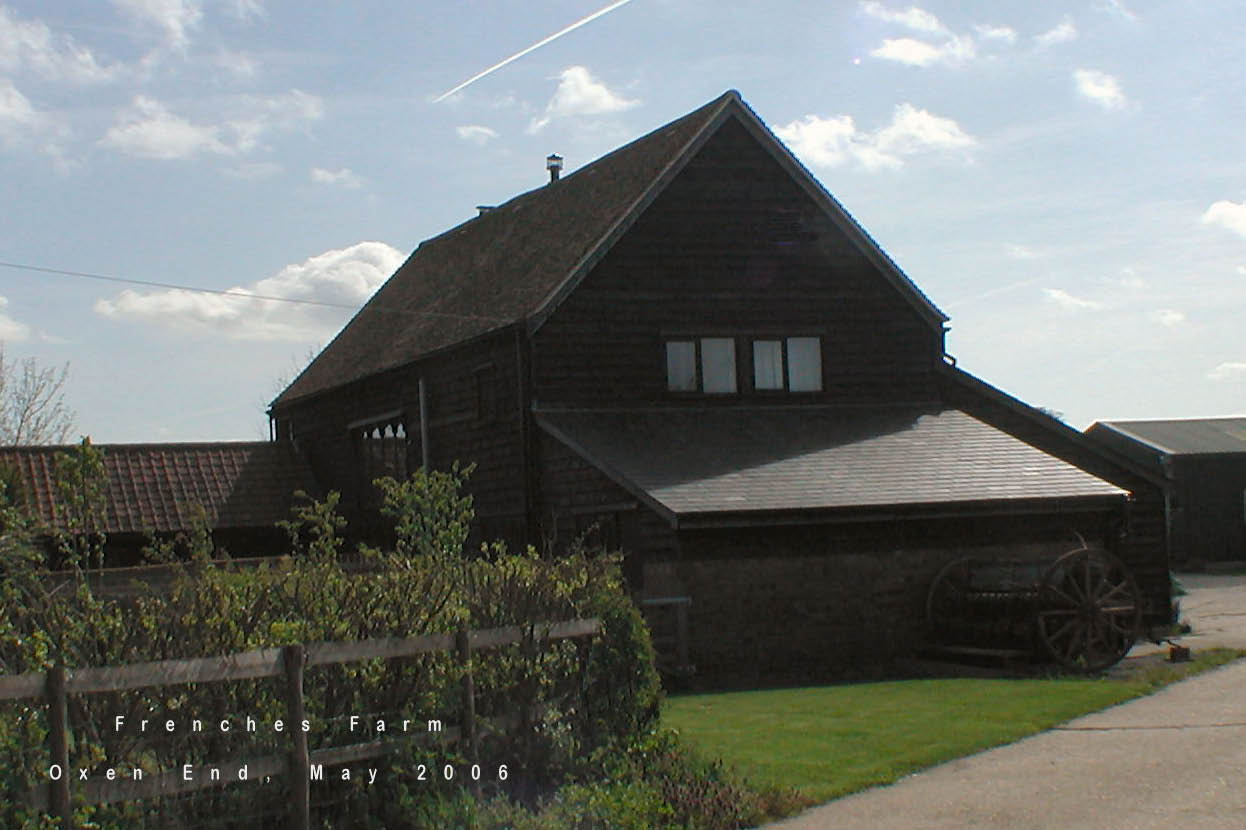 | | |
| --- | --- |
|   | The following details were obtained from conveyancing records.  In places, there appears to be contradictions.  Again, the history is confused by land being in both Great and Little Bardfield Parishes and Uttlesford and Braintree Districts. |
| 1728 | 11th year of the reign of King George 1.  Guys Hospital owned much land in the area including Felsted, Great Waltham, High Easter, Great Leighs, Little Leighs, parts formerly of the Manor of Great Bardfield, 1728 the Beaumont Estate, 1734 the Bardfield Estate and 1753 Leighs Priory Estate. |
| 1880 | Frenches Farm was previously known as Kings Farm.  Details of disposals after a Will:  £7000 (this seems a high value for that time?) plus £70 for timber.   Sale to T Gibbons.  Cart Lodge Field 3 acres 3 rods and 12 perches.  Total site area 45 acres 1 rod and 22 perches.  Occupied by J Ambrose, J H Barnard and Thomas Franklin.  Fields 201,202,204,321,322,326 |
| 1909 | The Government directed County Councils to sponsor "Starter Farms".  ECC lent the capital for local people to start farming.  After WW1, priority given to ex-servicemen. |
| 1911 | Essex County Council bought Frenches Farm for £3,600 (elsewhere recorded as  £775) from Thomas Lanyon, with no outstanding liabilities.  Partly in Great Bardfield and partly in Little Bardfield.  45 acres 0 rods 38 perches.  Little Bardfield fields 213,214,215; Great Bardfield fields 341,343,386. |
| 1911 | Elizabeth Hughes Fox, who lived in Fanns Farm, inherited the Frenches Farm on 22 May 1911 when she became age 21 from her uncle F A King.  His nephew Crawford Adams lived there. |
| 1913 | Frenches Farm land tax. Owner ECC.  Occupier B Chapman and then David Bright.  Great Bardfield fields: 341/Cart Lodge Field, 343/Wood Field, 396/Little Wood Field.  Little Bardfield fields: 212/Homestead Field, 213/Barn Field, 214/Nine Acre Ley, 215 Four Acre Ley. |
| 1914 | Robert Ball died and, in his will, appointed his wife Ada Harriett Balls and his son Jason Mayhew Balls as executors and trustees of the estate. |
| 1922 | Tithe tax paid to the Vicar for 50 years, £2-12s-9d.  For fields 325,358,359,360,361,362,363. |
| 1923 | James Mayhew Balls "renounced and abandoned the use of his said surname of Balls and in lieu thereof assumed and adopted the surname of Mayhew".  Stamp duty paid 10/-.  |
| 1951 | Deed of surrender.  Concerning a Deed made in 1924 between Elizabeth Hughes Fox and Frederick Augustus Adams who changed from Tenant to Beneficial Owner. |
| 1956 | Sold by Guys Hospital to Thomas Henry Ives fields 211 and 216.  £430. |
| 1957 | Sold by Thomas Henry Ives to Frank Herbert Pratt for £416-5s-0d fields 211and 216 of 25 acres 3 rods and 1 perch. |
| 1962 | Frank Herbert Pratt sold to Essex County Council two fields, 211 and 216, 25 acres 3 rods and 1 pole for £2320. |
| 1969 | Frenches Farm.  September, Mac Beanland became the tenant. |
| 1977 | Sold as Vacant Possession for E H Fox estate by Savills.  55 acres/22.27 hectares. Beneficiaries of a will. Alfred Ernest Jones, William Robert Arthur Young, John Mackworth Wood and Douglas Payne Wood. |
| 1985 | Town & Country Planning Act 1971.  Frenches Farm Listed Grade 2 on 8 August 1985 as a "Building of Special Architectural or Historic Interest". |
| 1990 | The Government released the County Councils from this obligation.  Essex sold all of their farms except areas designated as "development land" |
| 1992 | Mac Beanland bought Frenches Farm from ECC.  Kept pigs, sheep and turkeys.  Grazing for horses and cattle. |
| 2017 | Mac Beanland sold Frenches Farm.  It is now an Equestrian centre. |
Grove Barn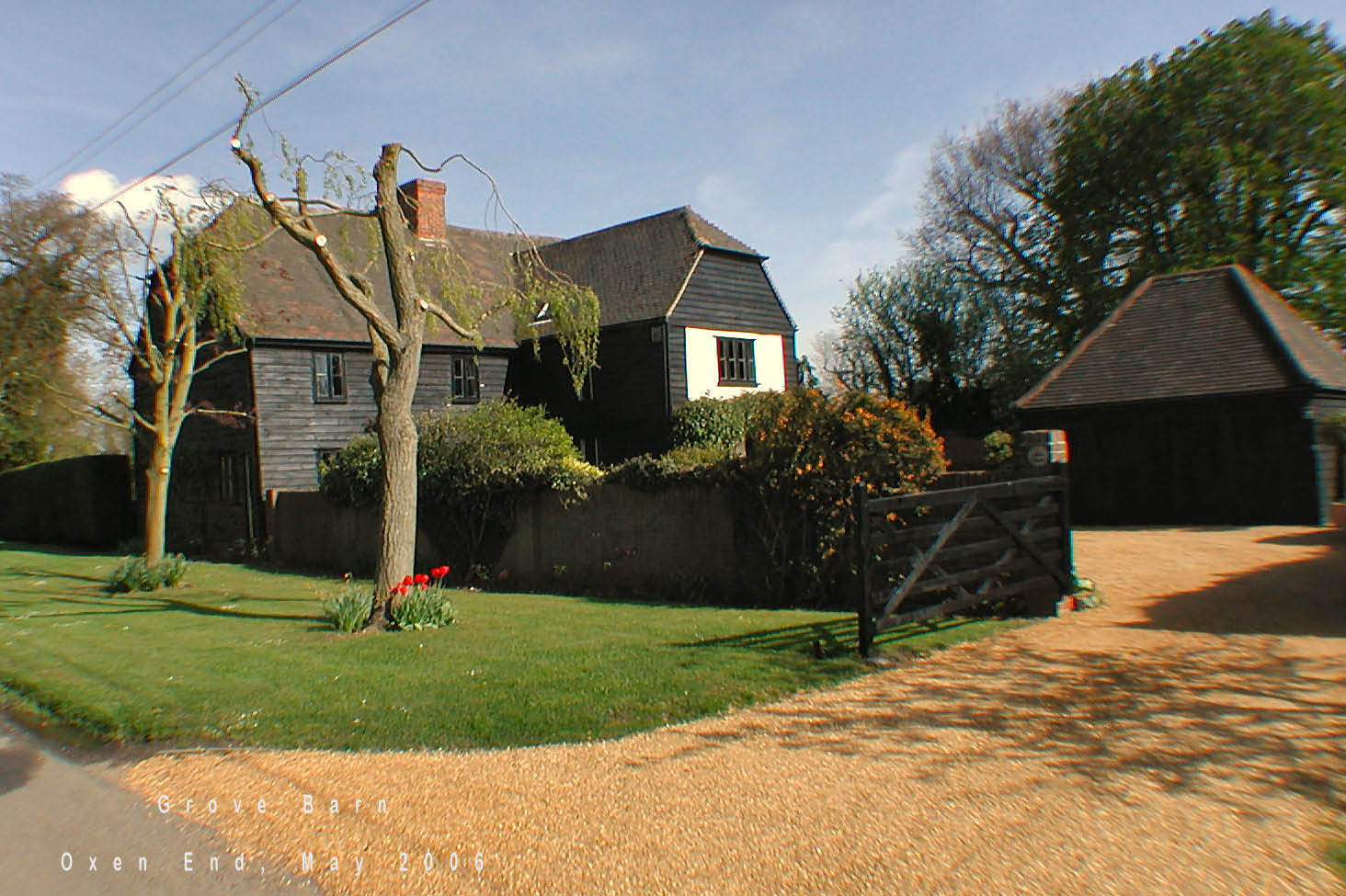 Grove Farmhouse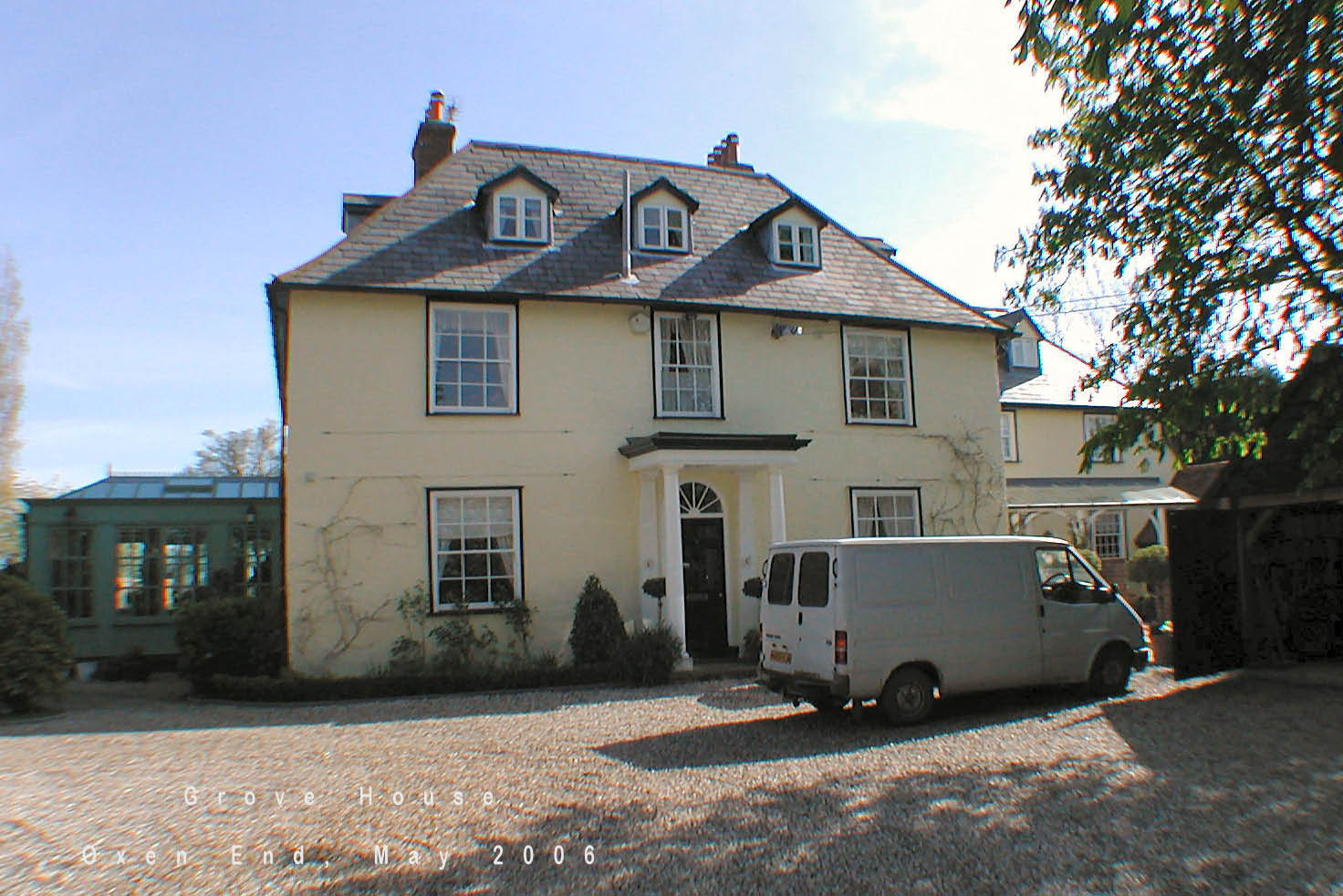 | | |
| --- | --- |
|   | Grove Farm was owned by the Adams family who owned other properties in Oxen End.  An accident with a steam engine cable severely damaged Mr Adams' legs.  They built a bungalow and then sold Grove House.. |
| 1969 | Mrs Tennant of the Tennant brewery family owned Grove Farm.  |
|   | The Crossman-Adams family owned the property as well as Crossman House in Braintree.  Some of the family still live in Great Bardfield. |
Old Cottage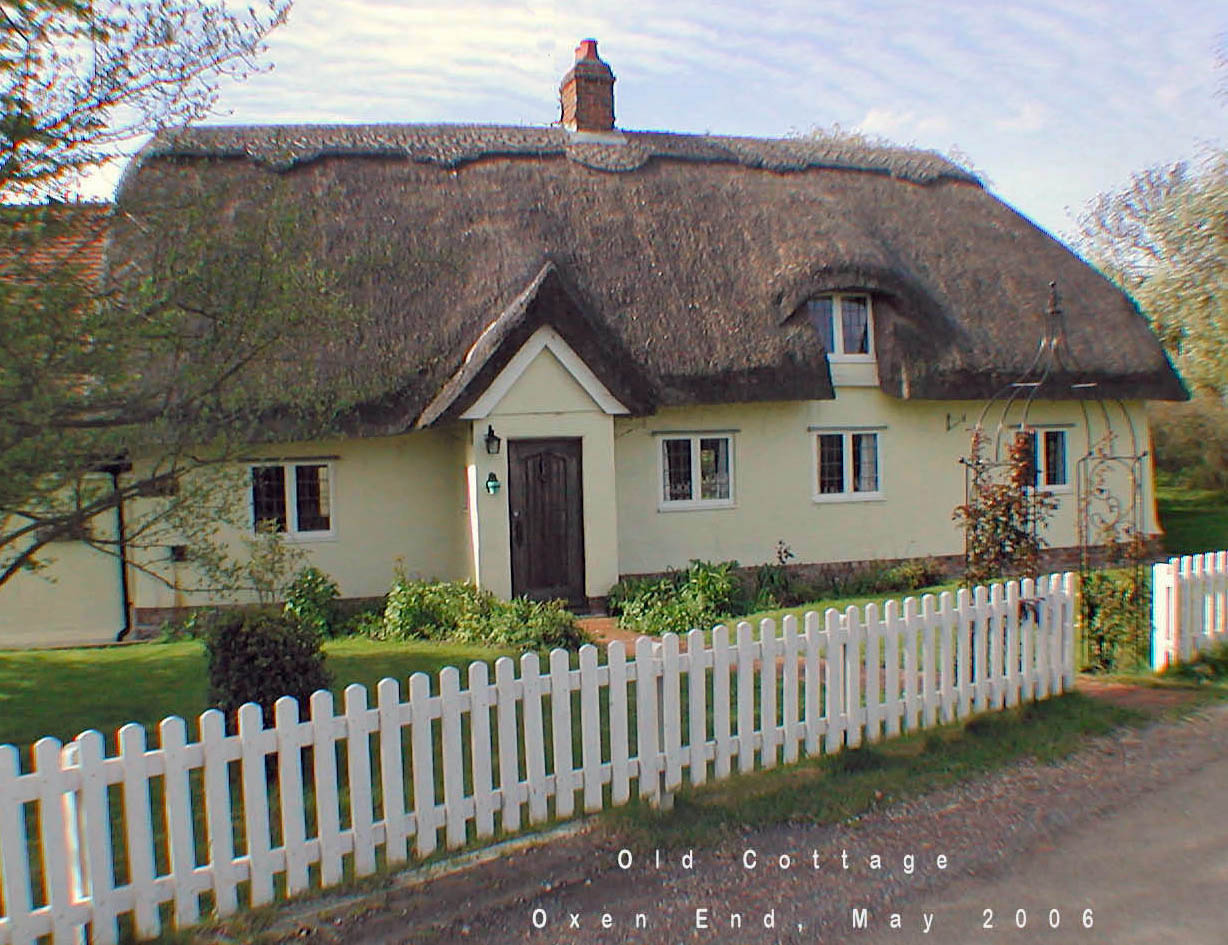 The Cottage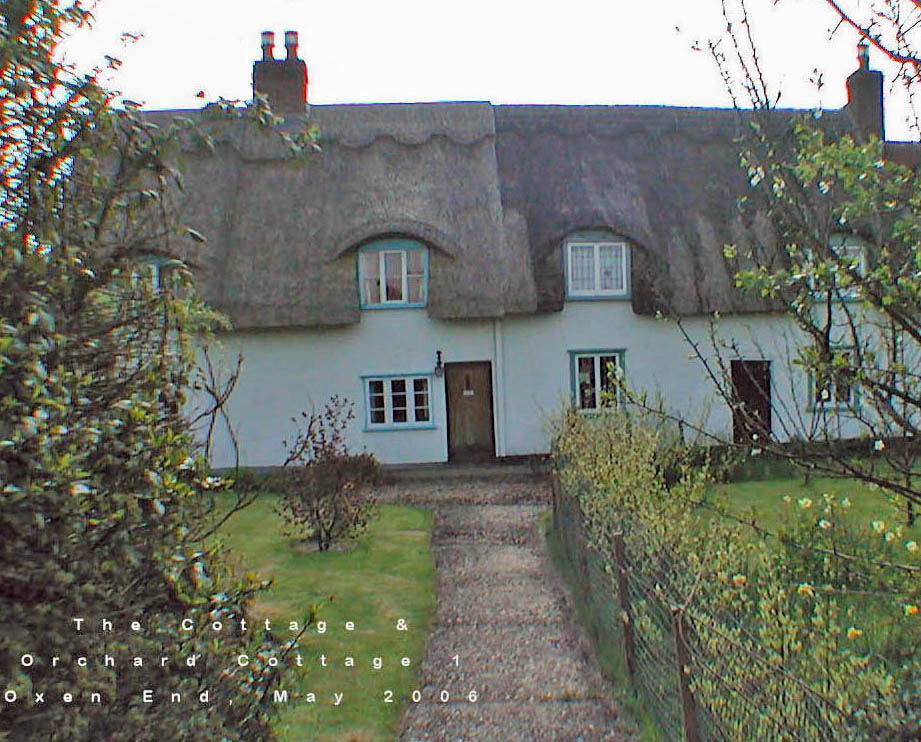 Oxen End Off-Licence
There are three pictures to this story:
1.  The Original Off-Licence
2.  The Off-Licence after it suffered a major fire.
3.  The replacement building now called "Burnt House".