History of Little Bardfield Parish
Most of the text reproduced throughout this Parish History is based upon the work of the late Mrs Eileen Judson, who researched and compiled vast quantities of historical information about the Parish of Little Bardfield.  Her work was recorded in a typewritten document in 1979 and published in a booklet, price £2, but it had limited circulation.  It is therefore appropriate that the Parish History is captured in our website otherwise it will be lost for ever.  It should be remembered that early historical text was recorded in Latin and subsequently translated into early English which could have produced errors.  Where possible, obvious misspellings have been corrected.
Other historical information, which has been gleaned from our own residents recall and from the internet, is recorded elsewhere particularly under the three separate areas of the Parish, namely Little Bardfield Village, Hawkspur Green Hamlet and Oxen End Hamlet.
White's Directory of Essex 1848
"Little Bardfield is a small scattered village, in a picturesque and well-wooded country, on the south-west side of the vale of the river Pant, 1½ miles north west of Great Bardfield, and 3½ miles east of Thaxted, has in its Parish 375 souls and 1710 acres of land."
Contents
1777 map
Glossary of Terms
The Three Manors
   Little Bardfield
   Fitzwrafe Park & Little Bardfield Hall
   Succession of the Manor Hall of Little Bardfield
   Pitley
Buildings & Structures of Note
The Sarah Bernard Trust & Almshouses 1774
The School
Georgian & Victorian Bardfield
St. Katharine's Church 1046
   Photos of the Church
   Rectors of Little Bardfield
   Reverence My Sanctuary by the Rev. Dr. Robert Beaken MA.
World War 1 & 2
Acknowledgements
   Ancient History
   20th & 21st Century History
Black Lane, by Nigel Hill, Bardfield Times, December 2021
1777 Map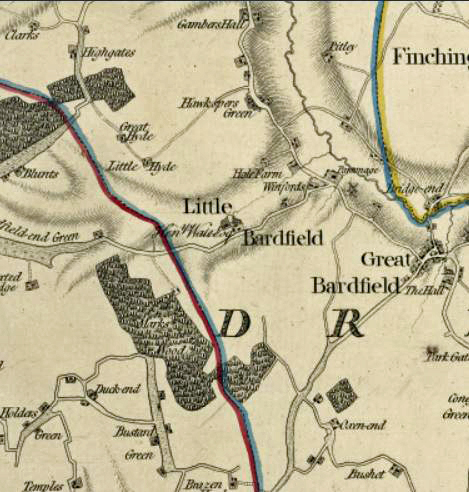 Glossary of terms
| | | |
| --- | --- | --- |
|   | Acre | The land ploughed by a yoke of oxen in one day |
|   | Advowson | The right of presentation to a benefice or living |
|   | Armiger | Originally, one who attended a Knight to bear his shield, later one entitled to bear Heraldic Arms |
|   | Bordar | A villien of the lowest rank who rendered menial service for a cottage, held at the will of his Lord |
|   | Carucate | Being as much land as could be tilled with one plough and eight oxen in a year, also known as a Hide |
|   | Chartulary | A place where papers or records are kept, records of a monastery etc. |
|   | Copyhold | Tenure of lands being a parcel of a Manor "at the will of the Lord according to the custom of the Manor" by copy of the Manorial Court roll. |
|   | Court Baron | A court of record, held in the Hundred or Manor of or belonging to, a Baron |
|   | Demense | Lord or Master |
|   | Fealty Relief | A payment made to an over Lord by an heir as token of his obligation to the Lord at the time of the heir's inheritance |
|   | Fee | Estate held on condition of homage and service to a superior |
|   | Feoffe | To confer a heritable possession upon |
|   | Freehold | A tenure by which an estate is held in fee-simple, fee-tail of for term of life |
|   | Hide | See Carucate |
|   | Manumission | When the Lord makes a deed to his villien to enfranchise him by the word "manumittre" |
|   | Rouncey | A horse, especially a riding horse |
|   | Serf | A slave or bondman |
|   | Socage | The tenure of land by certain determinate services other than a Knight service |
|   | Steward | The administrator of a Manor Court |
|   | Terrier | A register of landed property, formerly including lists of vassals and tenants etc.  Also an inventory of property or goods |
|   | Villien | One of a class of serfs in the feudal system, a peasant occupier or cultivator entirely subject to a Lord, often attached to a Manor |
|   | Virgate | An early English land measure, varying greatly in extent but in many cases averaging thirty acres |
THE THREE MANORS OF LITTLE BARDFIELD
1086:
According to the Domesday Book/Survey the name Bardfield was originally Birdfelda.  Any English name ending with field or felda usually denotes Saxon origin and could possibly have meant an opening, i.e. open land colonised by peasants.  Geographically, it lies in the Half Hundred of Freshwell.  Freshwell was the river which we know today as the Pant (which in turn downstream becomes the Blackwater)
The Domesday Survey says that Birdfelda was held in Edward the Confessor's time by a Saxon confusingly called "Norman", and consisted then of "two hides, one virgate".  Following the Norman Conquest, a great part of Essex was divided up between Count Eustace of Boulogne and the Earl of Clare.  Ingleric, who was the first Dean of St. Martin le Grand in London ten years before the Conquest, became agent to Eustace of Boulogne at this period.  Eustace's under tenant was Adolf de Merk.
The Domesday Survey provides us with this description of the village.  "There are now six villiens, then and afterwards one bordar.  Then as now, four serfs and three ploughs in the demesne and two ploughs belonging to the men.  There is woodland for two hundred swine, and forty-nine acres of meadow.  There are five beasts, twenty-five swine, two hives of bees, thirty goats and one rouncey.  Then, as now, one mill, now one fishery.  It was then worth eight pounds and is now worth ten pounds".
The Manor of Little Bardfield
(This Manor was centred upon Little Bardfield Hall.  GR 655307)
| | |
| --- | --- |
| 1046 | St Katharine's Church tower in existence |
|  1066-1086 |  The land was held by Count Eustace of Boulogne and after him by Adolf de Merk. |
| 1086 | Domesday Book entry for the Bardfields as Birdfelda |
|  1210 |  It passed to Henry de Merk who held three Knight's fees: Little Bardfield, Latton near Harlow and Shortgrove near Newport. |
|  1286 |  It was held by another Henry de Merk |
|  1274 |  It passed to his son, also a Henry whose wife Alda was the daughter of Geoffrey Dynant.  The latter "held the Manor of the King of the said honour of one Knight's fee and half a Knight's fee by way of dower and advowson of the Church". |
|  1282 |  Henry's Uncle Andrew held the estate until his death in 1291, after which Henry de Merk held the Manor and advowson of the Church and Julian his wife held half a Knight's fee in Latton by way of dower, Ralph was the last de Merk to hold the land which returned to the King in 1337. |
|  1351 |  King Edward III granted licence to Master Clement de Rumburgh (he was Rector of Hamerton, Hunts.) to give the Manor and living of the Church to the Abbot and Convent of Saint John's in Colchester and to use the Church for their own needs.There seems to have been quite a commotion about the acquisition of the Manor and Church by the Abbot and Convent because there was a Crown plea at Chelmsford at Michaelmas 1351 and the Abbot, Simon de Blyton, was charged with seizing the Manor of Little Bardfield without licence.  However, the Abbot was able to show that he had made legal purchase. |
|  1364 |  There were further pleas about the acquisition of Little Barfield and of two carucates of land at Feering.  The Abbot said that Andrew, Uncle of Ralph de Merk and his heir had released the Manor of Little Bardfield to Clement de Rumburgh, John de Asshen, Adam Eyredale, John Chamberleyn of Sawbridgeworth and Richard Woderone.  The last four released all their rights to Clement who granted the Manor and advowson to the Abbot and Convent of Colchester.  (Clement's Charter is preserved in the Colchester Chartulary pp 470-498).  A writ of Edward III dated November 6th 1364 described a fine levied in the Michaelmas term 1326 between Ralph de Merk and Floria his wife, who were plaintiffs and Oliver, bastard of Ford Chaplain, defendant, by which Oliver conveyed to Ralph and his wife the Manor of Little Bardfield and the advowson of the Church for their lives, with the remainder to Thomas, son of Ralph.  Then to Oliver his brother and then to the heirs of Ralph.  By this time Ralph and Floria were dead and Thomas had entered religion and been professed.  Oliver himself was also dead and therefore the Manor ought to have descended to Ralph, Oliver's son.  However, Simon de Blyton, Abbot of Colchester had taken over the Manor and was able to establish that Ralph's legal heir was his Uncle Andrew who passed the estate to Clement de Rumburgh from whom it was purchased by the Abbey. |
|  1421 |  John Arnold of the Manor of Little Barfield received manumission from the Abbot of Saint John, Colchester.  This allowed John Arnold, a villain, "pure and complete liberty, and looses him from the Abbot's power, land lordship, and any condition or burden, and from all right of patronage of any kind, and restores him to his original birth and ancient right of blood",  Today Arnold's field is where the house called Furthermore Cottage stands. |
| 1720 | A Mary Arnold married Edward Parker of Bailey Hall, Manuden.  Could it have been the same family?The Abbey at Colchester was dedicated to the honour of Christ and Saint John the Baptist and was one of the works of Eudo Dapifor who came over with the Conqueror.  Earl Gilbert de Clare was the brother of Rohesia, wife of Eudo Dapifor.  In view of the Clare family owning so much land in Great Bardfield it is extraordinary how the Manor and living in Little Bardfield went to Saint John's on Colchester and not to Clare. |
|  1838 |  The Tythe map shows Arnold's field running down to the river which is now only a stream.  There are very old foundations at this site which may have been John Arnold's house. |
The Manor of Fitzwrafe Park & Little Bardfield Hall
Fitzwrafe Park was the second of the Manors in Little Bardfield.  There are several other spellings of this name:- Firthrofos, Fitzralph, Fitchwafes, and Fitzwraif, but for the purpose of continuity we shall refer to it as Fitzwrafe.
(Our Public Rights of Way map shows a Fitzridge Lane.  It starts in the south in Oxen End at the Dunmow Road and goes north west to the Church.  This part of its route was also known locally as the Coffin Way.  From the Church it continues north west passing through The Hydes to the road which runs between Thaxted and Little Sampford).
| | | |
| --- | --- | --- |
|   | 1317 | John Gacy, Geney or Gevey owned the estate.  Then Sir John Fitzralph of Pebmarsh held half a Knight's fee in Thaxted and Bardfield Parva of the Honour of Clare and after him to Henry Skinner, Nicholas Hewysch and thence to William Thymmings of Walden. |
|   | 1426 | It was owned by Roger Damorey, through his wife, Elizabeth who was third daughter of the Earl of Clare.  The estate lay on the borders of Thaxted and Little Bardfield and the house itself was on a moated site which lay between the Church and The Hydes.  (Possibly near to GR 650307).  Three quarters of the moat can still be seen.  Quite recently tiles have been picked up from the ploughed field and verified by Colchester Castle as 13th and 14th century roof tiles.  The pool on the left is called Fishery Reeves to this day and could have been the fishery referred to in the Domesday Survey.  Roger Damorey was a Lancastrian and was taken prisoner at Burrough Brigg during the Wars of The Roses.  His life was spared but his lands were seized by the King. |
|   | 1434 | Robert Boyton bought the Manor and he called it Boytons or Botelors. |
|   | 1445 | It was owned by John Chishull and appears to have become joined to the Manor of Little Bardfield Hall as it is mentioned in William Chishull's will of 1532 as Boydens.  When Bartholomew Chishull sold the estates and went to Ireland, it was purchased by John Bottolphe who lived at Fanns (Oxen End) and then to Christopher Bottolphe and then into the possession of the Wale family where it was mentioned in one of the wills of the Wale family as Boytons of Fitzwrafe Park. |
|   | 1539 | The next ownership of the land and estate of Little Bardfield Hall is recorded when the estate having become vested in the Crown was granted to Robert Foster Esq., also the moated site and the Manor of Fitzwrafe.  The first of the Chishulls of which we have mentioned is John, born at Chishall, Clerk of Henry III, Bishop of London in 1274 who died in 1280.  A Richard Chishull was Abbot of Tilty in 1370.  In the 14th century a Bartholomew Chishull was paying a foeffe of 4½d to the Lord in Thaxted. Because the Chishulls were a large and prolific family, it has been rather difficult to discover the exact relationship of the Chishull heirs, but the succession to the estates is well documented.  The first William Chishull, Gent, Armiger, at first lived at Wainsfords and later moved to the Hall.  He died in 1532 and his will made on the 22nd February, which is in the Essex Records Office states, that he is "to be buried before the rood loft in Little Bardfield Church".  If you look under the Rood in the Church today there is a large stone slab which bears no inscription but could well be his tomb. (See also the section on the Church).He left a tenement called Damions (in Hawkspur Green?) and a meadow called Rands in Little Bardfield to go to his nephew, another William Chishull, "sixpence out of it to go to the Church, five shillings rent to come out of his estate called Boydens, also to go to the upkeep of the Church.  Three pence out of his house called Harstedes".  (This was next to the present-day Grove House (in Oxen End).  "An annuity of forty shillings out of the land called Harstedes and Fanns.  (This was a farmhouse lying on the back road from Great Bardfield to Oxen End which came out at Gallows Green).  "This land for his heir to keep for twenty years".  William Chishull, his nephew, "to inherit land in Thaxted occupation of William Taylor and Thomas Brown paying twenty shillings annual towards the upkeep of the hermit and poor people of Thaxted.  Six and eightpence to the hermit for his diligent services done in the square for as long as he continues it and the rest of the twenty shillings to the poor of Thaxted".  His executors were to be his nephew, William Chishull and John Cokkes, parson of Little Bardfield.  The Court Rolls of the Manor of Pitley (see section on Pitley Manor) in Great Bardfield were kept from 1531 to 1796 and in the entry under 6th July 1532 it says, "since the last Court, William Chishull senior, gent, has died seized of his lands in Great Bardfield.  William Chishuill, gent (that was his nephew) his heir pays "three shillings relief for inheritance of these lands".  The Court of the 6th July 1542 "owe suit of court and are in mercy for sixpence and three pence".  This money was paid to the Steward called William Sidey of the Manors of Stoke by Clare, the House of Secular  Canons and Lords of Pitley Manor. According to Wright's History of Essex , William Chishull possessed the Manor and advowson of the Church held of Queen Elizabeth I.  This William died 1570.  The estates then passed to Giles Chishull and after him to his son Bartholomew.  Bartholomew is recorded as having been baptised in 1566 and according to Morant's History of Essex he went to Ireland and sold his estates. He died in 1585. |
|   | 1585 | The next family to own the Hall were the Bottolphes or Buttolphes.  John Bottolphe, in 1551 lived at Fanns (Oxen End) which had belonged to William Chishull.  His son John who was living in 1619 owned 50 acres of land - three crofts lying against Black Lane and the rest situated around Grove House.  He also owned Wainsfords.  This John was related by marriage to the Chishulls as his second wife, Anne was cousin to Francis Chishull.  It is also recorded that she had a god daughter called Anne Pepper, who was the wife of Christopher Pepper at The Hydes. |
|   | 1627 | Anne Bottolphe left £5 to her cousin and young John Hawkisby.  Christopher Bottolphe in 1665 owned all the land from Oxen End up to, and around the Hall.  He lived at Little Hydes and owned Little Farm or Little Copford which was occupied by Henry Clayton.  This land was rented from Pitley Manor and Christopher Bottolphe paid homage to the Court.  There are baptismal records for several Bottolphes.  Richard Bottolphe married Mary Adslye in 1559 and had five children.  They were Pauline 1602; Bathsheba1604; Priscilla 1607; Alice and Thomas 1610.  Christopher and Anna also had five children: Martha1613; Jane 1614; Christopher 1617; Thomas 1621; and Penelope 1622. There are no burial records for this family in Little Bardfield, possibly because there is a gap in the burial records from 1600 to 1695.For a short time, the Owen family owned the Hall.  Israel Owen lived at Wainsfords and he had three children: Thomas baptised 1601; Sara 1603 and Thomas 1607.  Then came John Owen and he had four daughters.  None of the family were buried at Little Bardfield except for a John Owen in 1710.After the Owens, the estate was in the hands of the Wale family for about 150 years, and certainly some members of the family for longer than that.  The Wale family Crest consisted of 5 lions rampant argent on a cross sable.The first date to be mentioned in the Wale records is for Clementia Wale who was buried in 1547 and then Giles son of Milo who was buried in 1551.  In 1596 Thomas Wale was born son of Thomas Wale of Thriplow in Cambridgeshire whose wife Jane, was daughter of Richard Westley of Hempstead.  His son Thomas on the 2nd January 1643 bought the advowson of the Church in Little Bardfield from Richard Owen, son of John Owen, and also presumably, the estate as well.  Thomas was married to Elizabeth Nightingale of Newport Pond.  Her family are all buried in the Church there.  There are records that two of his sons, Henry and Geoffrey were baptised in Little Bardfield: Henry in 1624; and Geoffrey in 1629.It was said that Thomas Wale was a General in Cromwell's army, but this has not been verified.  Certainly, Little Bardfield was strongly Cromwellian.  There is a copy of a protection granted to Thomas Wale, of Little Bardfield Esq., who lived at the Hall and the original copy was in the hands of the Rev. M. Mayall of Maplestead, Essex.  It says "this is to require all soldiers under my command that they abstain from any violence to Thos. Wale of Little Bardfield in ye County of Essex, Esq, from offering any discourtesy to him, his wife or any of his family or to meddle with taking any of his goods or cattel as ye will answer ye contrayre at your peril he having a protection under ye hand of Lt. Gen, Fairfax".  This is signed by John Alex. Founder, Dunmow, July 27th, 1648.It also said that Gen. Thomas. Vale of Little Bardfield Hall was also one of the signatories of the order condemning King Charles I to death.  This may not be true because most of the people who condemned Charles I were themselves later executed or had died before Charles II came to the throne or were finally pardoned but despite research, no mention of Gen. Thomas, Wale can be found. |
|   | 1650 | Thomas' daughter Elizabeth, married Edmund Stubbings.  There is also a marriage settlement dated 26th July 1650 which says that certain lands lying in Helion Bumpstead should bring her in £150 per annum should she outlive her husband Edmund.  There is mention -of the Stubbings family living and working in and around the Sampfords in several documents of the time.  When Thomas Wale died in 1659 aged 63 (sadly the register recording his burial is missing) he was a very wealthy man.  He left a sum of money in the region of £180,000.  He left all his land including Wainsfords to his son Geoffrey and a house called Dasters and Furthermore Hall to his wife.  Elizabeth Wale survived her husband by 11 years and died in 1680.  It is curious that the register recording these two burials is missing.  His property, the Kings Head in Lombard Street, London he left to his son William.  When William's will was proved in 1666 he left most of his property to his brother Geoffrey and some money to his nieces and nephews.  Geoffrey had lent him £150 to mortgage a house and tavern in St. Clement's Lane near Lombard Street which was to return to Geoffrey.  He also left five shillings to Rebecca Brand, a servant at the Hall.  When Thomas's heir, his son Geoffrey's Will was proved in 1670 he seems to have divided the property between his numerous relatives.  Charles Wale to have Wainsfords.  Sister-in-law Jane, wife of his brother Henry to have Damions and three acres.  Nephew Thomas, to have Markswood and Colehearths each of 100 acres.  His mother to have £20 "to buy her a gowne and 20 shillings to buy her a ring".  This also to all his brothers and sisters and in-laws.  He left Uncle George, gent. "£10 to buy him a gelding.  Geoffrey can't have thought much of his relatives because at the end of his will he says, "I have endeavoured to please all my relations but if they are not satisfied, I am sorry but suppose they love the legacy more than the legator".Edward Wale whose baptism was recorded in 1629 made his will in 1658 which was proved in 1666 which presumably was the date of his death.  Some of the entries are interesting.  He left to his sister Jane's children Thomas, Robert and Jane £100.  To his mother Elizabeth he left £100 and "a mourning gown of very good cloth".  To his brother Geoffrey, he left Wainsfords and his house called Damasbs, Danilh, or Dammllo and three score acres. |
|   | 1680 | Another Thomas Wale who died in 1680 mentions various pieces of land he owned.  Marks Wood, 100 acres, Wimbish Wall, Longdon and Longdon Mead, a spring of 35 acres which bordered the boundaries of Thaxted and Little Bardfield.  The House of Wainsfords is mentioned, and property in Lombard Street.  He also owned the Manor of Fitzwrafe or Boytons or More Hall.  Henry the eldest surviving son was succeeded by his son Henry who married Elizabeth, daughter of James Clark of Tendring.  Their son Henry was the last Wale to live at the Hall and he died in 1780 and was buried in woollen.  He lies in a vault next to the organ. |
|   | 1704 | Two of the Wale family John 1704, and Mildred 1725, preferred to be buried in linen.  There are entries in the Parish Register, now in Chelmsford Records Office, which show that their heirs were fined for such an offence.  The executors paid a fine of 25 shillings to the Rector for the use of the poor of the parish.  To help the declining wool trade, an Act of Parliament of 1666 required everyone to be buried in a woollen shroud.  This Act was not repealed until the 1820's.  Another note concerning the Wales showed that in the Hearth Tax of 1662 the Hall had 13 chimneys but by 1674 they were only taxed for 11.  The Wales must have had an Elizabethan House, but the later Wales added a Georgian front, and this remained until Mr. Letts came to live at the Hall. |
|   | 1815 | William Luke Walford owned the Hall after the Wales.  He was appointed Deputy Sheriff of Essex on the 13th February 1815.  He died in 1833 but his widow lived to be a very old lady and died in 1880.After William Walford, John Cutts bought the Hall and spent a great deal of money doing up the barns and store houses at Hall Farm.  At that time these barns were the most modern in the county.  After Mr. Cutts, Mr. Richard Creed owned the Hall.An undated scroll, still hanging in the Hall, gives its ownership history from 1210 to 1700. |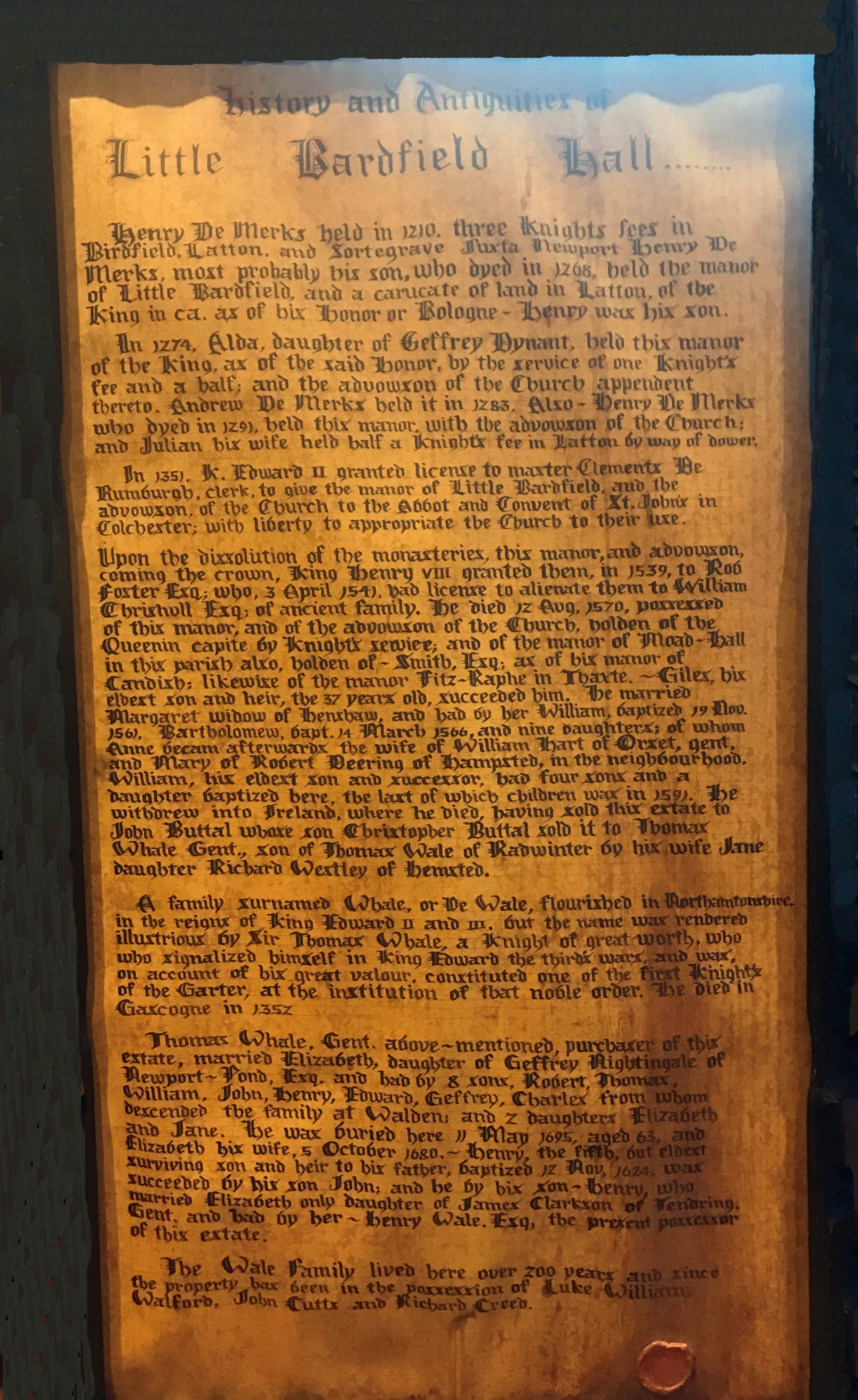 More clearly re-typed
History and Antiquities of
Little Bardfield Hall
Henry de Merks held in 1210, three Knights fees in Birdfield, Latton and Sortegrave juxta Newport.  Henry de Merks, most probably his son, who dyed in 1268, held the manor of Little Bardfield and a carucate of land in Latton of King in ca. as of his Honor of Bologne – Henry was his son.
In 1274, Alda, daughter of Geffrey Dynant, held this manor of the King, as of the said honor, by the service of one Knight's fee and a half; and the advowson of the Church appendent thereto.  Andrew de Merk held it in 1283.  Also – Henry de Merks who dyed in 1291, held this manor, with the advowson of the Church; and Julian his wife held half a Knight's fee in Latton by way of dower.
In 1351, K. Edward II granted license to master Clements de Rumburgh, clerk, to give the manor of Little Bardfield and the advowson of the Church to the Abbot and Convent of St John's in Colchester; with liberty appropriate the Church to their use.
Upon the dissolution of the monasteries, this manor and advowson, coming the crown, King Henry VIII granted them, in 1539, to Rev. Foster Esq; who, 3 April 1541, had license to alienate them to William Chrishull Esq; of the ancient family.  He died 12 Aug, 1570, possessed of this manor, and of the advowson of the Church, holden of the Queen in capite by Knight's in service; and of the manor of Moad Hall in this parish also, holden of – Smith Esq; as of his manor of Candish; likewise of the manor Fitz-Raphe in Thaxte.  Giles, his eldest son and heir, the 37 years old, succeeded him.  He married Margaret widow of Henshaw, and had by her William, baptized 19 Nov. 1561,  Bartholomew, bapt. 14 March 1566, and nine daughters; of whom Anne became afterwards the wife of William Hart of Orset, gent and Mary of Robert Deering of Hampsted, in the neighbourhood.  William, his eldest son and successor, had four sons and a daughter baptized here, the last of which children was in 1591.
He withdrew into Ireland, where he died, having sold his estate to John Buttal whose son Christopher Buttal sold it to Thomas Whale Gent, son of Thomas Wale of Radwinter by his wife Jane, daughter Richard Westly of Hemsted.
A family surname Whale, or de Wale, flourished in Northamptonshire in the reigns of King Edward II and III but the name was rendered illustrious by Sir Thomas Whale, a Knight of great worth, who on account of his great valour, constituted one of the first Knight's of the Garter, at the institution of that noble order.  He died in Gascogne in 1352.
Thomas Whale, Gent. above – mentioned, purchaser of this estate, married Elizabeth, daughter of Geffrey Nightingale of Newport – Pond, Esq. and had by 8 sons, Robert, Thomas, William, John, Henry, Howard, Geffrey, Charles from whom descended the family at Walden; and 2 daughters Elizabeth and Jane.  He was buried here 11 May 1695, aged 63, and Elizabeth his wife, 5 October 1680.  Henry, the fifth, but eldest surviving son and heir to his father, baptized 12 Nov 1624, was succeeded by his son John; and he by his son – Henry, who married Elizabeth only daughter of James Clarkson of Tendring, Gent, and had by her – Henry Wale. Esq, the present purchaser of this estate.
The Wale Family lived here over 200 years and since the property has been in the possession of Luke William Walford, John Cutts and Richard Creed.
Succession of the Manor Hall of Little Bardfield
1042-1066

Norman

 

Ingleric

1066-1086

Eustace of Boulogne

 

Adolf de Merk

1210

Henry de Merk

1268 

Henry de Merk

Ralph de Merk

1282

Andrew de Merk, Uncle of Ralph

1337

Estate returned to the Crown who granted licence to:-

1351  

Clement do Rumburgh to give the Manor and living to:

Abbey of Saint John, Colchester

1539

At the dissolution of the monasteries - Robert Foster

1570

William Chishull, son of William died and by this time the Manor included the Manor of Fitzwrafe.

Giles Chishull died 1632

Bartholomew Chishull

John Bottolphe

Christopher Bottolphe

Israel Owen

John Owen

Richard Owen died 1680

1643

Thomas Wale

The Wale family continued to own the Hall until at least 1780 and probably later

1882

John Cutts died

1914

Richard Creed died

1922 

Sidney Letts, died 1940

1942

World War II.

Dr. Barnardos ran the Hall for their children evacuated from big cities

1949 

Squadron Leader Dyer, died 1976

1977

Mr. Sagger

1993

Mr & Mrs Alan Goldsmith
The Manor of Pitley
This name according to Essex Place Names means; "enclosure of Pyttel and his people",
Late in the 16th century
Pitley Farm House 1¾ miles N.N.W. of the Church (Great Bardfield Church) was probably built in the late 16th century, on an L-shaped plan with the wings extending towards the N.E. and N.W.; more recent additions make the plan quadrangular, and there is a modern porch on the S.E. front.  The N.E. and S.W. elevations have each two gables.  Inside the building, the room on the ground floor of the original N.W. wing has a moulded ceiling beam, and 16th century oak panelling, probably re-set, with a carved and fluted frieze.  In the partition walls of the upper storey are cambered tie beams with curved braces.
The house and following named fields were in the Parish of Little Bardfield: Pounds Ley 5 acres; Barnfield 12 acres; Horse Pasture 7 acres; Dove House Ley 8 acres; Home Stall 16 acres; part of Marsh Pasture, and part of Dockley.
The remaining fields lay in the parish of Great Bardfield and at the turn of this century (20th) the Manor House and these fields were placed within the boundaries of Great Bardfield Parish.
Late in the 18th century
The Gentleman's Essex writes:  "the Manor of Pitsey or Pitley, Pitsea or Pasklea the Mansion House of which stands in Little Bardfield originally was part of Fitz-Gilberts estates here.  Whose son gave it together with the Church (this presumably means Great Bardfield Church as at this time Little Bardfield Church was in the possession of the Abbey of Saint John at Colchester) to the Abbey of Bec in Normandy, or rather to the Prior of Stoke by Clare and upon suppression of religious houses; King Edward VI granted the Manor, amongst other things to Sir. John Cheke, his preceptor, famous for his skill in the Greek tongue.  Upon his flying the realm in the Marion days, his estate was seized by the Crown.  He was apprehended abroad and forced to recant; upon which his lands were restored, but on condition that he exchanged them with the Queen for others.  Whereupon her Majesty granted it to Henry Vavasour and some other persons.
In the reign of King James - this manor was held by John French.
In the reign of King Charles who granted it away and by Mr. Haslefoot, it was given to the Company of Haberdashers in London (see Court Barons - following) charged with the following payments.  To the Church Wardens of St. Nicholas, Cold Abbey for the better maintenance of the weekly lecture there 8 pounds, to 20 poor housekeepers of the Company 20 pounds.  To the four hospitals of the Company 10 pounds.  To Ludgate, Newgate and the two Compters. 20 pounds, and to the Company and Officers as a stock for laying up corn"
Another interesting quote from the same author about the road from Little Sampford to Thaxted "The roads will engage the attention of every traveler for in going from the Church to Thaxted it is a difficult matter to pass, scarce three steps without the most imminent danger to both horse and rider".
Wright's History of Essex written some fifty years later differs slightly in its account thus:  "After the suppression of religious houses Edward VI in 1551 granted this estate with the woods called the Marsh and Pinkwell Grove to his preceptor Sir John Cheke who was deprived of it by Queen Mary in 1556 and it was granted in 1557 to Henry Vavasour and others. It belonged after­wards to Thomas French Esq. and to John Owen in 1636 and a proprietor of the name of Plumb forfeited this estate to the Crown for having killed a bailiff"
| | |
| --- | --- |
| 1538 | The first Court Roll commences in 1538 with the sworn homage of Thomas Silesden, Gent., (he was Sheriff of Essex in 1556) and the rolls were examined and witnessed at the above courts by William Sidey steward of the Manors of the College of Stoke by Clare, the house of secular canons and Lords of Pitley Manor.  The last Court examined by William Sidey for the College of Stoke was held on 8th July 1546. |
| 1588 | The next Court held at Pitley was on Tuesday 17th December 1588 and the Court Baron was Thomas Frenche and he remained Court Baron until 1592.  There is no mention in the Court Rolls for these years of Henry Vavasour and others, so he must for the present remain a mystery. |
| 1631 | The Court of John Riddesdale and James Chaplyn took place in 1631 and then there was a gap of eight years when Henry Haslefoote Esq., was Court Baron at the Court in 1639 and again for the year 1642.  Wrights then quotes Haselfoote as giving the Manor to the Worshipful Company of Haberdashers but according to the booklet issued by the Company there is no mention of him ever being a Master of that Company or even indeed ever having been a member |
| 1636 | It belonged to John Owen, Gent, afterwards to one Plumb who forfeited it to the Crown for killing a bailiff. |
| 1662 | The next Court was held on the 22nd May 1662, the Court Baron being Sir John Lawrence who was Master of the Company for the years 1664 and 1676.  He was also Lord Mayer of London in the year 1664 |
| 1667 | At this particular Court, Hugh Smithson, Master 1656; Thomas Bromfield, Master 1657; Thomas Barnes Master 1655; Thomas Arnold Master 1659; Daniel Andrew Master 1361; and Thomas Walker Master 1667; also, George Arnold and William Hobson accompanied Sir John Lawrence to Pitley for this court.  It must have been a very big occasion to have brought all these illustrious members of the Worshipful Company of Haberdashers all the way from London.  At this Court Thomas Clayden and John Nye swore homage.  Thomas paid 7d for Horrells late le Moors and John Nye took over Toms House |
| 1682 | The next Court was held on 1st September 1682, Henry Cornish being the Court Baron.  He was Master in 1680 and a non-conformist and one of the leaders of the Whig movement against the King and Court |
| 1685 | James II annulled the City Charters including that of the Company and granted new Charters.  A close watch had been kept on Henry Cornish and it was soon discovered that he was outspoken against King James as he had been against Charles.  He was arrested on a charge of High Treason in October 1685 and was tried and convicted at the Old Bailey.  He was executed at the corner of King Street within sight of his own house and the Guildhall.  His body was cut down and quartered and delivered to his relations and finally came to rest in St. Lawrence, Jewry.  This extract was taken from the Short Description of the Worshipful Company of Haberdashers by H. Prevett.No Court had been held for nearly 20 years.  Mr Nye's rents were considerable, amounting to £8 8s. which sum he promised to pay in London.  William Sorrell owed £3.0s 6d. and he promised to pay it to William Thomasin the Bailiff for the Company and Tenant of Pitley.  John Burrows to pay £3.  At this court it was agreed that a full survey of the lands belonging to the Manor be taken and that the Manor House, Barns, Stalles were in good repair, but that the Dovehouse and an outhouse adjoining needed ground pinning. The yearly rent amounting to 17 shillings. |
| 1688 | "William Thomasin the present Bailiff has every year been cutting down several timber trees in the part called Dovehouse, and several other good young trees of considerable growth in the Little Spring to the number of 20 trees which he had no right to cut down the same being all accepted in the lease by which he can only take consignment of a load of wood".  After consideration the Court agreed that only specified timbers nominated by them should be cut down and that the Company should have the money |
| 1708 | The Court Baron was John Marsh and he was Clerk to the Company from 1708 to 1729.  The Court was told that "a hedge for dividing a parcel of freehold ground of John Churchman's, called the Moors held of part of this Manor, of 40 rods had been grubbed up and is laid open to the Chase" |
| 1761 | The Court was held before Thomas Bridge, Steward of the Manor.  This time the Rolls refer to the Company in these terms:  The: Court Baron of the Master and four wardens of the fraternity of the Art or Mystery of Haberdashers.  This Court mentions a survey of Pitley taken in 1652.  In 1761 the Company had obtained the services of one Charles Sloane, Surveyor of London to draw up a map showing the field of names and their acreage, the whole estate totalling 288 acres.  Rents amounting to 17 shillings |
|   | The remaining courts follow in this way: |
| 1763 | 22nd October by Thomas Bridge |
| 1765 | 15th September.  Court held by Thomas Bridge |
| 1768 | 19th September.  Charles Clubb, Gent. deputy of Thomas Bridge, Gent. Chief Steward |
| 1769 | 28th December. Again, by Thomas Bridge |
| 1794 | Steward, Charles Clubb |
| 1796 | George Wade, Gent. Steward. Thomas Bench, John Giblin and John Smith paid homage to the Court, John Giblin paying 2/9d. per annum.  This was the last Court to be held at Pitley |
The Tenants of Pitley
| | |
| --- | --- |
| 1515-1541 | Thomas Silesden, owners Secular Canons of Stoke by Clare, William Sidey, Bailiff |
| 1588-1592 | Thomas Bridge, Court Baron who probably lived in Tommy's House, situated in Great Bardfield |
| 1592 | William Purchas, referred to in the survey book of Great Bardfield from 1551 to 1692 "and to go unto the messuage of Thomas Bridge of old time called Pitlears and now of one Purchas".  William Purchas's will states that he lived at Pitley |
| 1633 | William Stubbing who was married to Elizabeth Wale and had two children, Francis and Edmun |
| 1636 | The Manor was supposed to have belonged to John Owen |
| 1662 | Robert Blaney, Steward |
| 1676-1697 | William Tomasine, Bailiff who married Ann Winterflood |
| 1755 | The Manor still belonged to the Haberdashers but in 1770 a large part of Pitley was being farmed by Jones Raymond of Great Saling; i.e. High and Low Field, Dockley, Sheepcotes, Wood Field, Pinkwells, Stratton Ley, Pitley Moor, Little Moor, Dockley Mead, and Moor Meadow, a total of 143 acres 3 rods and 28 perches out of a total of 288 acres |
| 1796 | When the last Court was held, the Company were getting into debt and according to Mr. Prevett many of their properties were sold off |
| 1809 | Joseph Ruse |
| 1838 | The Tythe Map shows Pitley being farmed by Joseph Ruse |
| 1860 | John Ruse who died in 187 |
| 1878 | Executors of John Ruse. At the turn of the century Pitley was being farmed by Mr. Henry Grey, and about 1913 by a Mr. Thomas Bradbridge followed by Mr. Charles Schwier |
| 1954 | It was owned by Mr. George Waddington, of Kings Lyn (and still was in 1979) |
| 1979 | Mr. Franklin, the tenant farmer continued to call the fields by their old names and farms 271 acres in total |
For instance:
One acre lying in Little Bardfield on the left of the road leading to Little Sampford at Hawkspur Green, was called Dedelond in 1500 and by 1671 became known as Dedland.
Pinkwells is still the same.
Moor Mead and Hog Mead are now known as Big and Little Dick.
Dockley is the same but divided into Middle Dockley, Further Dockley and Dockley Mead
Dove House Ley is the same.
Did the Court meet in Court Field whose name remains the same?  It is on the left of the chase going up to Pitley.  Two ponds can still be seen, which were shown on the map of 1761.
Barn Field, Tommy's Field, Pitley Field, High and Low Field, Sheepcotes and Horse Pasture all remain the same.
The Common was called Moneyfield Common.
Tommy's Wood is now called Wood Field.
Buildings & Structures of Note
Taken from Moilmans History of Essex, Volume 2, dated 1769: -
"This parish is distant from Saffron Walden about eleven, from Braintree ten, and from Hasftead fourteen miles.  The road from Old Sandford to this place is good, and exceedingly pleasant, being open almost all the way to the left and affording a very pretty view of the country.  Light lands are the most prevailing soil.  Here are but few houses, none of which deserve any notice except the hall and the parsonage.  The latter of which is situate about three quarters of a mile from the Church on the road side leading from Sandford to Great Bardfield.  Husbandry and spinning are the chief employ of the inhabitants.  The manors contained herein are only two namely Little Bardfield Hall and the Manor of More Hall.  More Hall Manor had formerly a large Mansion encompassed by a moat, but it is now entirely destroyed".
Moilman says that only the Hall and the Parsonage deserve a mention but certainly there are several more houses which deserve inclusion.
In another delightful extract from this same volume it says about the Bardfields:
"Here are three contiguous parishes of this name, distinguished from each other by the appellations of Great, Saling and Little.  Various conjectures have been formed by the learned of the derivation of the name Bardfield but not one of them having accounted for it with the least degree of certainty, we shall pass over that matter as trivial..."
There is one Grade 1 Listed Building and twenty seven Grade 2 Listed Buildings and Structures in Little Bardfield and Oxen End.  During the 1985 Listed Buildings Survey, Hawkspur Green was overlooked.  There are at least four buildings in Hawkspur Green which should have been Listed as Grade 2.  All of these buildings and structures, plus many more of interest, will be covered in detail in their respective locations. 
The Sarah Bernard Trust and Almshouses 1774
These are Grade 2 listed buildings and are situated in the centre of the village.
In 1774 in the reign of George III, Mrs. Sarah Bernard, or Barnard, widow of the Rev. Thomas Bernard, formed a charitable trust to provide for the village of Little Bardfield five almshouses, a school house and a house for a school mistress.  The Trustees were to be the Rev. Richard White, Rector of Little Bardfield, Rev. William Day, Vicar of Great Bardfield and the Rev. Anthony Clark, Rector of Wimbish.
The Buildings were to be erected on a. piece of land called Upper Arnolds which Mrs. Bernard had bought from Thomas Fuller English.  To do this, she sold land belonging to her in both Great and Little Bardfield.  Some of this land has been mentioned earlier but in all she sold 120 acres of land to build and endow this charity.  These 120 acres comprised: - House called Cawes, 11 enclosed fields, Halsted Grove, Sharpe Croft, Dyers Hill, Wood Close, Lincolnfield, Stone Field, Barn Piece, 7 acres, Wallingers Field, Blacklane Field, 2 cottages, and 12 acres of land in Great Bardfield, giving a yearly rent of 15 shillings.  "With regard to the wood called Halsted Grove if the Trustees so desired to stub up or cut down sell and dispose of all timber growing in the wood".  Again, in the words of the Trust "A Good Substantial Brick house, con­taining six separate Apartments, one of these for the. Habitations of a school mistress, to be appointed as hereinafter mentioned, and the other for the respective Habitations of Five poor women, being widows or single women".  The Trustees were to be responsible for maintaining and insuring the houses and school, barns and other buildings also the tomb and fence over the grave of her late husband the Rev. Thos. Bernard.  To this day a fire insurance badge is to be seen on the almshouses.  "The sum of Ten Pounds for buying Coles or Wood for fireing for the said Five Poor Women to be placed in the said Apartments of the said House to be built aforesaid (that is to say) Forty Shillings thereof for Coles or Wood for each of them.  And the sum of Five Pounds for buying them Gowns and Shifts (that is to say) Twenty Shillings thereof for a Gown and Shift for each of them or Twenty Shillings in Money to be paid to each of them; in lieu of the said Gown and Shift".  The houses are let to suitable people who apply to the trustees.
Besides Sarah Bernard, Little Bardfield had other benefactors.  In 1650 William Stock left 5 shillings for the poor.  In 1660 Thomas Wale left £10 for the poor as did Edward Wale in 1665, and Geoffrey Wale in 1669.  In 1712 Thomas Bernard left "£5 to be laid out for Bibles and other good books that my executors think fit".  In 1632 Dame Mary Stanley who had been widowed and then remarried, becoming the wife of John Smith left 40 shillings, and in 1664 John Clayden left 20 shillings.
The Trust is still operational and is referred to in the Organisations section.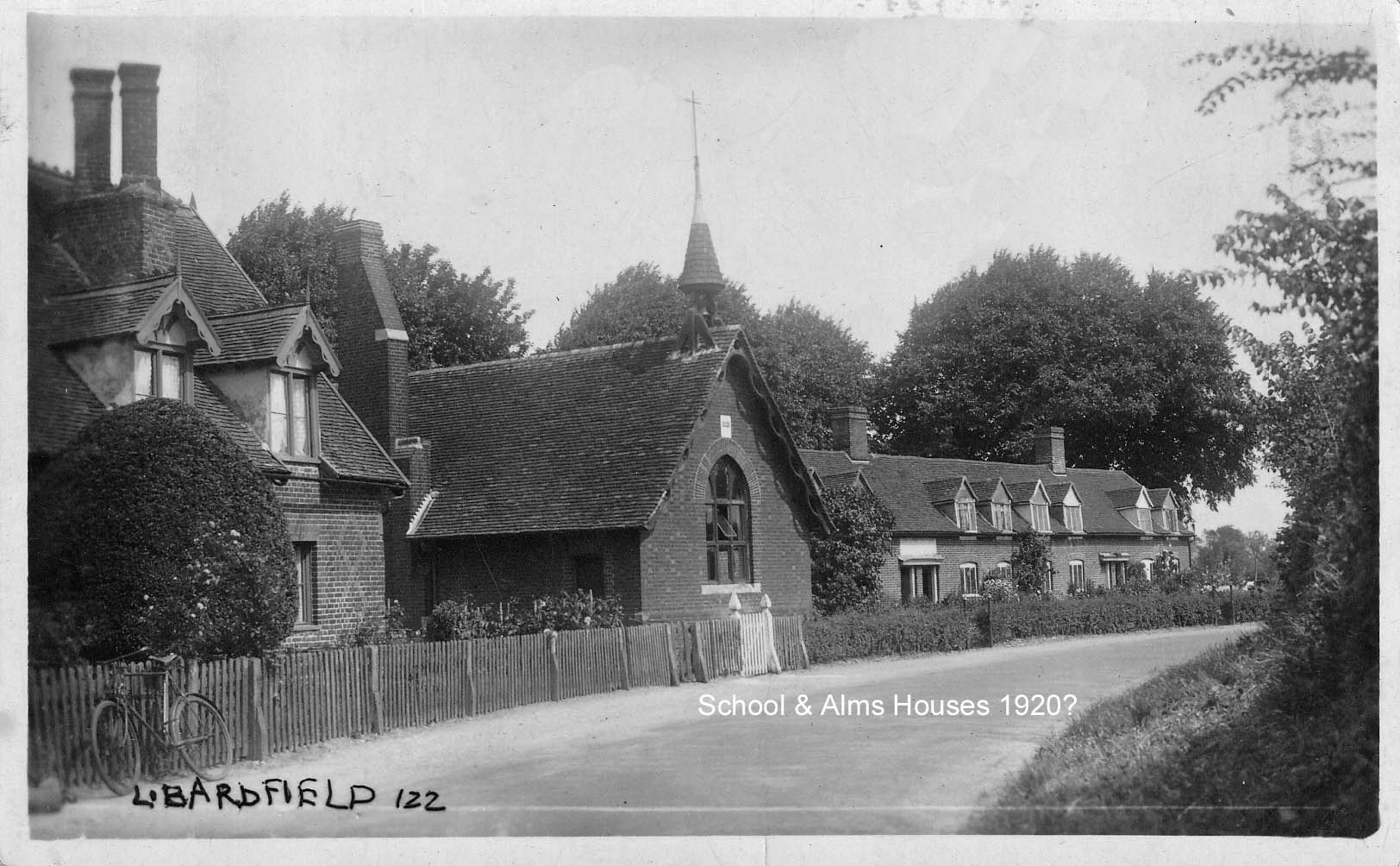 1920?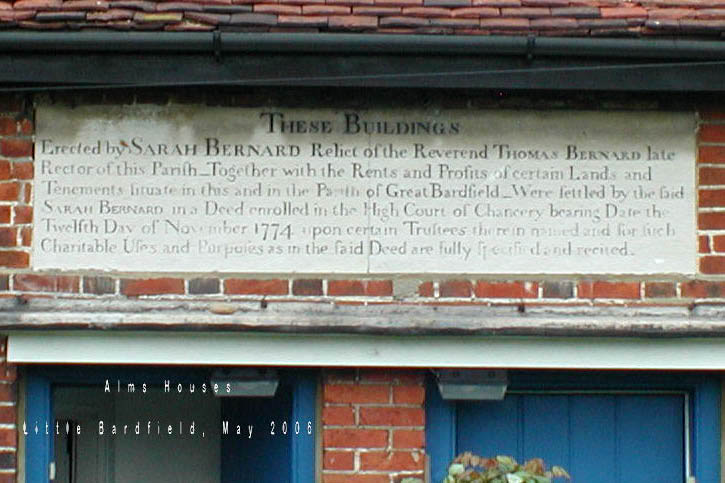 2006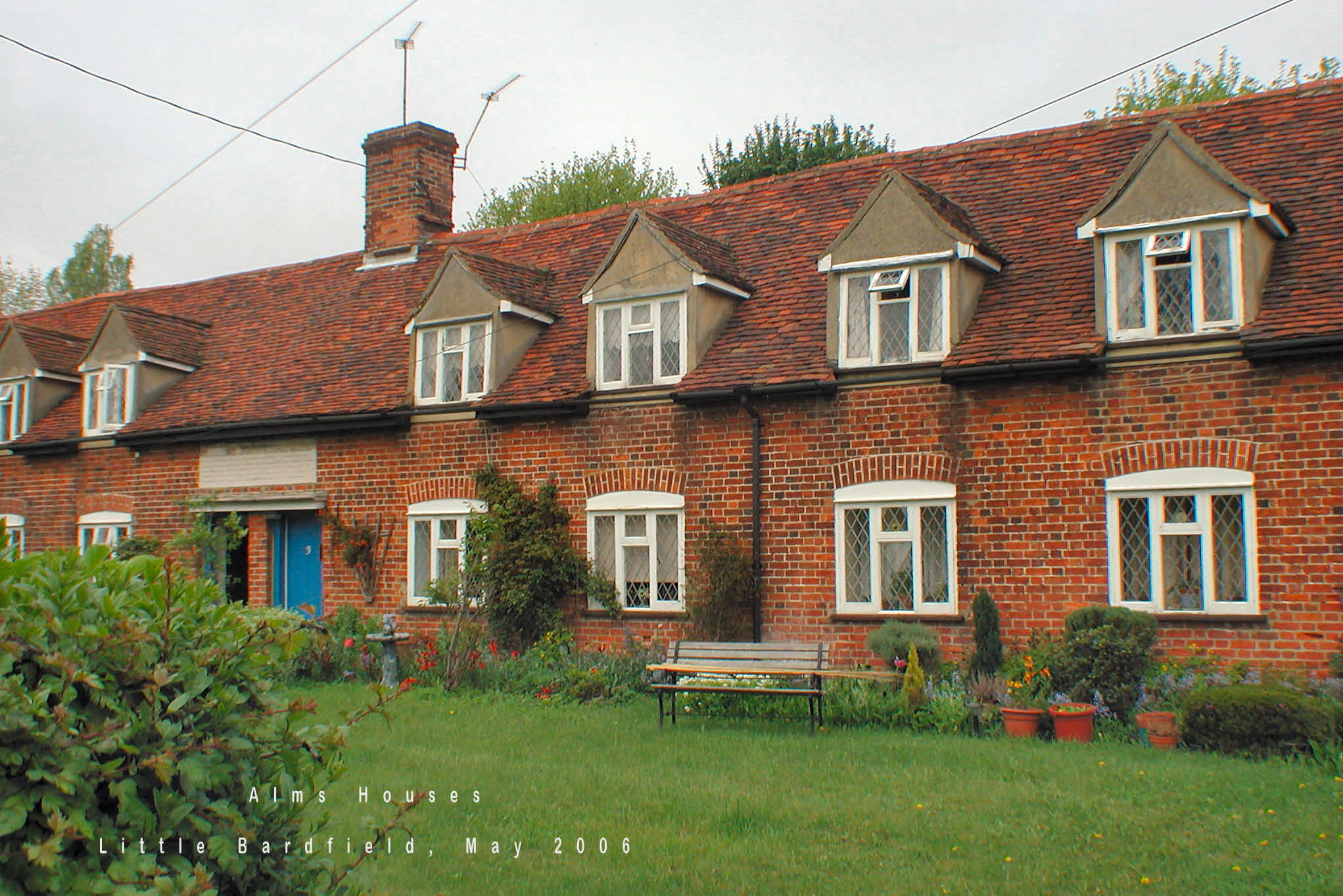 2006
The School
In 1774 in the reign of George III, Mrs. Sarah Bernard, or Barnard, widow of the Rev. Thomas Bernard, formed a charitable trust to provide for the village of Little Bardfield five almshouses, a school house and a house for a school mistress.
According to the terms of Mrs. Bernard's Trust "yearly from henceforth forever pay the several sums hereinafter mentioned (that is to say) the Sum of Eighteen Pounds of Lawful Money of Great Britain unto some sober discreet fit woman, being a Widow or Single Woman for a schoolmistress to Teach freely and constantly such children either Boys or Girls of Poor Persons belonging to the said Parish of Little Bardfield as the said Rectors and Vicars for the time being or the Major Part of them shall Elect and appoint, not exceeding Eighteen at one and the same time, to read English and the said Girls also to sew Plain Work and Knit and to instruct all the said children in the Catechism of the Church of England".   Four children of poor persons from Great Bardfield and four from Wimbish were also to be taught under the terms of the Trust.  The payment to the schoolmistress was to be free of tax.  The Trustees were to spend twenty shillings to buy prayer books and other books for the children.  The first known headmistress was Mrs. Sarah Turner.  However, the School Log Book doesn't begin until 1882 so that there is very little information about the school before that date.
It was recorded that the school was struck by lightning in 1880.  90 children were present, but no one was hurt.
| | |
| --- | --- |
| 1882 | Mrs. Isabella Overall was appointed school mistress was paid £20 per annum. At that time there were 78 children on the register coming from Oxen End, Hawkspur Green and Little Sampford.  Some children had to walk as much as four miles to school and four miles home again.  Only valid reasons such as illness were accepted for absence, and then a doctor's certificate had to be provided.  Any truancy was reported to the School Attendance Officer who called on the parents forthwith.  The Rector, Mr. R. H. White came to the school each morning to teach the catechism, but on Holy Days and Feast Days the children went to Church.  Every year as near to June 22nd as possible the children were given two days holiday so that they were able to go to Great Bardfield Fair.  This Fair was not only an important occasion in Great Bardfield but also in the surrounding districts.  This would be the cause of so much excitement among the children of Little Bardfield.  The classes were divided between Infants and the Highest Standard for boys and girls between the ages of 11 and 14.  The majority left school when they were 13, but some did stay until they had reached their 14th birthday.  Most of the boys went on the land and the girls went into service.  At that time the school year started in May and during 1882 there were 63 children on the register, 37 boys and 26 girls.  The annual visit by her Majesty's Inspector of Schools was always in this month and in his report, he stated that the standard of education was satisfactory, but he considered that new ventilators should be fitted inside the school room.  These were duly installed and are still there (1979). A grant of £37.9s.6d. was given for that year. |
| 1884 | In the early part of the year there was an outbreak of scarlet fever, one little girl dying from the disease.Mrs. Overall writes on February 19th "Lionel C…. was sent home at noon for using bad language in the playground.  February 20th, the Rector came to school and birched him".  Poor Lionel!  Looking through the log there were only three occasions when the Rector had to administer punishment and, on each occasion, it was boys, so the schoolmistress must have kept a very high standard of discipline. |
| 1887 | The school was closed for one week from June 17th to celebrate Queen Victoria's Golden Jubilee and for the children to visit Bardfield Fair. |
| 1888 | In February and again in March there was very deep snow so that none of the children from Oxen End, Hawkspur Green or Sampford could attend.  In July an assistant master was appointed to teach the boys. |
| 1889 | The school was closed twice due to deep snow.  On July 16th "dreadful thunderstorm, the children were very frightened". |
| 1890 | On February 10th the flu epidemic in the village had reached such proportions that the school was closed by order of the Medical Officer of Health. |
| 1891 | On May 25th and 26th Mrs. Overall writes, "very cold, lit fire in grate".  It must have been cold as Mrs. Overall did not believe in spending much on fuel, whereas Miss. Davey who succeeded her was always buying coal and coke to keep her pupils warm. |
| 1892 | The school grant which had been going up for some years was now raised to £49 but the standard of education was not so high as in previous years. |
| 1893 | Geography was now taught to all classes for the first time.  The grant was £55.10s.0d. for that year.  On July 6th "Holiday on account of Royal Wedding, tea at the Rectory".  That year there was an outbreak of diphtheria. |
| 1894 | January 4th to 8th the school was closed because of deep snow.  Mrs. Overall ordered a ton of coal and a ton of coke.  It appears from the log book that only the fire in the big room was lit; occasionally the big stove was used.  No wonder there are continual references to children suffering from chilblains! |
| 1897 | Mrs. Overall resigned her position as Headmistress.  Miss. Andrews deputised until a new head was appointed. |
| 1898 | January 3rd, Miss, Flora Davey appointed as Headmistress. By now there were only 44 children on the register.  The School Inspector gave a glowing report on the standard of education for that year. |
| 1889 | During this year 3 tons of coal and 2 of coke were ordered by Miss. Davey.  One wonders if the incidence of chilblains were any less recurrent! |
| 1900 | January 12th to 21st, the school was closed because of influenza.  No sooner did it reopen than the roads were impassable due to snow and floods.  The standard according to the Inspector was very high, and the subjects taught were varied and interesting.  Miss. Davey was highly commended by him and the Board of Governors. |
The School Log Book not only provides a marvellous record of the school during these years but also gives an accurate picture of what the weather was like.  It always mentions when the school was either late opening because of wet harvests, (the children always helped at harvest time) or was closed due to snow or floods.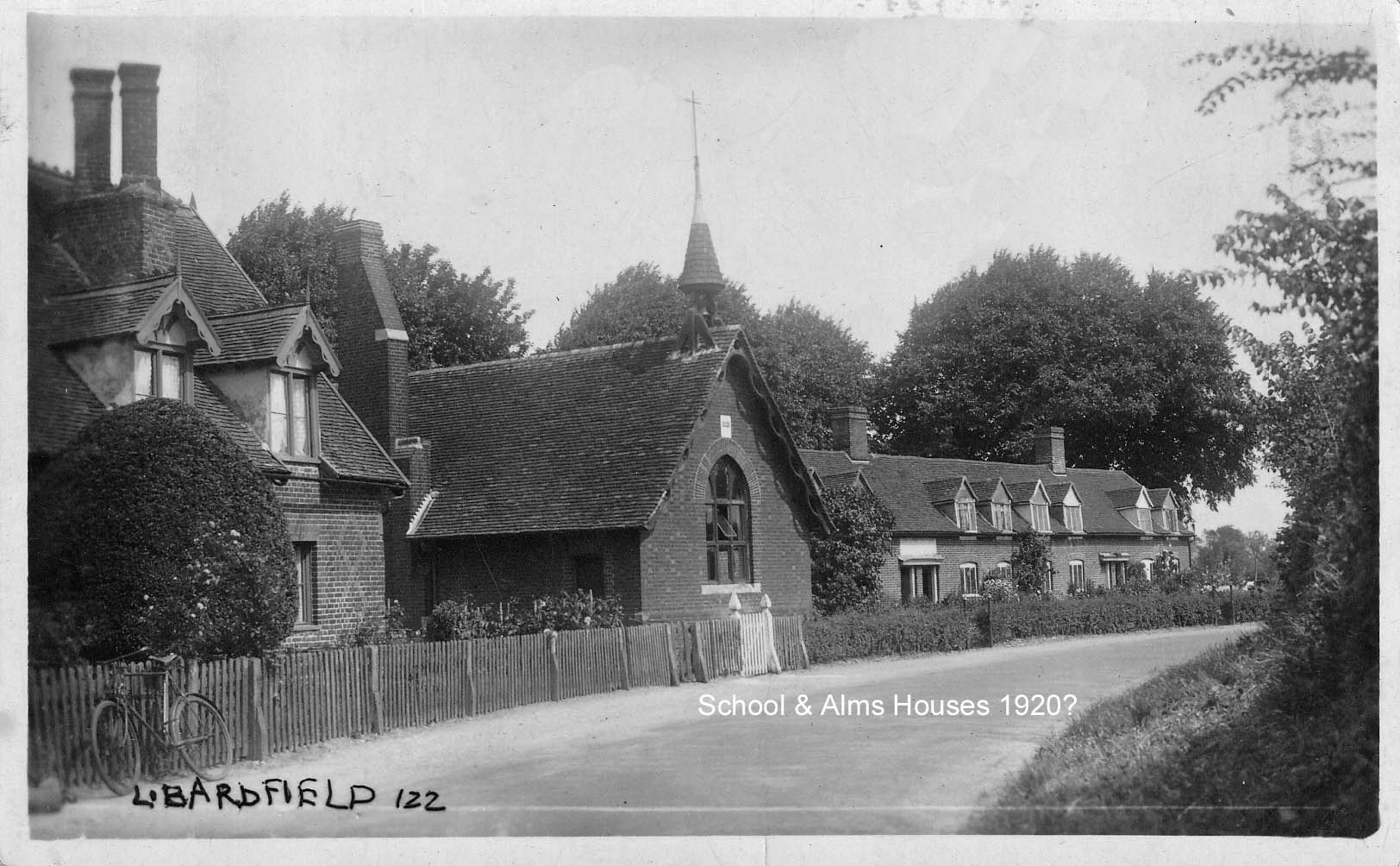 1920?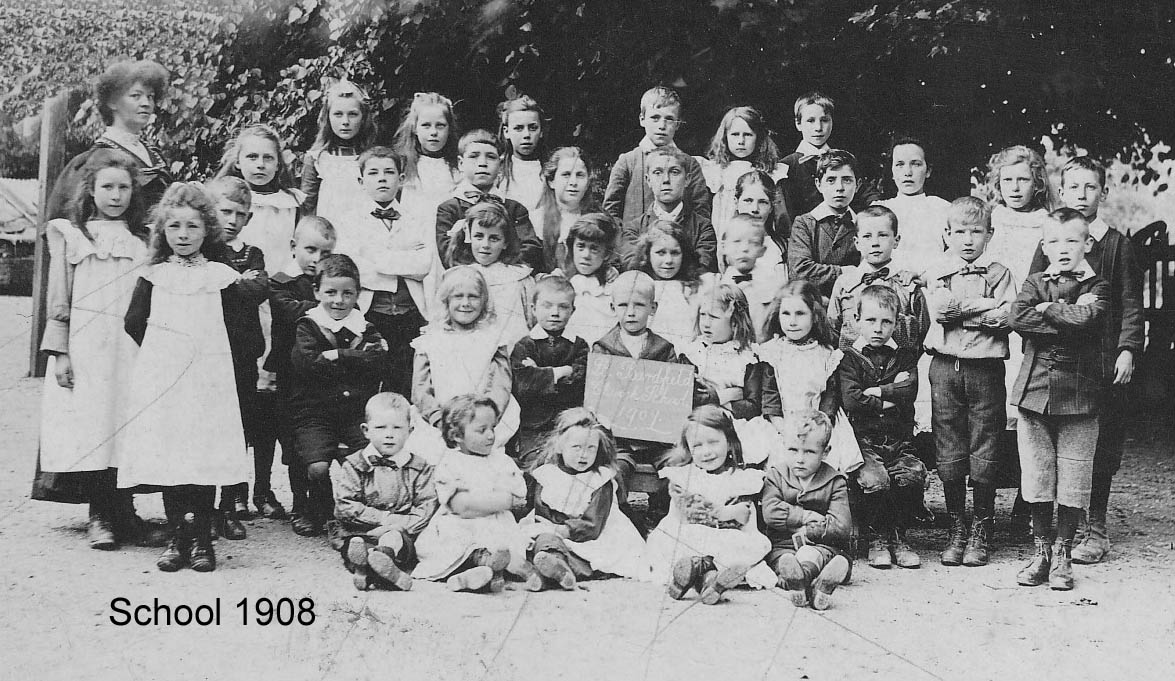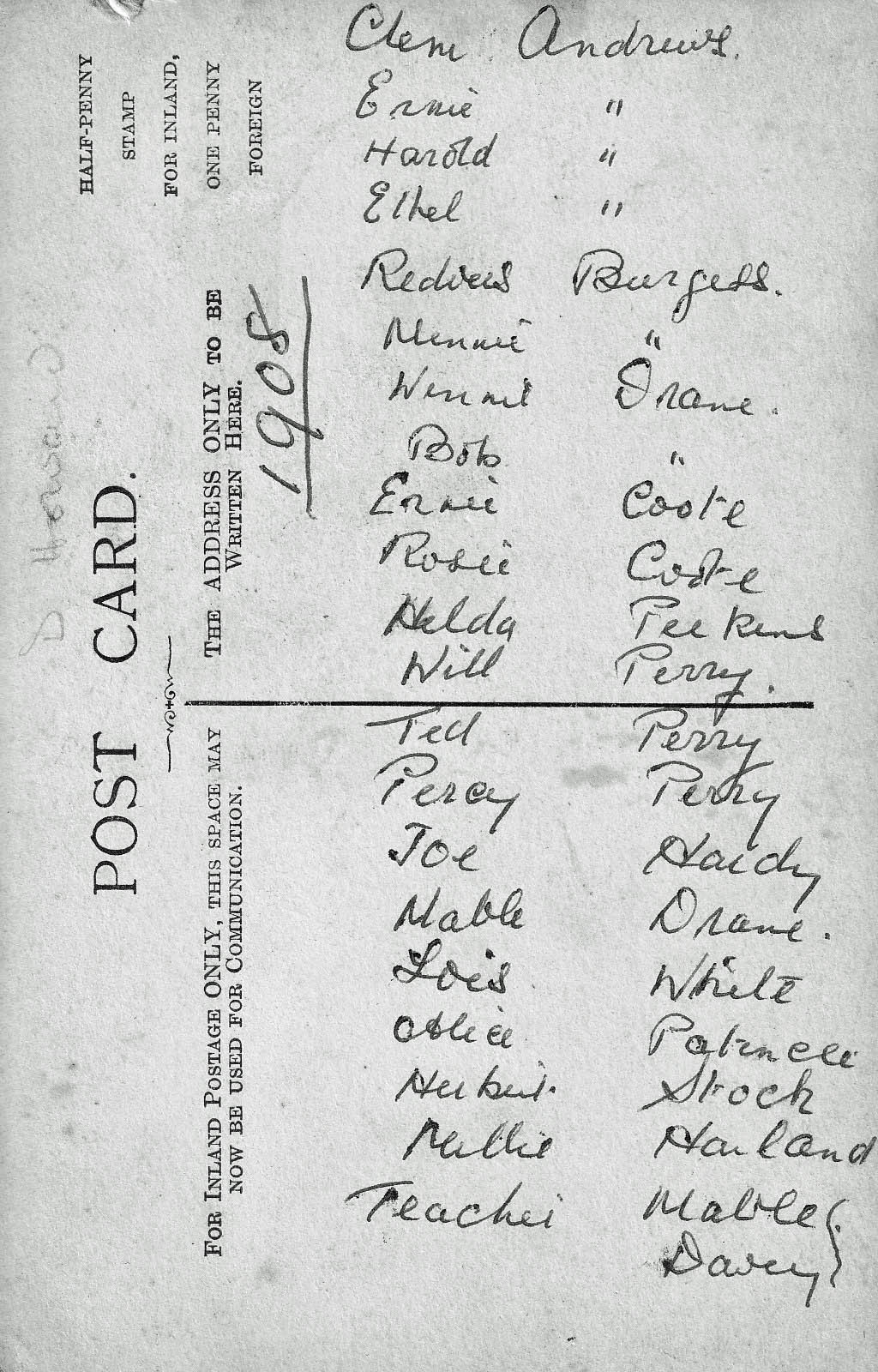 Georgian and Victorian Bardfield
Some highlights from the records giving a picture of Little Bardfield during the 1800s and onwards.
| | |
| --- | --- |
| 1807 | Parish Rate 6d. in the pound |
| 1817 | 10½ goings of stones from Salmons Farm at 2 shillings per going.  These "goings of stones" were for the repair and maintenance of the roads. |
|   | James Barker,   Blacksmith Robert Bowtell,   Bricklayer Thomas Cole,   Carpenter William Dench,   Steam and Labour |
| 1819 | Parish Rate 8d in the pound |
| 1821 | Some 308 souls residing in the village |
| 1823 | Humphrey Smith and John Phillips were the surveyors |
| 1830 | Total acres in Little Bardfield, 1,710.  Rent payable to the Rector, £480.Mr. Spicer held a ploughing match on his lands which was won by a Mr. Newman and a Mr. Coate |
| 1835 | John Ruse of Pitley Farm was a Magistrate |
| 1848 | 375 people were living in the village |
| 1851 | John Cutts spent £3,000 on machinery |
| 1856 | Vestry meeting held on the 29th November, decided on painting, renewing and renovating the Parish Church.  Mr. John Philpott of Great Sampford reports (he was a builder) pews in such bad repair it was necessary to replace them.  19 stalls would be needed — cost £60.  The flooring within the belfry and steeple are much decayed but some could be used — cost £10.  The pulpit or reading desk to be reconstructed as it would not be in keeping with the new style - cost £20.  The rafters restored in the chancel roof.  The roof and flooring of the belfry much decayed - cost £30.  Total £150Mr. Bowtell, bricklayer and builder reports that walls of interior of Church are uneven and in bad order and that the expense of putting new plaster or stucco over the whole stonework would cost about £23.  To taking off tiles and replacing them £13.  Battlements crested with stone £8.  Stonework of porch and door in bad condition £20.  The Whole work estimated by Mr. Bowtell £203.  Raising of Church steeple £25.A rate of 3 shillings to be raised - signed 4th December 1856, Mordant Bernard, Rector.The following gentleman promised these various sums for the repair of the church:  Mr. Cutts £25; The Rector £15;  Hezekiah Smith £10;  Mr. Firbank £6;  Mr. Clarke £4;  Mr. Giblin £2.2s;  Mr. Mihill £2;  Mr. Hynds £2;  Mr. Mortlock £2.5th August 1857 Meeting told that the rates had raised £242.5s.9d.  All money had been spent, but still outstanding the stalls and roof, and the roof of the belfry £50. Plasterers work for the inside of the church amounting to £137.  Parish Rate agreed 1/6d.  In the end the Rector at his own expense did the interior alterations so no rate was asked for. |
|  1859 | 23rd July, Vestry Meeting.  To making a new fence round churchyard, John Cutts offered bricks.  Mr. Young, Blacksmith of Great Bardfield estimated the cost would be 8/6d yard and iron gate £7.  The distance = 60 yards.  This was done in iron and cost approximately £50. |
| 1861 | Thomas and Susan Letch owned the Spread Eagle |
| 1872 | John Cutts said he would sack any of his workers who joined the Farmworkers Union |
| 1878 | The Church struck by lightning.  The estimate for repairs £87.5s.0d |
| 1884 | Farmworkers given the vote.  Up to this time only farm owners had the franchise.April 22nd, 9.30 severe earthquake which was felt in the village.  It made large cracks in a wall at the Rectory |
| 1889 | Alfred Brunwin ran the Spread Eagle which was owned by Shalford Brewery and it was assessed for rates for the first time |
Early 1900's
Personal reminiscences from Mr.  Tom Gilder, Mr. Redvers Burgess, Mr. William Perry and Mrs. Kate Bourke:
Mr. Gilder's father was originally a Finchingfield man.  His grandfather lived in the house next door to the school in Little Bardfield.  He and his brother would be put on the train at Liverpool Street for Braintree, to spend the summer holidays with his Grandfather.  The carrier from Great Bardfield, Mr. Clapson, would bring him to the White Hart in Great Bardfield.  "I travelled in the carrier's van with a crowd, mostly women with all their shopping, sometimes including live ducks or chickens.  My father used to make a huge slab cake which fitted in the bottom of the tin trunk.  This cake was sufficient to last the whole holiday". The holiday would be spent in the harvest field or with Joe Betts who had the mill at Hawkspur Green, or with William Betts who had the baker's round in Finchingfield and Little Bardfield.  His first visit was in 1897 when he was seven, and he and his brother came regularly after that.
Mr. Burgess remembers Mrs. Andrews who lived at Gridiron Cottages.  She lived in the end cottage, which had a brick oven in which she used to bake bread.  She also made sweets, which both Mr. Gilder and Mr. Burgess remember buying.  She had a son called "Uppie" who claimed to be a "Wart Charmer"!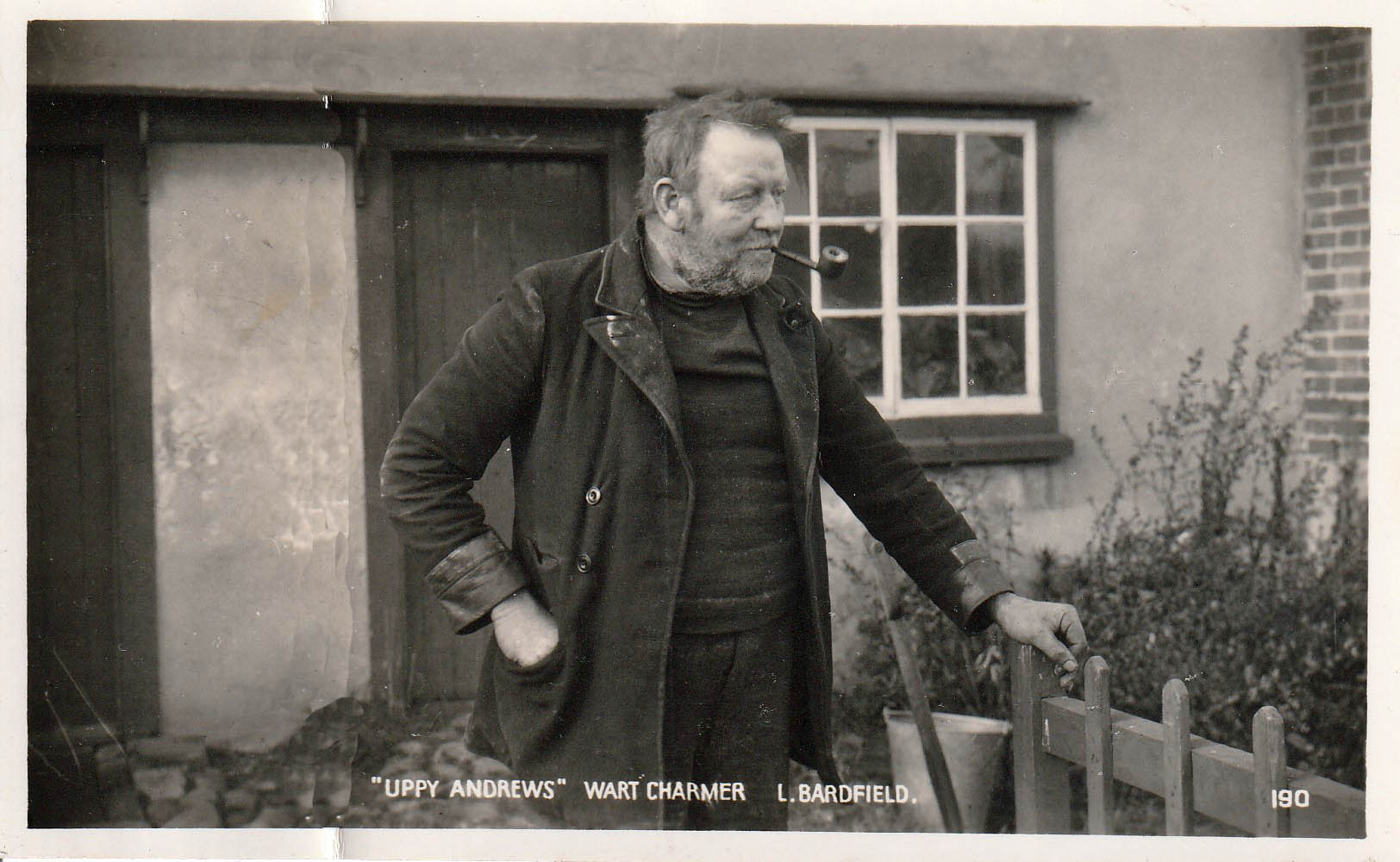 Behind the Almshouses where Styles now is, was the village cricket ground and Uppie was reputed to be a demon bowler.  Mr. Gilder and his brother would sometimes play tennis at the Rectory with the students of the Brotherhood of Saint Paul.
Mr. William Ferry, whose family has been associated with Little Bardfield for many generations and possibly as far back as the reign of Henry VIII recalls:  I was present in Church when a former Rector ended his sermon in the evening, "And now I am going home".  He went to the Rectory in his pony and chaise, had his supper, sat back in his chair and died.  When his servant, my uncle, came to clear away the things he found him.  My father, a choirman, sang lustily in the choir for over fifty years.  He sang his last hymn "Hold the fort for I am coming" and then a few days later he died."
Mrs. K.G. Bourke, whose great aunt was the schoolmistress, Isabella Overall, remembers the hall in the days when it still retained its Georgian frontage, before it was altered to its present façade (ca. 1900).  She gave us a photograph to prove it. She tells how she would curtsey to the Rector, the Rev. R. H. White as he drove past on his way to Church in his pony and trap.
Saint Katharine's Church
The parish church in Little Bardfield is dedicated to St Katharine of Alexandria.  According to tradition, Katharine was a virgin who was martyred at Alexandria in the early fourth century A.D. during the persecution of Christians by the pagan Roman emperor Maxentius.  At the time the church was being built in Little Bardfield, St Katharine was one of the most venerated women saints in Europe after the Blessed Virgin Mary.
The foundation of St Katharine's Church is uncertain but is believed to date from circa 1040 A.D. This beautiful church is built of flint and rubble dressing, partly of clunch, together with occasional Roman tiles and bricks, adding colour to the walls and structure of the tower. 
The Tower and Nave are pre-Conquest.  The chancel was added in the fourteenth century and the porch in the late fourteenth or early fifteenth century. The Vestry was built c.1820 and Organ Chamber in 1866.
The Tower
The Tower was built in five stages divided by rubble string courses.  The ground storey of the tower has late sixteenth or early seventeenth century moulded ceiling beams with curved braces.  The second stage is included in the internal ground storey and has one blocked opening. The North, South, and West walls of the third stage have each two-narrow round-headed windows all without dressing.  It also has two seventeenth century ceiling beams with curved braces.  The fourth stage has in each wall a window of two round headed lights with a rubble division between them.  The fifth stage has two round headed windows in each wall but those in the north and east are blocked.  The embattled parapet and the small spire were added in the eighteenth century.  Muilman's History of Essex (1769) states: "In the tower which hath a little cupola at the top are only two bells".  The clock was given by Sir John Sutton, in 1865-6 during the restoration of the Church.  Sir John was organist at Jesus College, Cambridge and was also responsible for removal of the organ from All Saints Church, Cambridge. (See Organ Chamber). 
The Bells
There are two bells although the frame was built to take four.  The smaller one is dated 1624 and was cast by William Land of London who was working between 1612 and 1637.   The larger bell was cast by John Bird also of London who was working between 1408 and 1418 and has been dated c1410.  It is inscribed SUM ROSA PULSATA MUNDI KATERINA VOCATA ('I am the battered rose of the world called Katharine').  In 1899 the bells were re-hung, and the frame strengthened.   There is also a clock bell dated 1848 which is unusual in that it is hemispherical.   It was cast by Robert Edward Taylor of Loughborough who was only 18 years old at the time and died at the age of 26; only six bells have been credited to him.  The ladder leading to the tower was made by Mr. S. Sturgeon of Hawkspur Green in 1884-1887.  On the south wall of the tower the following can be seen:  Benefactors of this parish - a farm called Charity Farm containing 136 acres, situated in this and the Parish of Great Bardfield settled by Sarah Bernard relic of the Rev. Thomas Bernard Late Vicar of this Parish in deed enrolled in the High Court of Chancery bearing date 12th November 1774 upon certain trustees therein named, and for such charitable uses and purposes as the said- deed are fully specified and recited.  Also, a rent charged of £1.10s. upon the farm called Wainsford situated in the Parish founded by Geoffrey Wale by deed in 1730 for the poor of the parish annuity of £1.0s.0d. upon the Rector of Little Bardfield founded by an unknown donor for the poor of this Parish".
The Nave
This was built at the same time as the Tower and measures 332 ft. by 20 ft.  In the North Wall are two windows.  The second of these is 14th century and is of two trefoiled ogee lights with tracery under a segmented pointed head and a moulded label, the rear arch is moulded and the glass is Victorian.  The outline of a third window can be seen near the pulpit.  It is blocked now but is pre-Conquest and round headed.  In the South wall are two windows.  The larger is fourteenth century and is similar to the second window in the North wall but has moulded internal splays and the label has a disc stop.  The smaller pre-Conquest window can be seen over the church door.  The South Porch has a late fourteenth or early fifteenth century outer entrance with moulded jambs and a two centred arch traceried internal and external spandrels and a moulded label.  The monument on the South wall dates from the seventeenth century and depicts the arms of the Wale family.  The roof of the Nave has moulded and cambered tie-beams and moulded wall plates possibly of late fourteenth century.
The Chancel
The chancel was added in the fourteenth century and was extensively refurbished by G.F. Bodley in 1866. The internal chancel roof, rood beam, choir stalls (which incorporate some earlier sixteenth century carved wooden poppy heads) and alabaster reredos all date from this period and include many of Bodley's trademark features such as 'barber pole' decoration, crenellations, quatrefoil flowers and gothic window shapes. The Cross on the rood beam bears the emblems of the four evangelists at the four corners and the Agnus Dei or Lamb of God in the centre. The Agnus Dei can also be seen at the top of the stained glass in the East Windon and carved on the door of the tabernacle on the altar: another example of Bodley's integrated design scheme.  
The Organ Chamber
The Organ Chamber dates from 1865-66 and was built to house the organ.  The small window depicting Saint Katharine paid for by contributions from the children of the parish.  The chest in the Organ Chamber is of panelled oak inlaid and is early 17th century.
Organ and Organ Case
The case is of oak with semi-circular end towers and central flats beneath a curved moulded cornice. Both towers and flats are fitted with richly carved upper and lower pipe shades.   The tower impost  brackets are enriched by supporting cherub heads late 16th century.  The console with its reverse, colour keys has turned wooden stop knobs to the right and left, each stop designated by a printed label pasted onto the jamb.  The organ had an interesting history before it came to Little Bardfield in the year 1865-66.  It was built by Renatus Harris for Jesus College, Cambridge.  On the 18th December 1693 an agreement was made between William Saywell, DD., Master of Jesus College, that the latter would come to Cambridge whenever required to put the College organ to rights and would in any case attend "once every year without notice" to inspect the instrument and this all for £3 per annum.  The entry in the audit book for 1688-1689 "wine at ye opening of ye organ £00.07.00".  So, it would seem reasonable to suppose that the organ is 1688.  In 1764 the organ was laid aside and it is said that it became the custom of "a certain element within the Undergraduate Body to sing dubious songs to its accompaniment as a diversion before dinner"; graffiti from this period can be seen on the treble end of the case.  By 1776 it was being described as 'a useless piece of lumber', and in January 1790 the College agreed to make a present of 'the remains of our organ' to the Parish of All Saints, Cambridge.  The word 'remains' has been conjectured as 'the case, chest and some decaying action work and little else'.  In 1824 twelve guineas were spent on repairs and in 1830 John Gray, a London organ builder, fitted 'a new inside' for £149.   The organ remained at All Saints until a new church was built in 1863/64 and the contents of the old church were disposed of or sold.
The organ was not transferred, and the next proven documentation was a letter dated May 21st, 1865, which is still in the archives at All Saints.  This letter Is from R. H. White, who was then Rector of Little Bardfield and it says: "I am in a position to say that my neighbour at Great Bardfield will be glad to give £55 for the organ in the old church.  I shall be glad to hear from you that you can accept the offer".  Sir John Sutton, organist at Jesus College, Cambridge was the neighbour although the allusion to Great Bardfield is confusing as by 1865 he was living permanently in Germany, only coming to England for visits.
There is no doubt that the organ is the one that came from Jesus College, Cambridge, as the Sperling note books (now in the Royal College of Organists) include a sketch of the organ as it stood in old All Saints Church and it clearly shows the case is the one which is now at Saint Katharine's, Little Bardfield.
A.T. Miller of Cambridge was employed to move and rebuild the organ in the new organ chamber in 1866. He provided new soundboards and replaced most of the action but retained the Gray pipework and brought the Harris front pipes back into use which Gray had left silent in his 1830 rebuild.   He also provided three new stops and possibly the Trumpet.   It is just possible that the keyboard, which was extended up by one note by Gray and fitted with a bottom G sharp by Miller, is the original one by Harris but this cannot be confirmed.
In 2006 the organ was dismantled for restoration while the interior of the church was being restored.   Upon its return in 2010 it was moved forward from its original position to allow the pedal pipes to be placed behind and enclosed in new solid oak casework.   The restoration was skilfully and sympathetically carried out by Michael Young of Duton Hill.   For a one manual instrument it is very versatile and is noted for its distinctive sound.
Organ Stop List
| | | | | |
| --- | --- | --- | --- | --- |
| Pedal Pipes |   |   | 8ft | Gray/Miller |
| Pedal Coupler |   |   |   |   |
| Open Diapason |   | (TC) | 8ft | Gray |
| Open Diapason | (front) | (TC) | 8ft | Harris |
| Stop Diapason Bass |   |   | 8ft | Gray |
| Stop Diapason Treble |   |   | 8ft | Gray/Miller |
| Keraulophon  |   | (TC) | 8ft | Miller |
| Gemshorn   | (from CC) |   | 4ft | Miller |
| Principal |   |   | 4ft | Gray |
| Twelfth |   |   | 2 2/3ft | Gray |
| Fifteenth   |   |   | 2ft | Gray |
| Sesquialtera | 17.19.22 |   | III rks | Gray/Young |
| Cornet | 8.12.15.17.22   |   | V rks | Miller |
| Trumpet |   |   | 8ft | Gray?/Miller? |
| Pedals | GG to c 18 notes |   |   |   |
| Manual  | GG to f''' 59 notes |   |   | (Cornet from tenor f to treble a) |
Restoration work
The level of the floor in the church was raised in 1856, when the present pews were installed. In 1866 the parish employed G.F. Bodley, arguably the greatest Victorian and Edwardian church architect and designer, then a young man at the start of his career, to restore the interior of the church. Bodley installed the altar, reredos and tabernacle (one of the oldest in the Church of England), the carved chancel ceiling, rood screen, choir stalls and gates, and the painted decorative scheme in the church. These were restored in 2006, when a pre-fourteenth century priest's gravestone was found under the Victorian floor, close to where the altar would have been before the chancel was built. This may now be seen in the church porch.
After the First World War a war memorial was erected on the south wall to the right of the door. In 2004 a statue of St Katharine of Alexandria was erected in the tower, and in 2010 a statue of Our Lady of Grace was erected on the north wall of the chancel. The 1688 Renatus Harris organ was restored in 2012.
Additional work is in progress to complete its restoration and to add current day facilities.
The Church Registers
The Parish Registers which are now housed in Chelmsford comprise the following: -
| | | | |
| --- | --- | --- | --- |
| Book I | Baptisms   1539 - 1630 | Burials   1539 - 1600 | Marriages   1539 - 1630 |
| Book II | Baptisms   1695 - 1782 | Burials   1695 - 1784 | Marriages   1704 - 1753 |
| Book III | Baptisms   1783 - 1812 |   |   |
| Book IV |   |   | Marriages   1755 - 1812 |
A note was added to the return of 1830-33 regarding these four books "No other Registers can be found".  None has been found since so there is a gap between 1630 and 1695 covering the period of the Civil War, Cromwell's Commonwealth and the Restoration of the Monarchy under Charles II and James II and only start again during the reign of William and Mary.
(St Katharine's description courtesy of The Rev. Dr. Robert Beaken and Mr. Peter Wood, September 2019)
Photos of St Katharine's Church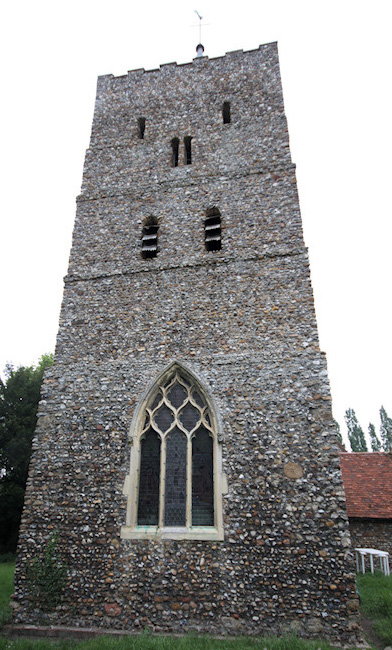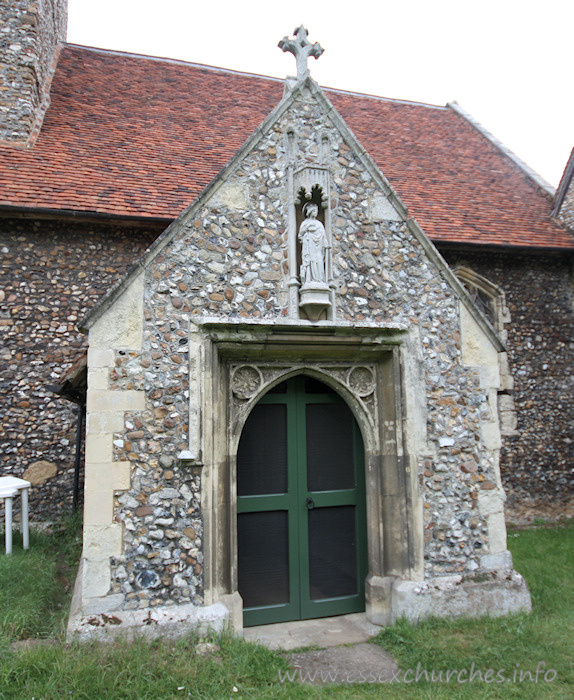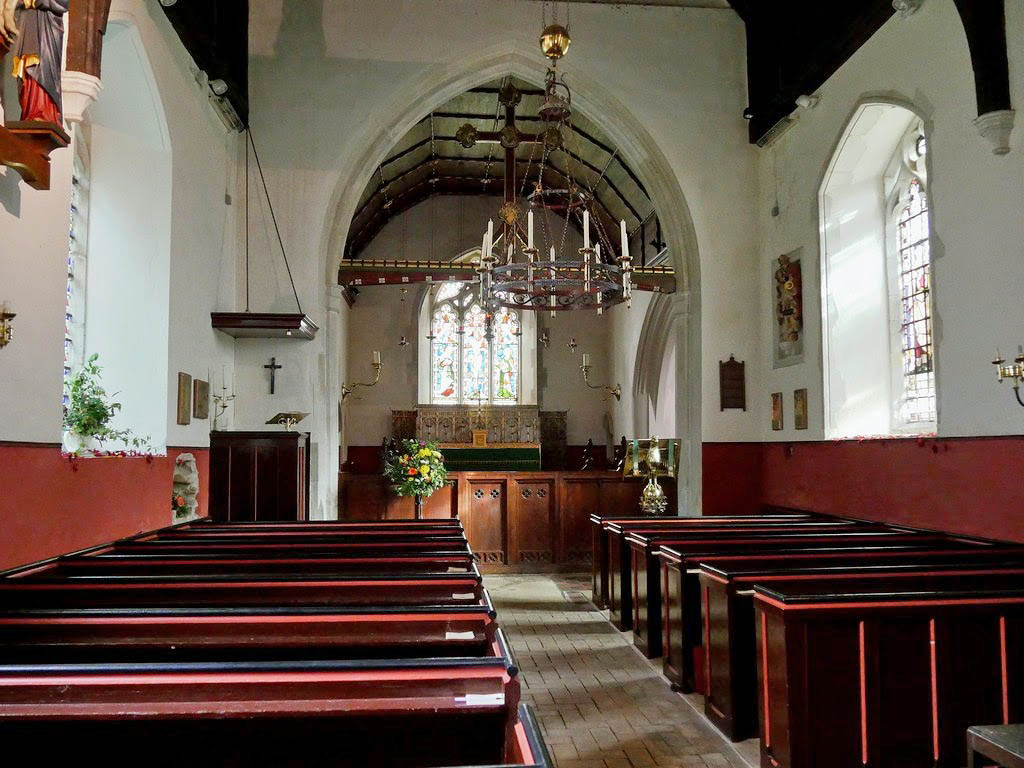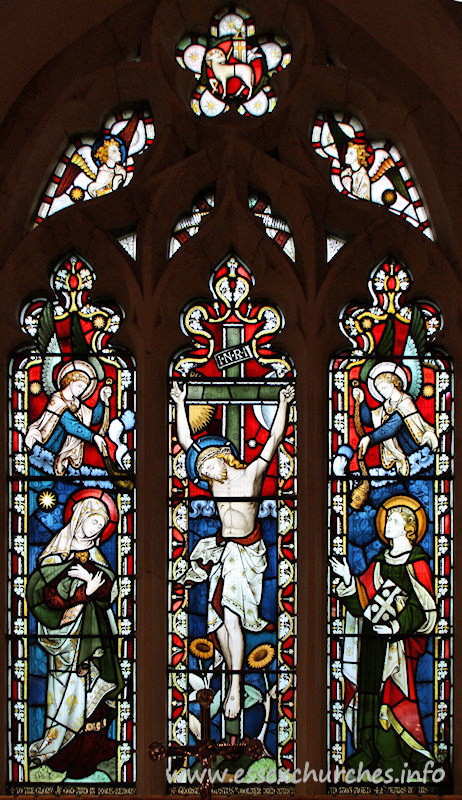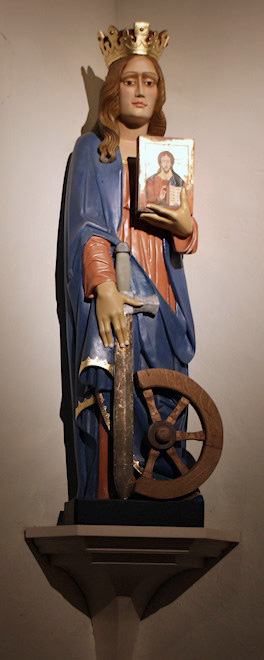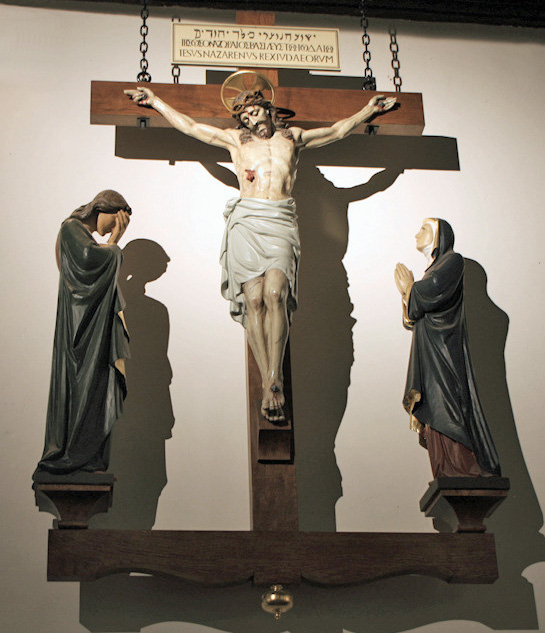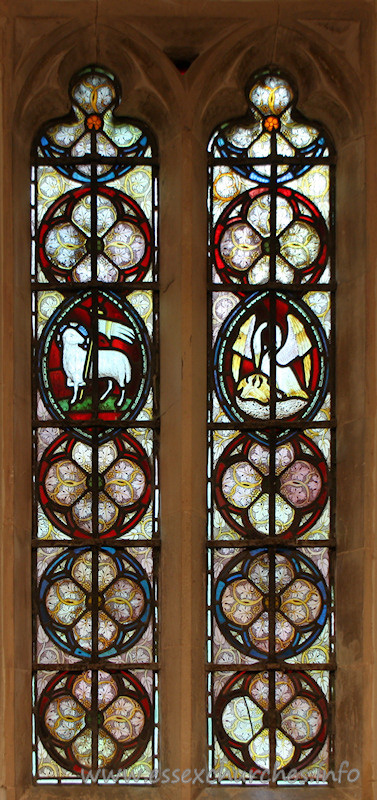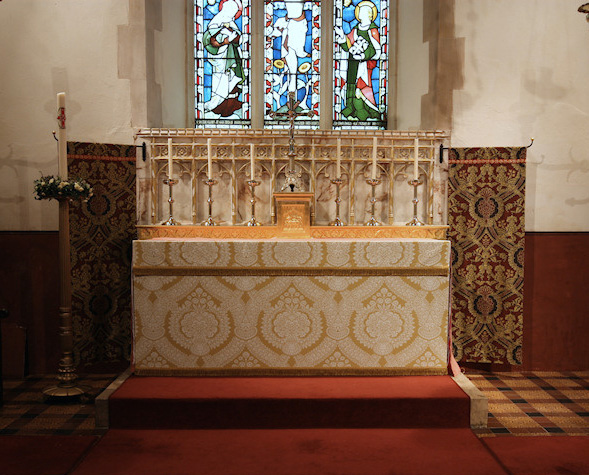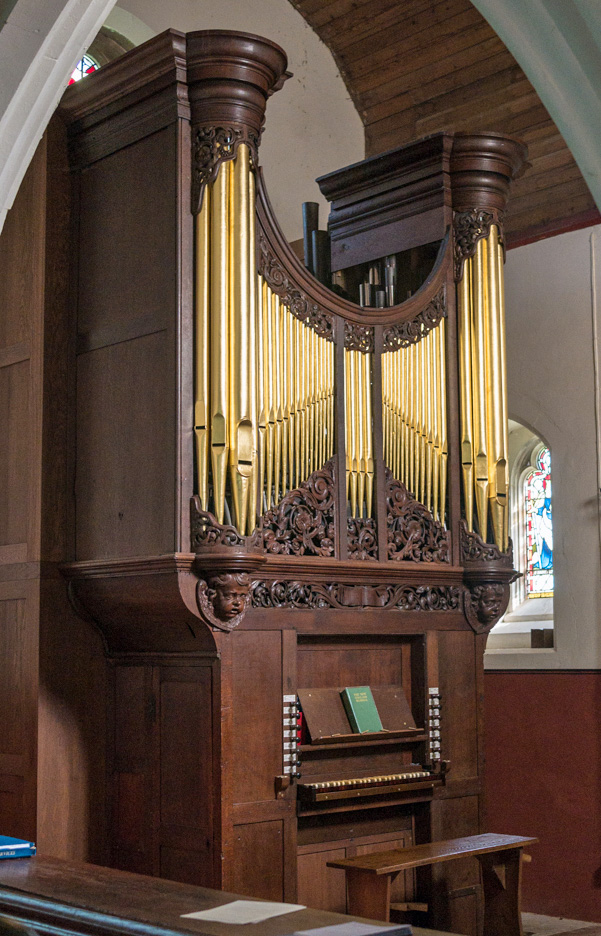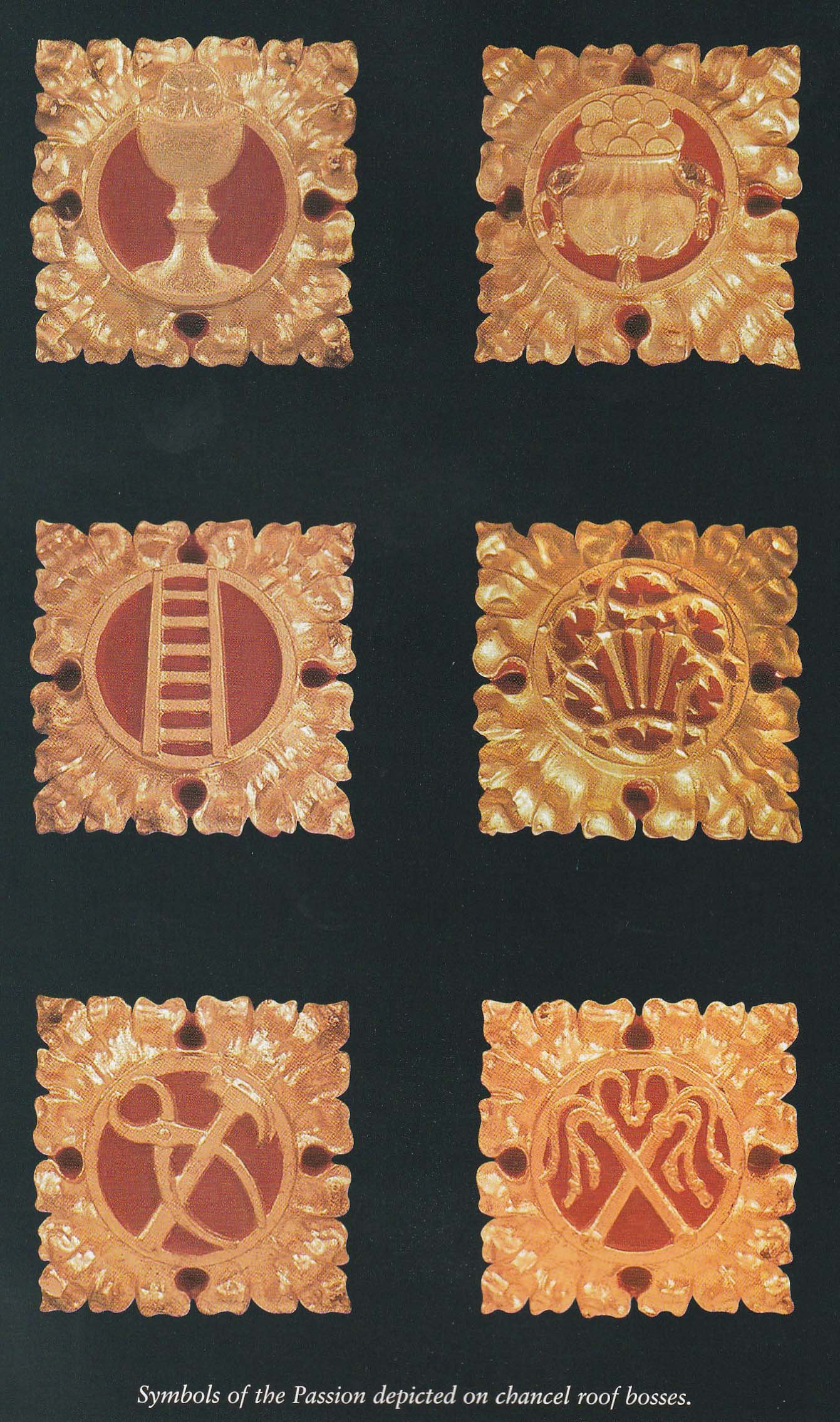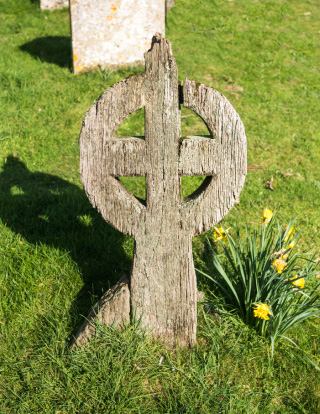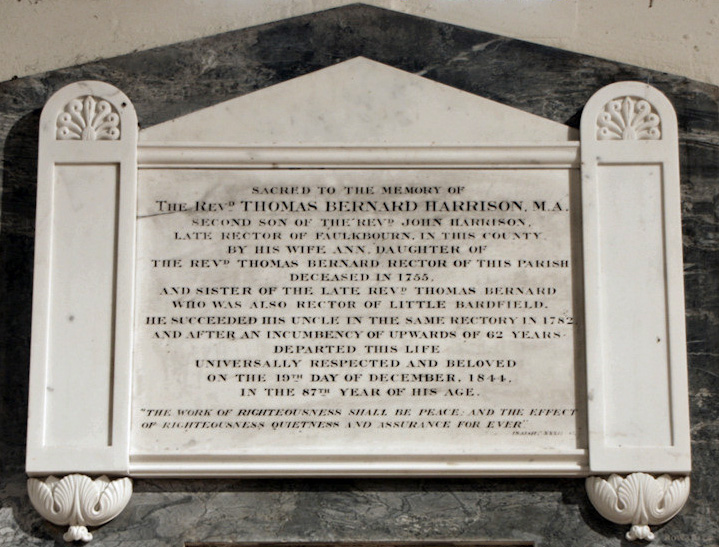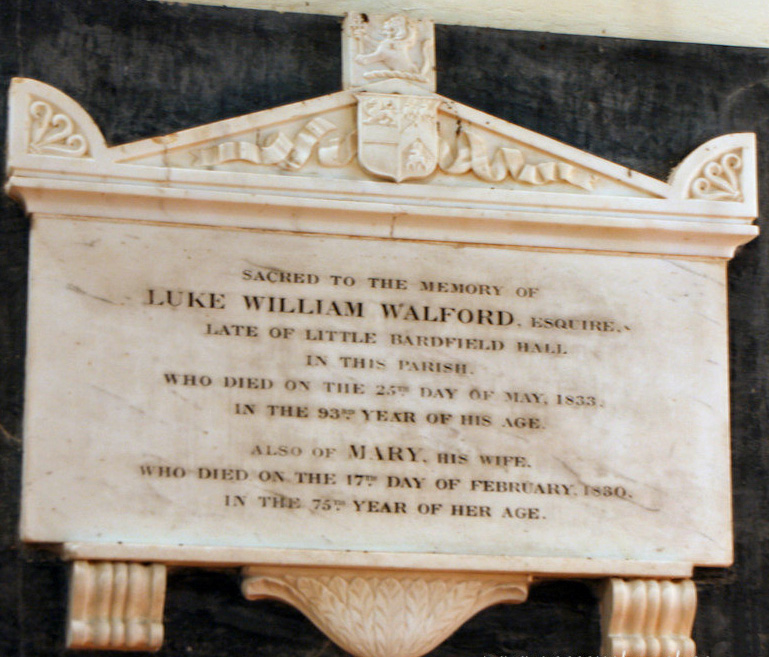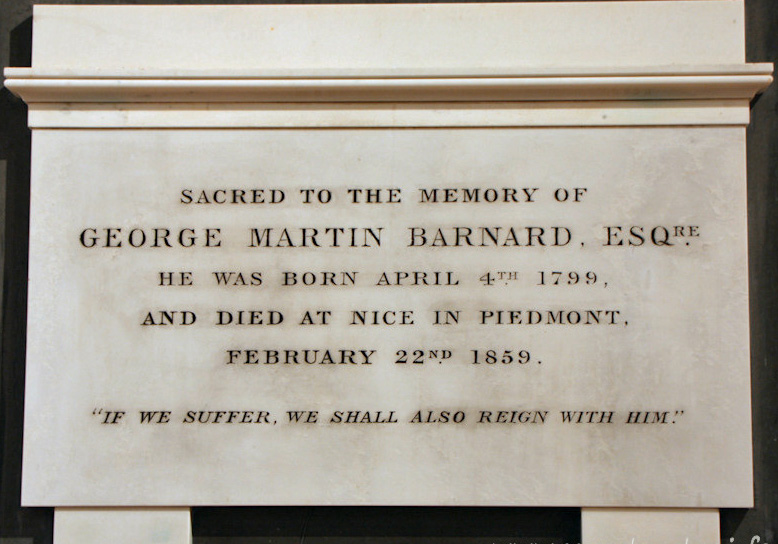 Rectors of Little Bardfield
| | |
| --- | --- |
| William de Weyland | 1275 (vacated) |
| Robert de Walmesford or Winterford | 1275 |
| Ralph   | 1319 |
| Robert de Shepton  | 1324 (vacated) |
| John de Lyndwode, cl. | 1324 |
| Adam de Wyvelingham or Wyling | 1361-1386 |
| William de Hyndeley | 1386-1397 |
| William Wygor de Cavendish | 1397-1401 |
| John Hugh or How | 1401 |
| John Wysbeche | 1408 (vacated) |
| Robert Shwyngton  | 1408 |
| William Foster  | 1446 (vacated) |
| John Moore, D.B. | 1446-1458 |
| John Penswale  | 1458-1463 |
| William Barnett     | 1463 |
| John Cocks   | 1548 (vacated) |
| Stephen Bayley, S.T.B.  | 1548-1557 |
| Francis Bolton, cl.   | 1557-1559 |
| Robert Parker, cl.  | 1559-1583 |
| Nicholas Colpott, S.T.B.  | 1583 |
| Paul Kent, cl.  | 1583-1613 |
| Richard Lancaster, S.T.B. | 1613-1616 |
| Thomas Lund, cl.   | 1616-1650 |
| Joseph Dawges, cl.  | 1665-1666 |
| Thomas Lund, cl.    | 1666 |
| Thomas Bernard, cl.  | 1676-1718 |
| Thomas Bernard, cl. | 1718-1755 |
| Thomas Bernard, A.M. | 1755-1774 |
| Richard White, A.M.  | 1774-1780 |
| William Downes, M.A. | 1780-1782 |
| Thomas Bernard Harrison, M.A. | 1782-1845 |
| Mordaunt Bernard, M.A.  | 1845-1864 |
| Richard Henry White, M.A. | 1864-1905 |
| Edward Mears, M.A.  | 1906-1940 |
| Tristram de Quincey Mears | 1940-1967 |
| Richard O. Masheder, M.A. | 1968-1974 |
| Norman C. Clift | 1975 |
| Michael James Atkinson  | 1992 |
| Barry Glen Middleton | 1998 |
| Robert William Frederick Beaken, M.A. | 2002 |
Reverence My Sanctuary
This is the sign erected over the main entrance of St Katharine's church during the mid-nineteenth century.  It is the title of an excellent book by Rev. Robert Beaken, in 2007, which covers "A History and Guide to the Parish Church of St Katharine and The Brotherhood of St Paul, Little Bardfield".  Whilst the preceding history of the church is recorded in much detail, this book is just as informative but is very much easier to read and appreciate.  It is highly recommended, and a copy is available for you to purchase from inside the Church.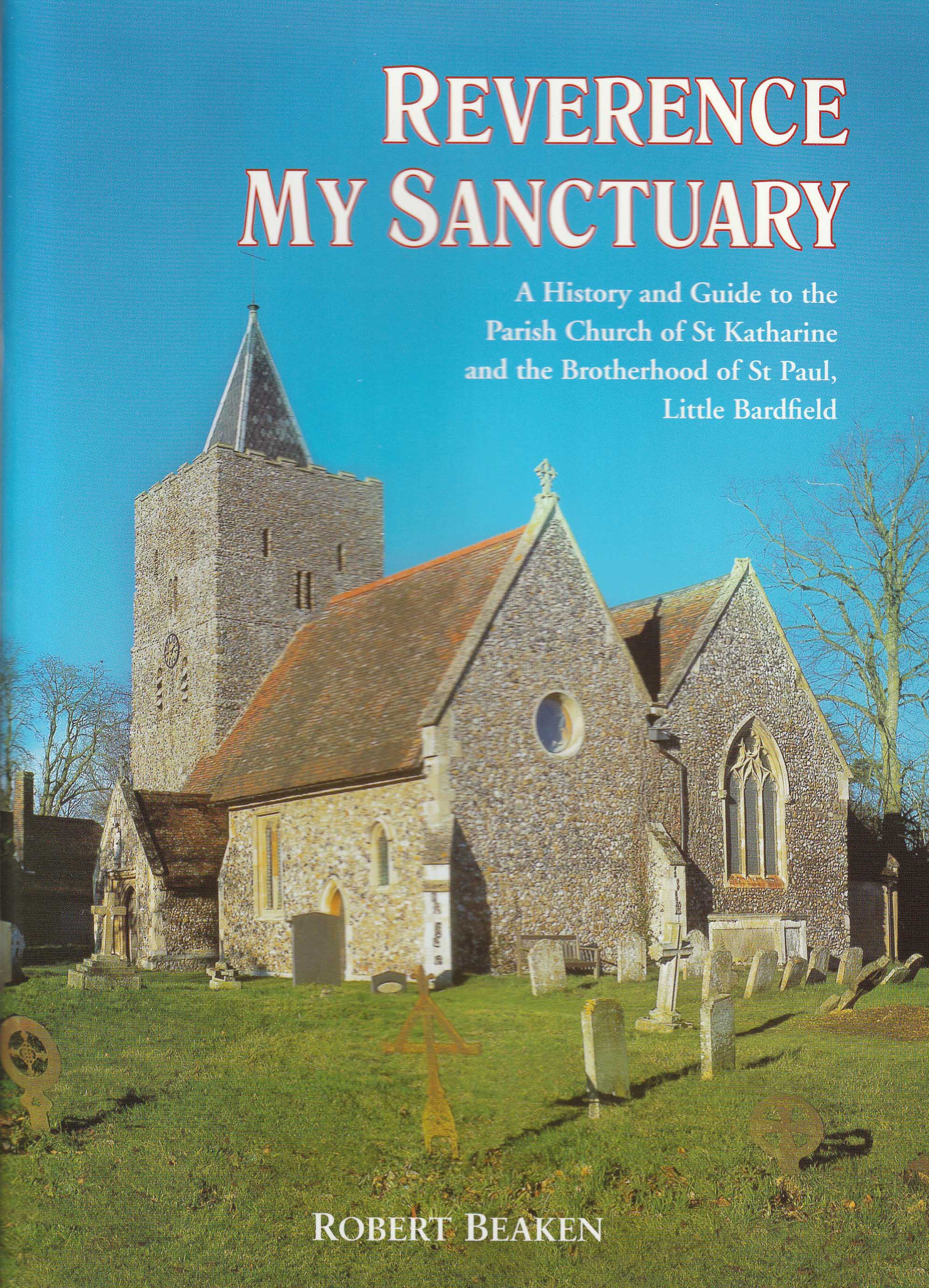 World War 1
The names of the 12 villagers who died in World War 1 are inscribed on the Memorial inside the Church.
World War 2
To date, the names of any villagers who died in World War 2 have yet to be found
 

 

 

 

  

World War 1

Edward Quincey Mears

Walter Arthur Marsh

Filmer Blake Spicer

Walter Sams

Herbert John Stock

Ernest Coote

George Frederick Gunn

Alfred Drane

John Perry

William Coe

Thomas Perry

George Cowell

 

 

 
Acknowledgements
Ancient History
To the late Mrs. Eileen Judson, who collated much of the preceding information in 1979 which was gleaned from:
Essex Records Office
Saffron Walden Library
Morants, Wrights and Gentleman's Essex
Haberdashers Company Handbook — H Prevett
Domesday Survey — Ashmolean Museum, Oxford
Essex Archaeological Society - M.R. Hull
Jack H Baxter
Rev. N.C. Clift, Rector of Little Bardfield 1975
Muilman's History of Essex 1769 Vol. II
Place Names in Essex
White's Directory of Essex 1848
The Rector and Parochial Church Council for the use of the school log book.
Notes by the Rev. R.H. White, 1864-1905
The Organ Magazine
20th & 21st Century History

was researched from:
British Listed Buildings
www.essexchurches.info
The Rev. Dr. Robert Beaken. M.A. "Reverence My Sanctuary".  Rector 2002-
Alan Goldsmith - Little Bardfield Hall
Mac Beanland - Frenches Farm and Coft Hall Farm, Oxen End
David McMyn - Hill Hall Estate and Salmons Farm, Hawkspur Green
Magazine of the Brotherhood of Saint Paul
The Rev. Dr. Robert Beaken
Mr. Peter Wood